In an interview with Allure, actress Rooney Mara revealed that she got real nipple piercings for her role as Lisbeth Salander in The Girl With the Dragon Tattoo.
Rooney Mara had her nipples pierced as Lisbeth Salander in The Girl With the Dragon Tattoo
"I had parts of my head shaved," Mara told Allure in her January 2012 cover interview. "I was in that character for over a year. If you're going to do it, you have to do it. People always ask, 'Were you crying when they cut your hair?' And it didn't freak me out at all. I was really happy to do it."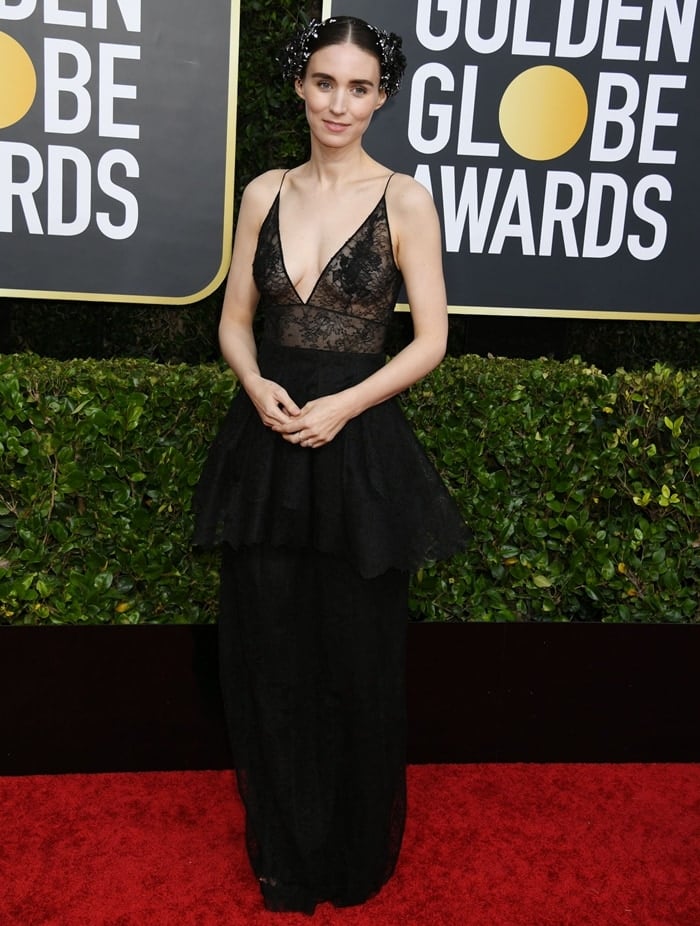 Rooney Mara, pictured at the 2020 Golden Globes, had her nipples pierced for her role as Lisbeth Salander in The Girl With the Dragon Tattoo
"I didn't even have pierced ears," Mara said of her transformation, emphasizing that the ear piercings were more painful than the nipple piercings. "They put four holes in each ear, and, weirdly, that hurt the most."
"It was actually not that painful," she added about the nipple piercings, which were real in the movie. However, her nose and lip piercings were fake.
Rooney Mara attends the World premiere of The Girl With the Dragon Tattoo on December 12, 2011, at the Odeon Cinema, Leicester Square in London
"I thought, She has it in the book, and she should have it [in the movie]. Because of all the tattoos and the makeup and the piercings and the physical transformations my body has to go through, it would always feel sort of like I was in costume, even if I was naked. It just felt like a good one to get — a necessary one to get."
In September 2015, it had been four years since Rooney Mara starred as the Goth-punk computer hacker Lisbeth Salander in the movie "The Girl with the Dragon Tattoo," and it looked like she was still holding on to a bit of that character's style.
The then 30-year-old actress arrived at the world premiere of her latest movie "Pan" in an ankle-length dress from Givenchy.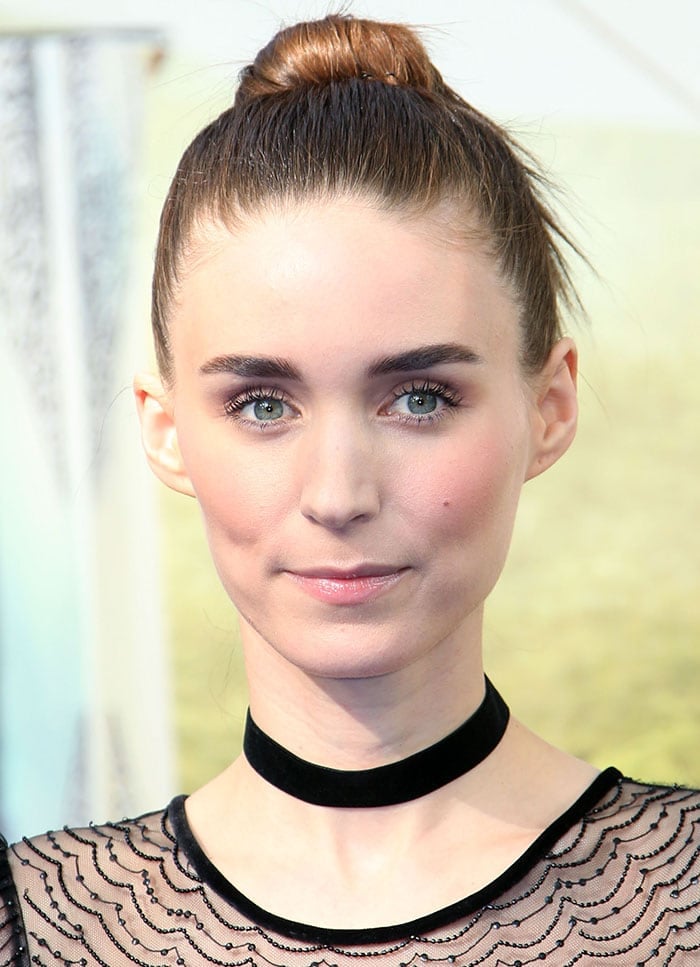 Rooney Mara attends the world premiere of "Pan" held at Leicester Square in London, England, on September 20, 2015
The flouncy frock featured see-through panels, black sequins, and tiered ruffles.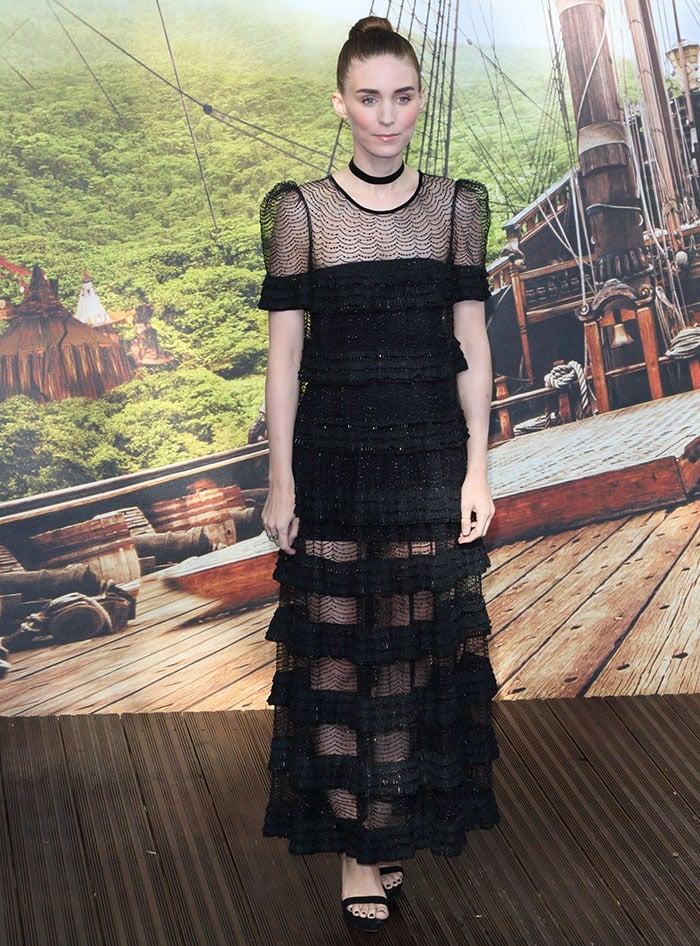 Rooney Mara wears a black Givenchy dress to the premiere of "Pan"
She styled the dress with a black choker and a pair of black sandals and accentuated her alabaster skin strong eyebrows, rosy blush-on, and pink lip gloss.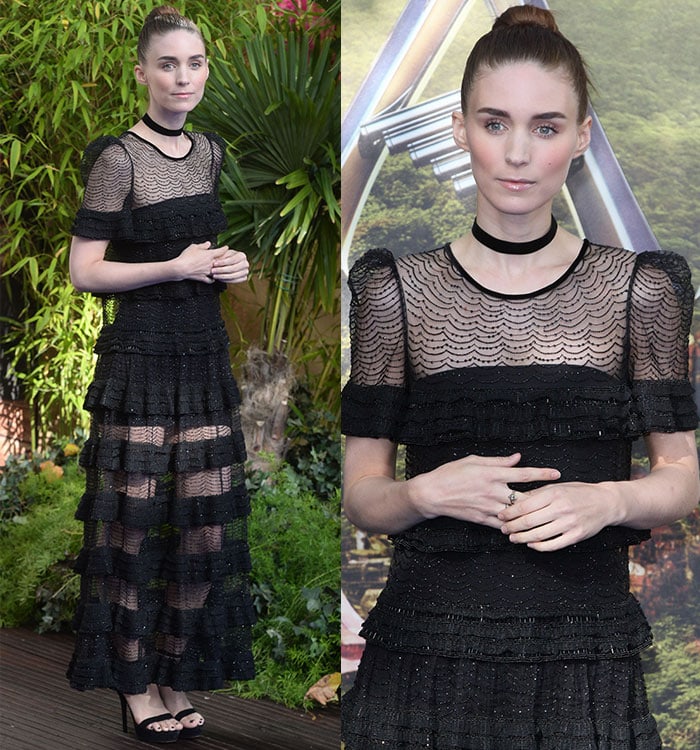 Rooney Mara adjusts the rings on her hands as she poses for photos at the premiere of "Pan"
She wore her hair up in a top knot.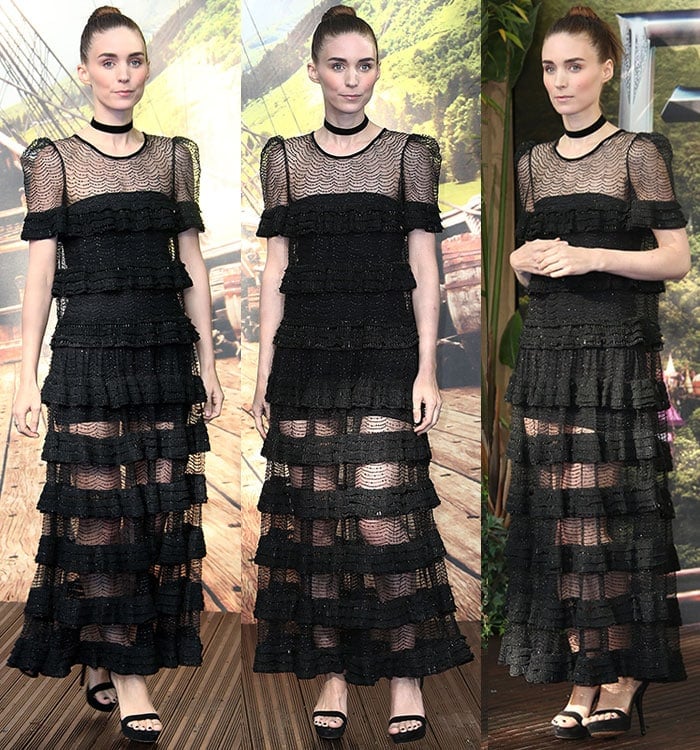 Rooney Mara offers up a smile for the cameras as she shows off her top knot and fresh face of makeup
Rooney's "Pan" premiere look is a sharp deviation from the character she plays in the upcoming fantasy-adventure movie, who wears brightly colored costumes and makeup.
Rooney Mara matches her black dress and black pedicure to her simple black platform sandals
Rooney's five-inch heeled sandals are simple. These black shoes feature slender ankle straps and front straps and have a one-inch platform.
Rooney Mara shows off her hot feet in black sandals
Check out some interesting alternatives below from Zappos and Bergdorf Goodman.
Stuart Weitzman "Nudist" Platform Sandals, $435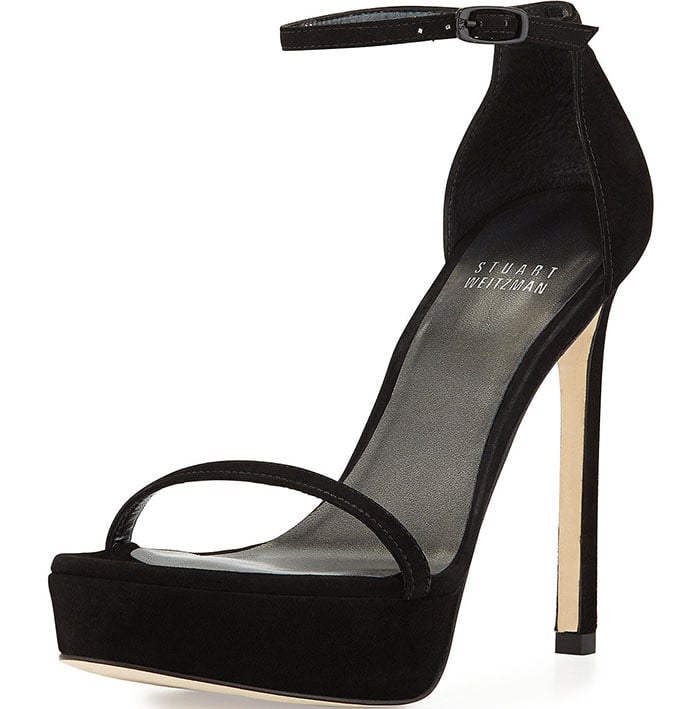 Stuart Weitzman "
Whichway" Suede Platform Sandals, $485
Credit: Lia Toby / Lexi Jones / WENN / Instar / Columbia TriStar Marketing Group, Inc.