Pixie Lott has been quite unlucky with wardrobe malfunctions. After at least three nip slips within the past few years, the 26-year-old once again exposed nipple at the Esquire Townhouse with Dior party.
The accidental flesh flashing was even more unfortunate because Pixie was rocking the hell out of the sheer trend in a Dior Pre-Fall 2017 embroidered black tulle maxi dress. Sadly, the singer-slash-actress didn't notice that the bandeau top of her Dior logo underwear had slipped down and was showing the cameras a lot more of her than she intended.
Peek a boob! Pixie Lott accidentally exposing a nipple in her Christian Dior pre-fall 2017 sheer embroidered dress worn with Dior logo bandeau top and boxer shorts.
Pixie Lott at the Esquire Townhouse with Dior party at No 11 Carlton House Terrace in London, England, on October 11, 2017.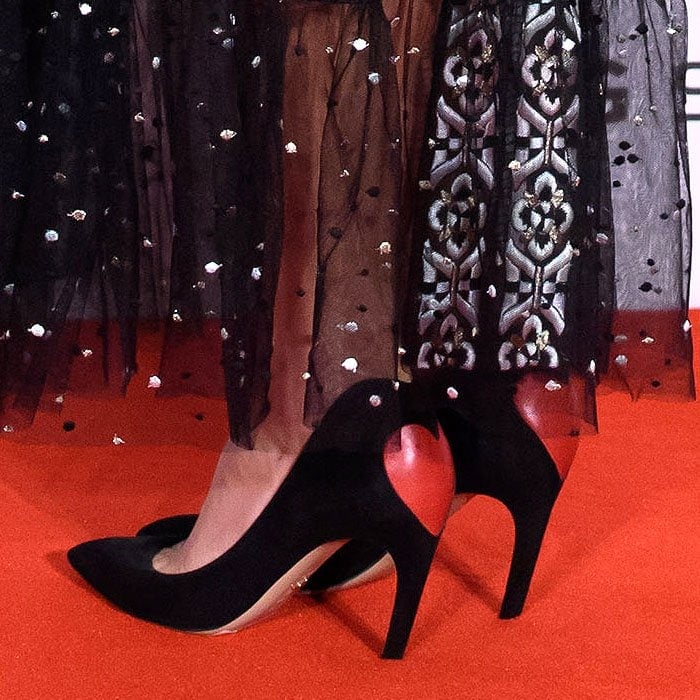 Details of the Dior fall 2017 "Amour" heart-adorned pumps on Pixie Lott.
Wardrobe malfunction aside, wouldn't you agree that Pixie Lott looked good? And she never fails to bring her shoe game, this time with the adorable Dior fall 2017 "Amour" black suede pumps adorned with red leather hearts on the heels.
The Dior "Amour" pumps are only available for purchase at Dior and select Dior boutiques. Watch the video below to see how these gorgeous shoes are made, starting from sketch design to shoe reality.
Dior heart-adorned black-suede pumps, £690
Credit: Jonathan Hordle / WENN