Scarlett Johansson risked a wardrobe malfunction at the Avengers: Endgame fan event held at the Picturehouse Central on Wednesday in London, England. We're sure she used a lot of breast tape to ensure her boobs wouldn't fall out.
In an interview with The Washington Post, she recently spoke out against deepfake porn and why she won't pursue it legally. Her image and likeness are frequently used in pornographic content without her consent.
Scarlett Johansson's Nikos Koulis chandelier earrings at the Avengers: Endgame fan event held at the Picturehouse Central in London, England, on April 10, 2019
"Clearly, this doesn't affect me as much because people assume it's not actually me in a porno, however demeaning it is," she stated.
Scarlett continued, "I think it's a useless pursuit, legally, mostly because the internet is a vast wormhole of darkness that eats itself. There are far more disturbing things on the dark web than this, sadly. I think it's up to an individual to fight for their own right to their image, claim damages, etc…It's a fruitless pursuit for me but a different situation than someone who loses a job over their image being used like that."
Scarlett Johansson spoke out against deepfake porn
She also emphasized that women must take great care "to protect their identities and personal content," which can at times "is basically a lost cause."
"The Internet is just another place where sex sells and vulnerable people are preyed upon. And any low-level hacker can steal a password and steal and identity. It's just a matter of time before any one person is targeted," Scarlett said.
The upcoming American superhero film based on the Marvel Comics superhero team the Avengers will hit theaters on April 26.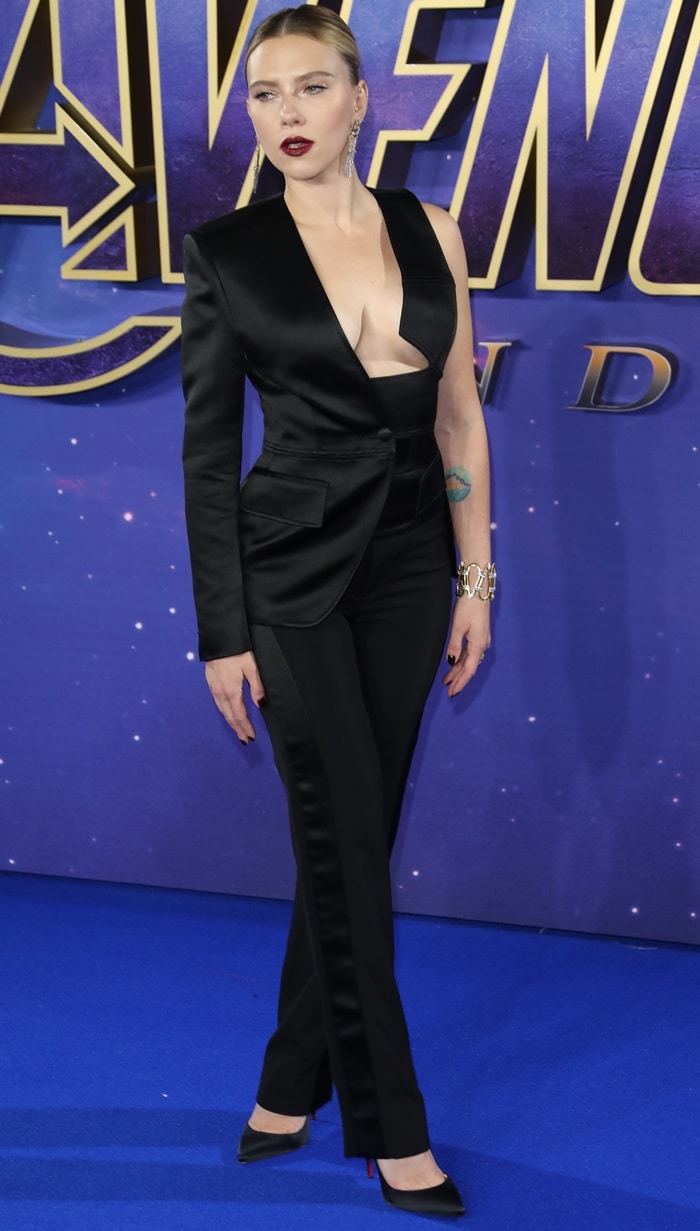 Scarlett Johansson in a black tuxedo jumpsuit by Tom Ford
The 34-year-old American actress and singer donned a black tuxedo jumpsuit from Tom Ford's Spring 2019 collection with a plunging cut-out neckline.
Scarlett Johansson used a lot of breast tape to keep her boobs from falling out
Scarlett luckily avoided an accidental nipple slip and completed her sexy look with Nikos Koulis chandelier earrings, a gold and silver bracelet, and simple black shoes.
Last year, Scarlett also hit the red carpet with her boyfriend Colin Jost, an American comedian with a net worth of $6 million, at the 2018 American Museum of Natural History Gala in New York City.
Styled by Molly Dickson, she donned a dusty pink J. Mendel Spring 2019 sequined dress, Christian Louboutin shoes, and Harry Winston jewelry.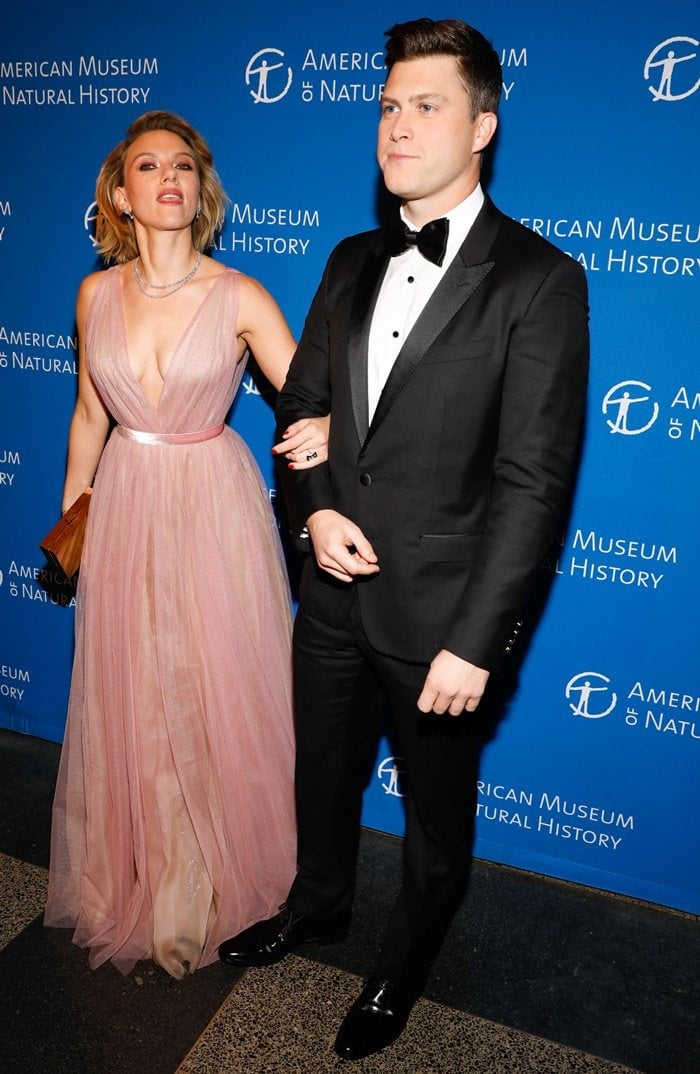 Scarlett Johansson and Colin Jost at the 2018 American Museum of Natural History Gala in New York City on November 15, 2018
Credit: Lia Toby / WENN / Jeff Grossman