It's been ten years since Carrie Underwood was catapulted into stardom after winning the fourth season of "American Idol," and she hasn't stopped to take a breather since. She gave birth to her first child, Isaiah Michael Fisher, on February 27, 2015.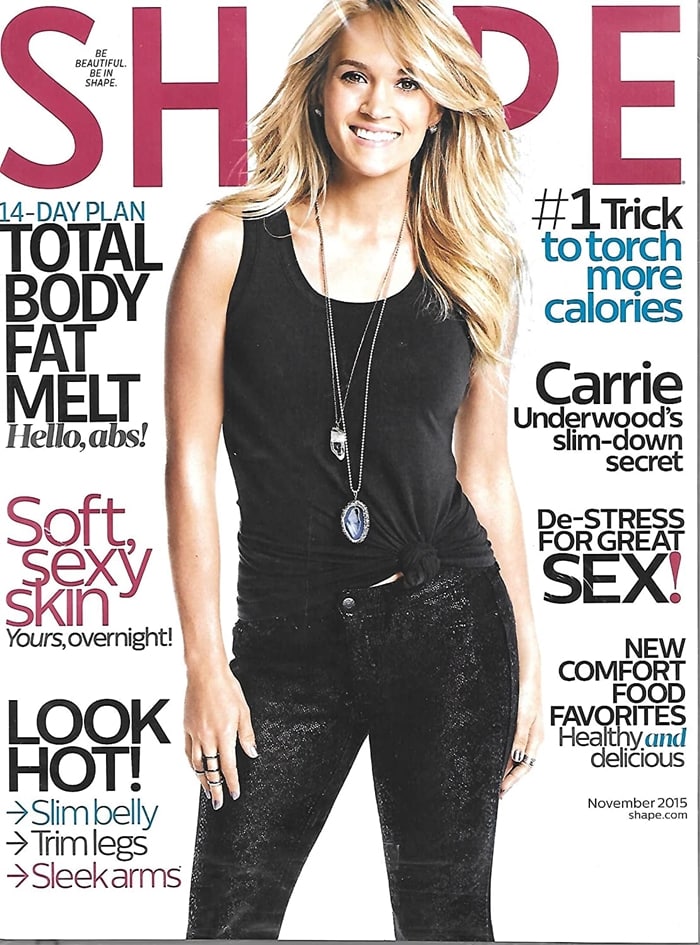 Wearing Level 99 pants, Kasané Jewellery rings, a Cynthia Rybakoff necklace, and a Beck Jewels necklace, Carrie shares how she lost weight after her first pregnancy
Showing off her amazing figure for Shape magazine's November 2015 issue that you can buy on Amazon, the vegan entertainer also shares how she returned to her pre-pregnancy weight.
After I had Isaiah, my goal was to take control of my body again. I was lucky: I gained only 30 pounds, which is the recommended amount, and I exercised throughout my pregnancy. I did have a C-section, which meant waiting six weeks before working out. Within 20 days, though, I was able to begin walking slowly on the treadmill and around my neighborhood. It felt so good to be active! Now we box and we hike trails, among other things. I like to continually mix up my routines to stay motivated.
Of course, getting a flat stomach doesn't depend solely on exercise.
I'm vegan and I love bread, but recently, I started making dinner a breadless meal. I'll have a bowl of oatmeal for breakfast, and I'll make a sandwich on Ezekiel bread for lunch, but in the evening I'll have protein and vegetables and no bread. When I wake up, my belly is flat!
The country singer even managed to get married and have a kid in between all the concerts and album releases.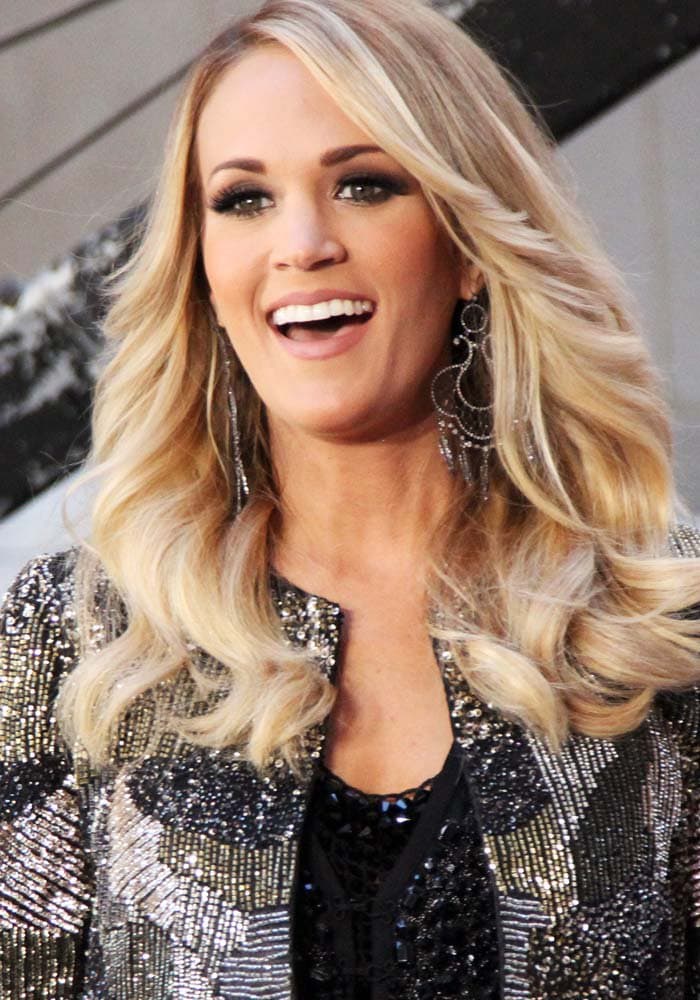 Carrie Underwood performs live on NBC's Today show in New York on October 23, 2015
After being inspired by a friend and because she's lactose-intolerant, Carrie became a vegan a few years ago. In the November 2013 cover issue of Women's Health that you can buy on Amazon, she described herself as a "practical vegan."
"I am a vegan but I consider myself to be a practical vegan," she stated. "If I order something on a menu and it has a sprinkling of cheese on top I'm not going to send it back."
"I've been vegetarian — no fish no chicken no meat vegetarian — for about a decade now," she explained about her mostly but not fully vegan diet.
The vegan thing is something I try to do my best on because it's a cheesy world out there. We recently went to Italy and they put cheese in, on and around everything. So I kind of had to be vegetarian when I was on vacation, and now that I've been back home I've been getting back into my vegan lifestyle.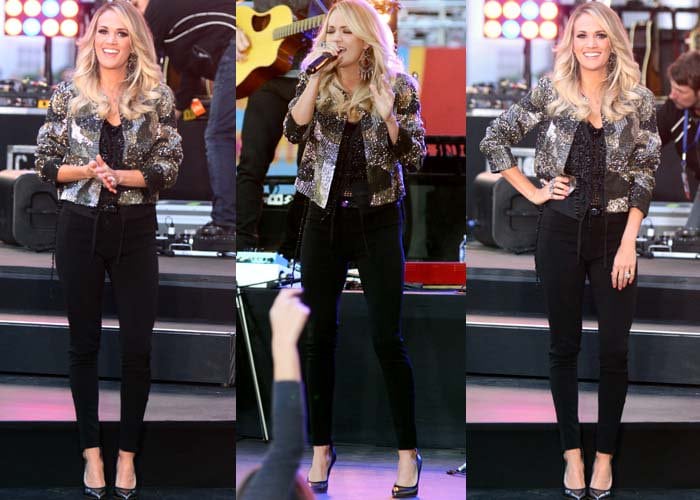 Carrie Underwood performs in a pair of black jeans and a sequined jacket from Alice + Olivia
"But I'm vegan at home," Underwood emphasized. "It's when I go other places that it can be a challenge especially when you don't exactly know what you're ordering. It doesn't say that there's cheese on the menu. But like I said I'm practical vegan."
Carrie recently stopped by the Today Show to perform her hit single "Before He Cheats" from her debut album, as well as "Smoke Break" from her latest release.
Carrie showed off her eight-months-post-baby body in a pair of tight black jeans and an embellished top, which she wore underneath a fully-sequined jacket by Alice + Olivia.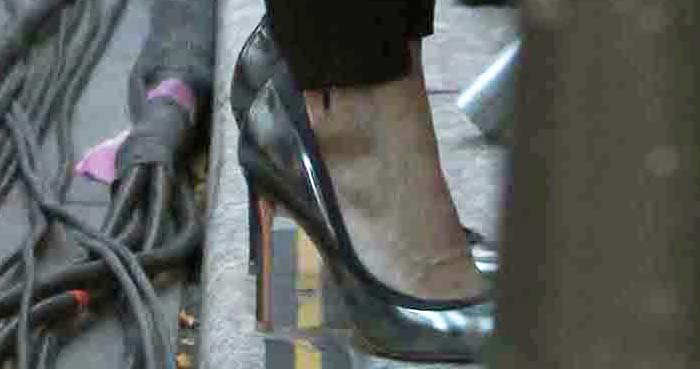 Carrie Underwood's feet in silver Gianvito Rossi pumps
The country star wore her glittery ensemble with silver collared pumps from Gianvito Rossi.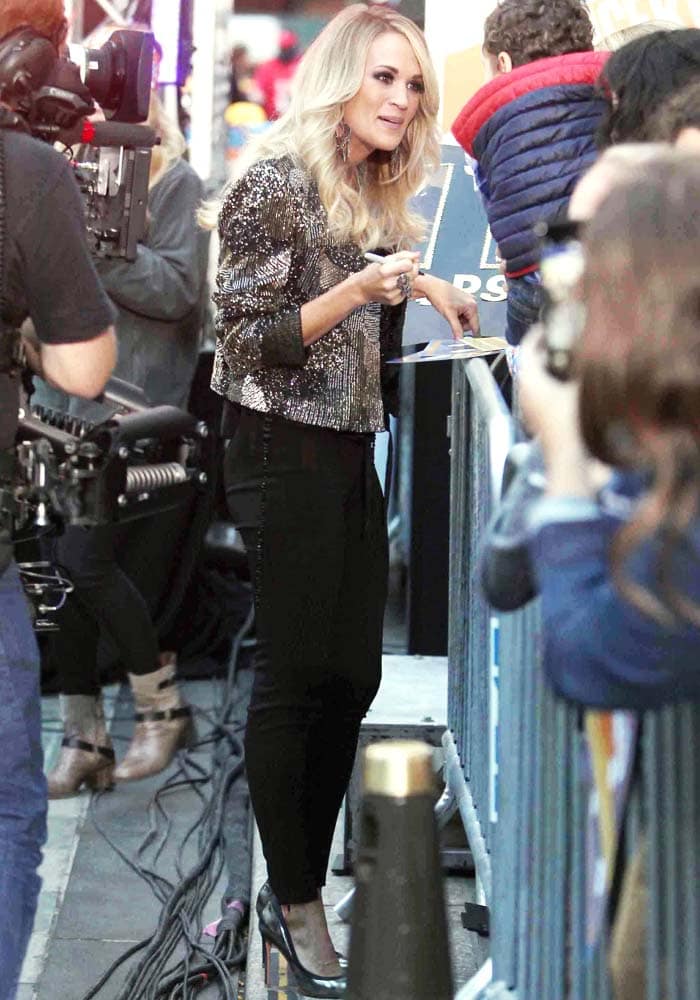 Carrie Underwood signs autographs for fans after performing on the Today show
Carrie also played the fishbowl game with show hosts.
Carrie Underwood wears her long blonde hair down as she performs on the Today show
When confronted with the question "would you rather be a kid again, or be a boy," she let viewers know that she would rather be a kid.
She was also asked whether she preferred having no cellphone or no internet. Find out which one she picked below:
Carrie Underwood plays games with the hosts of the Today show
Carrie's collared Gianvito Rossi pumps are no longer available in silver, but check out the velvet version in various shades at Farfetch and Nordstrom.
Gianvito Collared Metallic High Heel Pumps (Sold Out)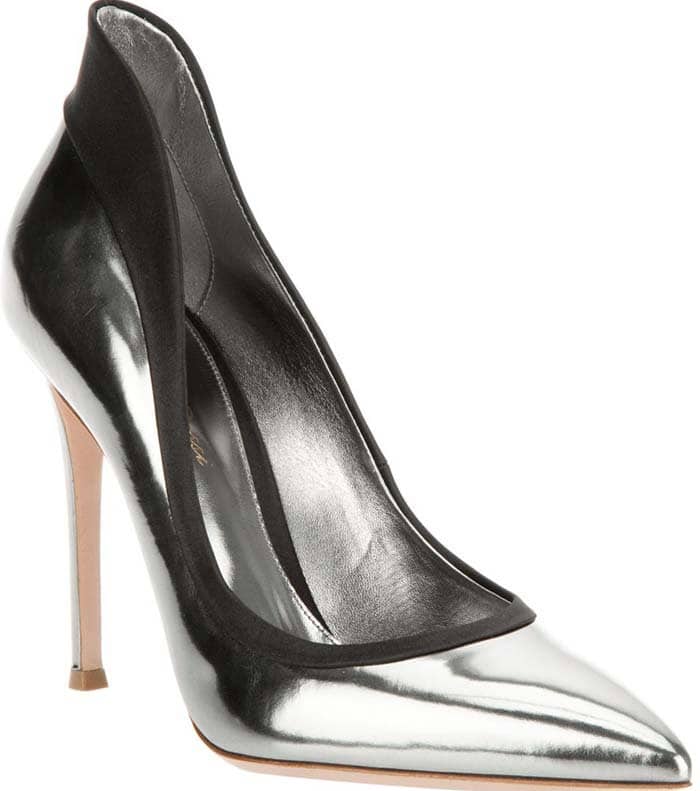 Gianvito Rossi Velvet Tuxedo Pumps, $822.46 – $950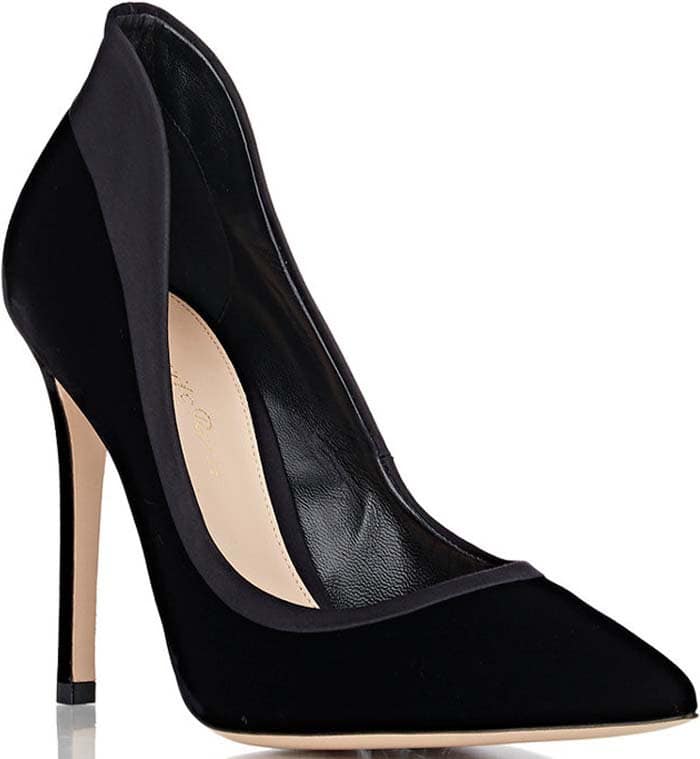 Gianvito Rossi Tuxedo 100 Velvet Court, £600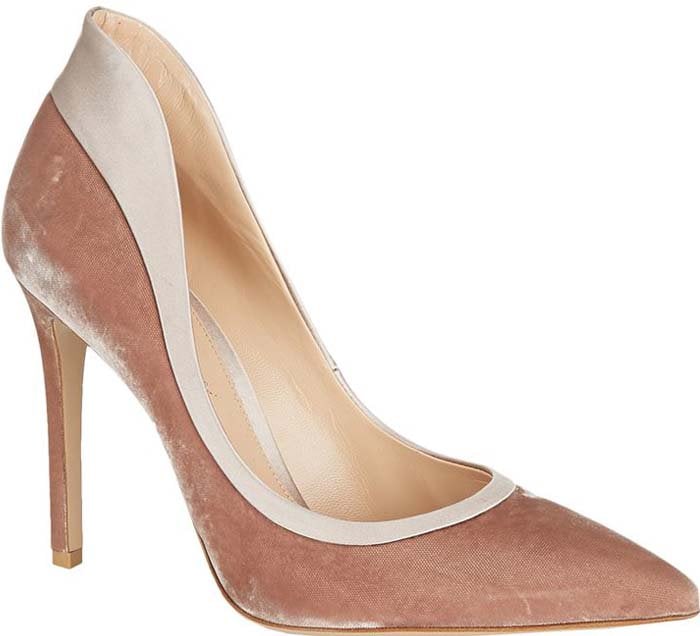 Gianvito Rossi Velvet High-Heel Pump in Silver, $950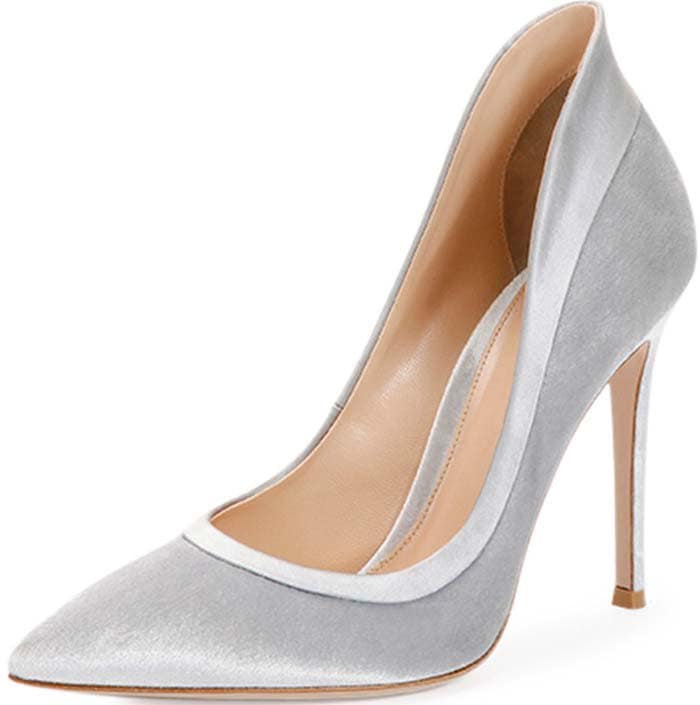 Credit: RWong / Dan Jackman / PNP / WENN