In February 2016, leading lady Lily James joined Suki Waterhouse on the red carpet of the "Pride and Prejudice and Zombies" premiere. Like Suki, the then 26-year-old British actress donned a nude illusion dress.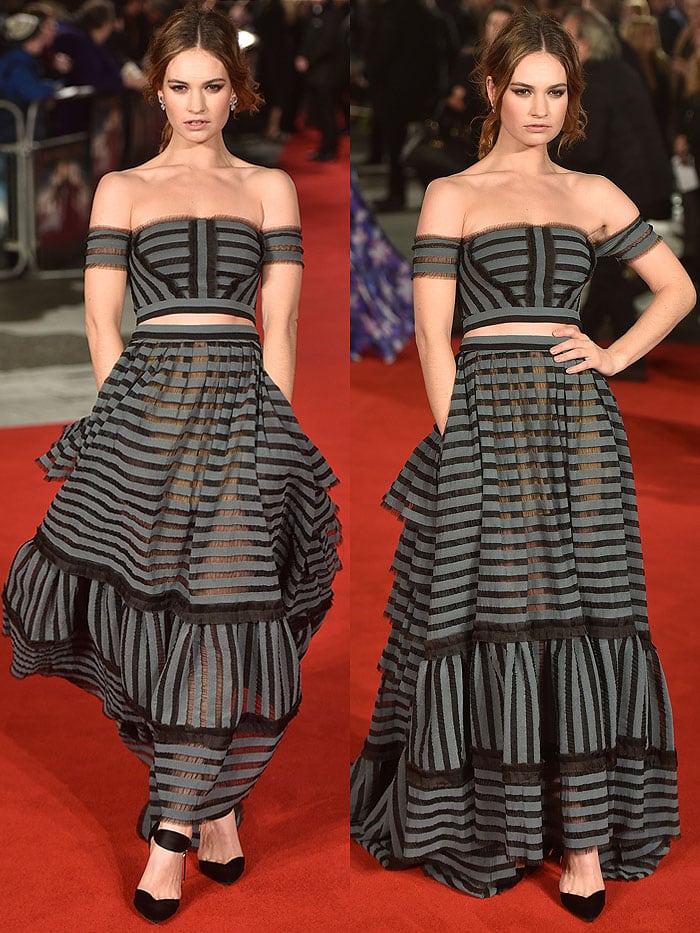 Lily James wears her hair back at the "Pride and Prejudice and Zombies" premiere held on February 1, 2016, at the Vue West End in London
She portrays Elizabeth Bennet in the 2016 action comedy horror film that is based on Seth Grahame-Smith's 2009 novel.
Available on Amazon, the New York Times best seller combines Jane Austen's classic 1813 novel Pride and Prejudice with elements of modern zombie fiction.
Co-starring with Sam Riley, Jack Huston, Bella Heathcote, Douglas Booth, Matt Smith, Charles Dance, and Lena Headey, Lily James was 25 years old when principal photography began on September 24, 2014, at West Wycombe Park, an estate in Buckinghamshire, England.
Additional scenes were filmed at Basing House in the English village of Old Basing and at Frensham, a village in Surrey, England.
Lily James was 25 when filming Pride and Prejudice and Zombies as Elizabeth Bennet
During production, Lily James told Yahoo Life how she accidentally stepped on an extra's head.
I stepped on a real person, yeah. It was terrible. I was galloping in and the director [Burr Steers] said, "Make sure the zombies are dead." There were like dummies everywhere, and they were so fake, with blood pouring out and swords stuck in them from different angles.

What I didn't know that in amongst the incredibly fake dummies were extras lying face-down in the mud, which is not what you'd expect on a freezing cold December day in England. So I trotted in and like properly kicked someone's head in. But he was fine.
Lily James stars as Elizabeth Bennett in the big-screen adaptation of Seth Grahame-Smith's best-selling novel Pride and Prejudice and Zombies
The Erdem Spring 2016 striped crop top — and matching tiered skirt — were lined with nude fabric that made it seem as if she wasn't wearing underwear underneath.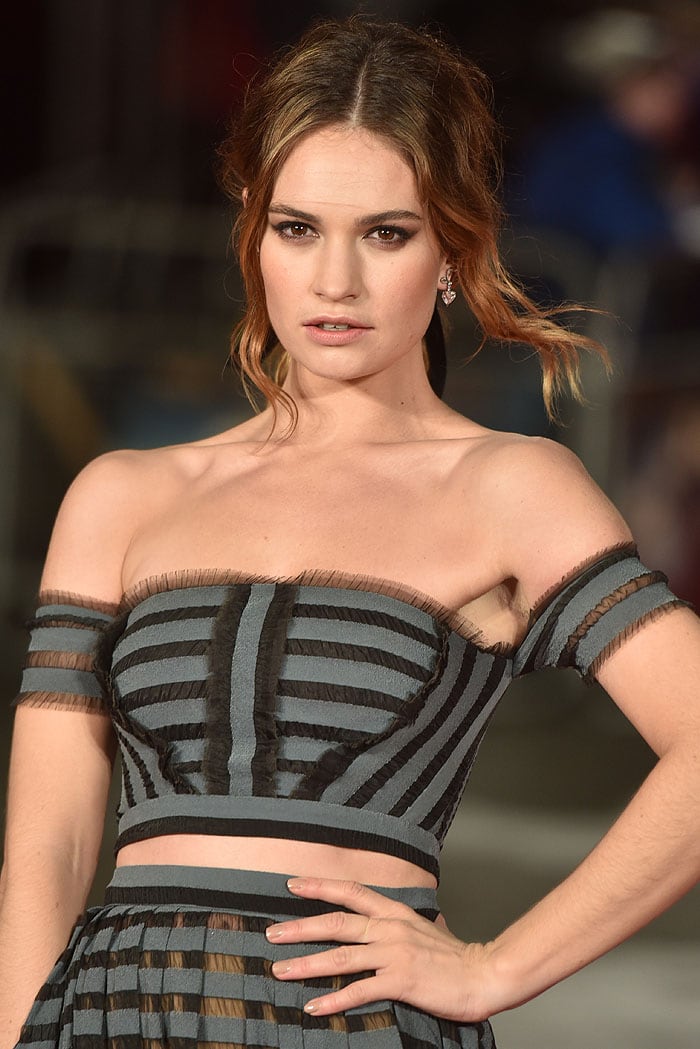 Lily James wears an Erdem set on the red carpet premiere of "Pride and Prejudice and Zombies"
Lily rounded out her warm-weather-ready ensemble with a pair of Aquazzura black satin ankle-tie pumps.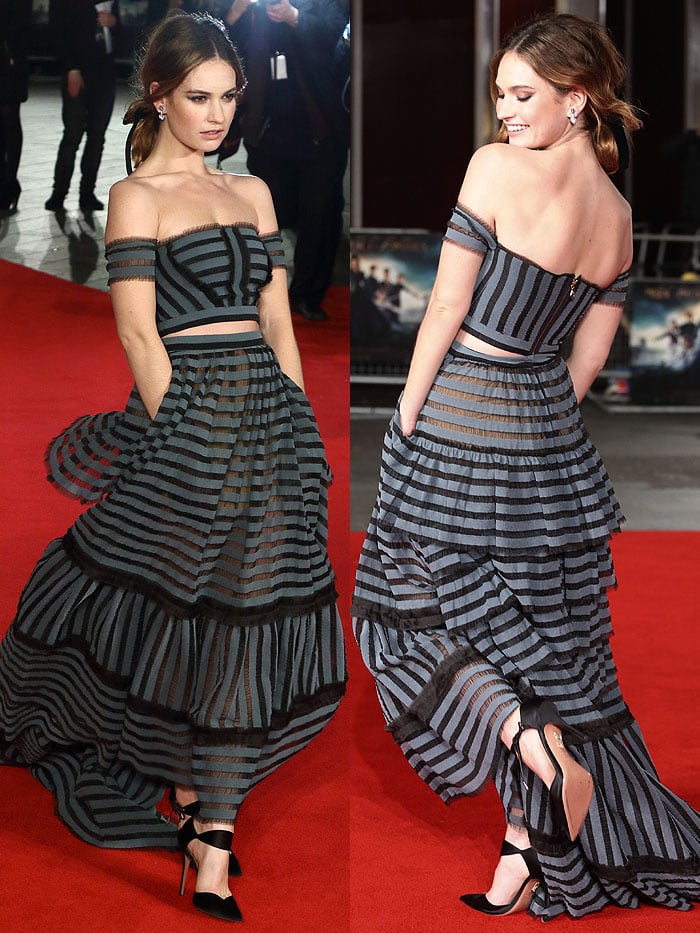 Lily James wears a striped set from Erdem on the red carpet
Although Lily's ensemble was definitely nowhere near as risqué as Suki's, the "Downton Abbey" star seemed to have had more wardrobe malfunctions.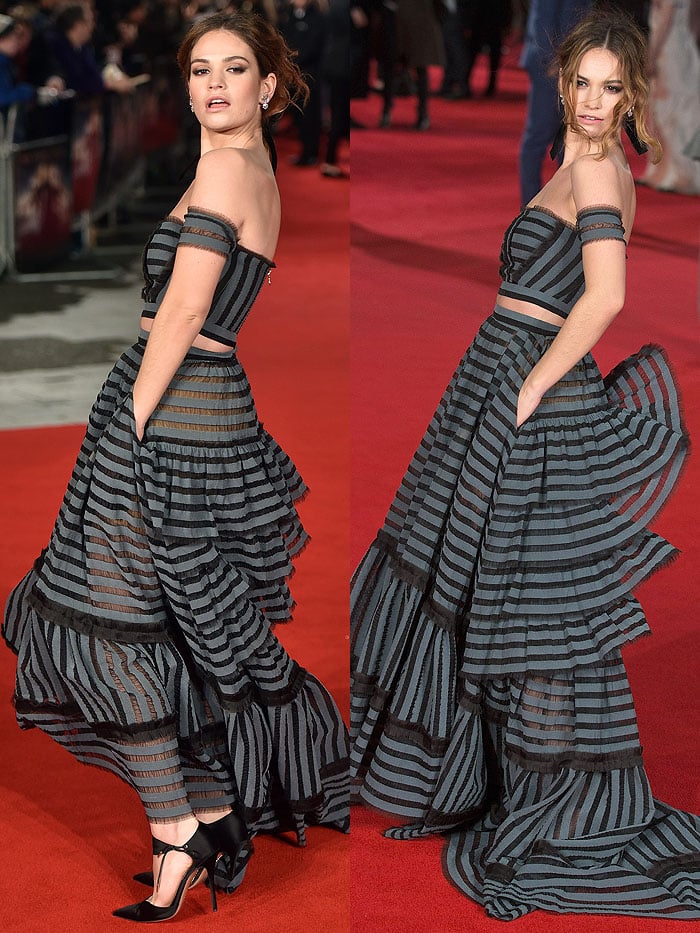 Lily James fights the wind while posing in a ruffled Erdem skirt
She looked more than a little windswept when gusts of air played with her loose updo and picked up the light ruffled hem of her skirt.
Pride + Prejudice + Zombies actresses Lily James, Bella Heathcote, Ellie Bamber, Suki Waterhouse, and Millie Brady
Lily Chloe Ninette Thomson, who adopted the stage name Lily James in honor of her late father James Thomson, also kept stepping on her skirt's train, which caused her to almost miss a group photo with the rest of her co-stars.
Lily James struggles with the train of her Erdem skirt as it catches on the stiletto heel of her Aquazzura pumps
We're glad, however, that the fiasco gave us a better look at Lily's "Candela" heels.
Lily James's feet in black satin Aquazzura pumps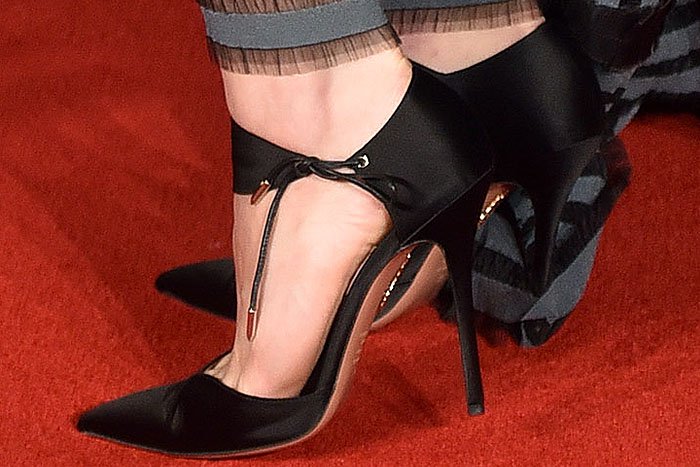 Lily James shows off her feet in "Candela" ankle-tie pumps
The pumps are no longer available online. Shop similar Aquazzura shoes and the current season at Farfetch and Nordstrom.

Aquazzura "Candela" Satin Ankle-Tie Pumps
Credit: Daniel Deme / Lia Toby / WENN