Queen Bey might be taking her reign a little too far. One of her recent Instagram photos sparked major controversy minutes after she posted it.
But before that, let's talk about her style choice in this casual photo shoot first because we are totally loving it.
Beyonce wears a Topshop geo knit pencil skirt paired with a Harlyn sunburst bustier in the Wynwood Art District on December 30, 2013, in Miami, Florida (Credit: Beyonce's Instagram)
The pop diva confidently showed off her street style in an orange corset top, a yellow Topshop skirt, and a pair of colorful Jil Sander sandals.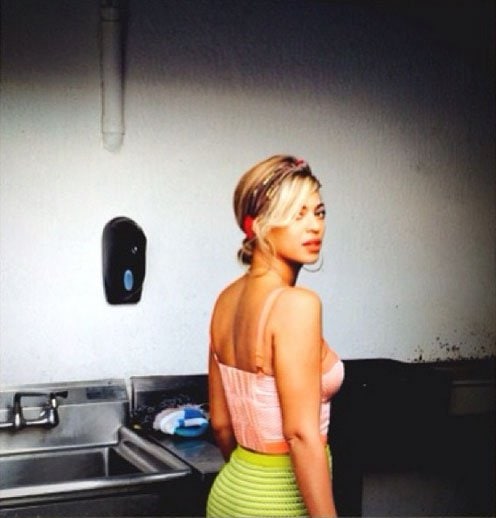 Beyonce wearing a sunburst print bustier by Harlyn with a lime green pencil skirt (Credit: Beyonce's Instagram)
The first photos show Bey on the colorful streets of Miami, rocking her cool ensemble and fab heels.
Beyonce completed her look with colorful Jil Sander sandals and a black Dsquared2 Quebec bag (Credit: Beyonce's Instagram)
Okay, so let's go back to the photo causing a lot of Internet buzz right now. The Instagram pic was taken at the Jugofresh juice bar in Miami, where the counter displays a striking Andy Warhol mural of the iconic Last Supper image.
Jil Sander Black-Multi Colorblock Sandals, €745
The issue is that Beyonce posed in the middle of the mural, blocking and somewhat replacing the image of Jesus Christ. We're not entirely sure if this was done intentionally, but we have to say that this is not the right time for her to post provocative poses like this.
Bey recently came under fire after using a controversial audio clip in her song "XO." The clip was from the 1986 NASA Challenger explosion, where seven lives were claimed.
What do you guys think about Bey's latest stunts?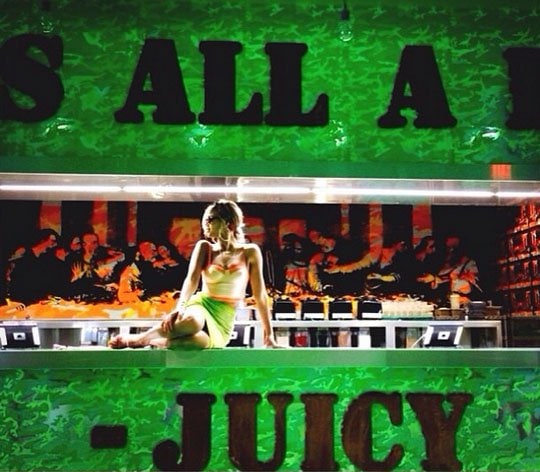 Beyoncé sparked controversy by sharing an Instagram picture where she posed in front of a painting resembling "The Last Supper," appearing to cover up Jesus (Credit: Beyonce's Instagram)