In November 2015, Hounddog actress Dakota Fanning flashed her hot legs in a wrinkled and unexciting dress at the Save the Children Illumination Gala in New York City.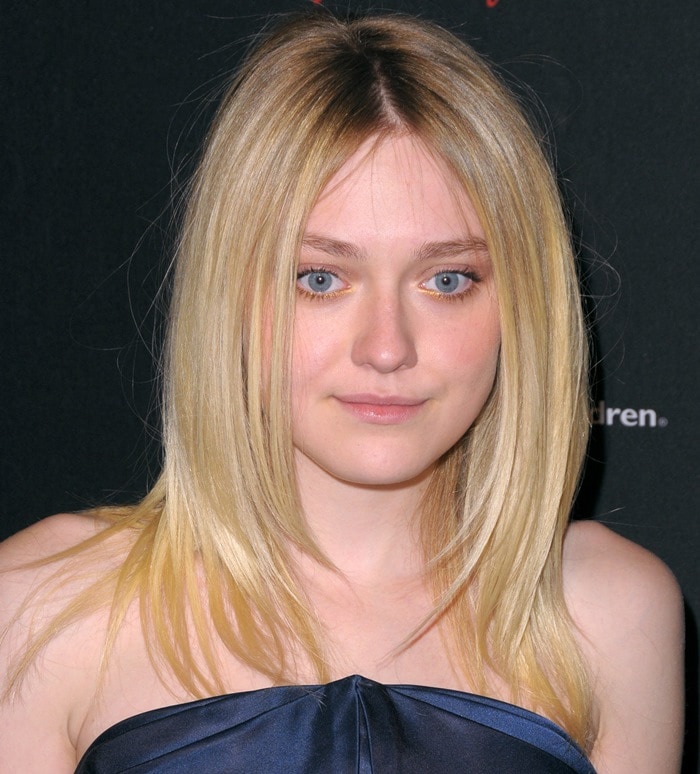 Dakota Fanning attends 2nd Annual Save the Children Illumination Gala at The Plaza Hotel on November 19, 2014, in New York City
The then 20-year-old actress wore a midnight blue strapless dress from the Zac Posen Resort 2015 collection and carried a Roger Vivier bag.
How old was Dakota Fanning as Lewellen in Hounddog?
8 years earlier, she starred as a troubled 12-year-old girl named Lewellen growing up in the 1960s South. She finds solace from an abusive life through the music of Elvis Presley.
Containing a controversial scene in which Dakota's character is raped, the film caused a stir when opening at the Sundance Film Festival in Park City, Utah.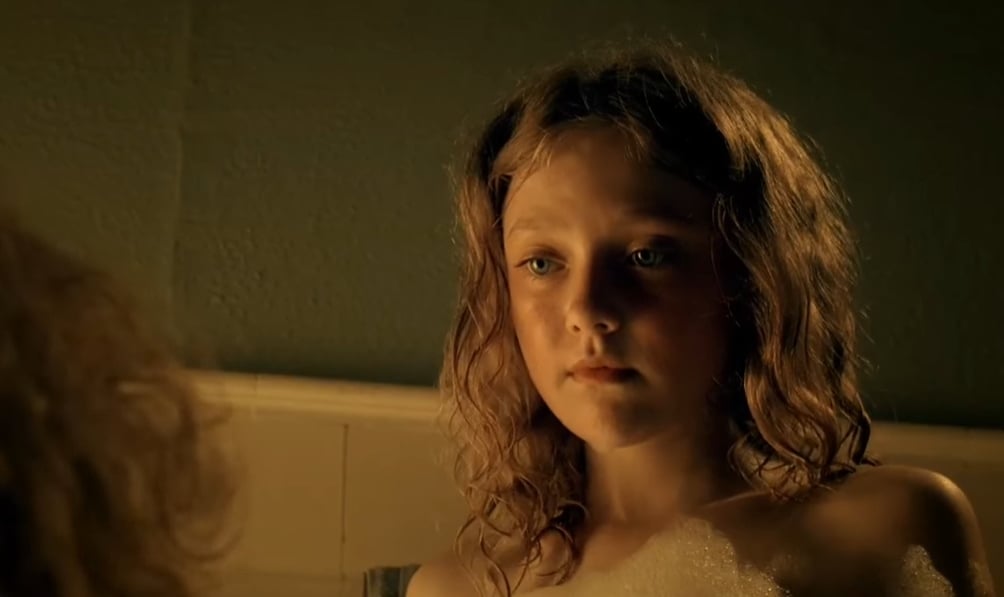 Dakota Fanning was 12-years-old when filming Hounddog as Lewellen
"When it gets to the point of attacking my mother, my agent … my teacher, who were all on the set that day, that started to make me mad," Fanning said in an interview about the criticism.
"I can let other things go, but when people start to talk about my mother, like, that's really bad in my opinion … that's an attack, and that's not fair. They hadn't seen the movie," the young actress added.
The controversial rape scene is not graphic and contains no nudity. Only her face and hand are shown in the darkly lit scene that lasts a few minutes.
Sisters Elle and Dakota Fanning at the premiere of Hounddog at the 2007 Sundance Film Festival
"I loved the Elvis Presley storyline. I loved the fact she's born of hard circumstances and is trying to survive those," Fanning said about agreeing to do the film. "I like so many things about it that had nothing to do with being abused, or sexually abused."
"I'm going to be a freshman in high school in September, and I think it would be irresponsible of my parents not to let me know of things that happen and to try not to get yourself in uncomfortable situations," Dakota added about the coming-of-age drama film. "It's educational."
Dakota Fanning has defended her rape scene in Hounddog
"It's not really happening," Fanning said of the rape scene. "It's a movie, and it's called acting. I'm not going through anything. Cody and Isabelle aren't going through anything, their characters are. And for me, when it's done it's done," she said. "I don't even think about it anymore."
Director Deborah Kampmeier, on whose life the film is based, also defended the film in an interview.
"She should be applauded to the voice she has given to so many silenced women," Kampmeier said about Fanning's performance.
Actress Dakota Fanning and director Deborah Kampmeier attend the Hounddog Premiere at the Village East Cinemas on September 16, 2008, in New York City
The movie was filmed in the summer of 2016 near Wilmington, North Carolina. Born on February 23, 1994, in Conyers, Georgia, Dakota was 12-years-old when the shooting took place. She turned 13 on February 23, 2007.
At the gala benefiting the leading humanitarian organization for children, the Once Upon A Time In Hollywood actress completed the outfit with a pair of nude Christian Louboutin pumps.
Dakota Fanning flaunts her hot legs in nude peep-toe shoes
Are you more excited about Dakota's dress than we are? You can find plenty of nude peep-toe pumps from Christian Louboutin at Mytheresa and Saks Fifth Avenue.
Credit: Ivan Nikolov / WENN / PNP / DA5