Reese Witherspoon is the queen of color-coordinated fashion. Some may say color coordinating is passé, but it actually works for her. She does it in such a polished and put-together way that you can't help but approve the outfits she puts out. Her style is the perfect combination of cute and sophisticated. And the fact that you can easily relate to her sartorial choices makes her style even more likeable. Allow us to show you several of Reese's latest color-coordinated street looks:
Reese Witherspoon wearing a black-and-white outfit jazzed up with a touch of denim for a day of shopping in Beverly Hills on July 20, 2014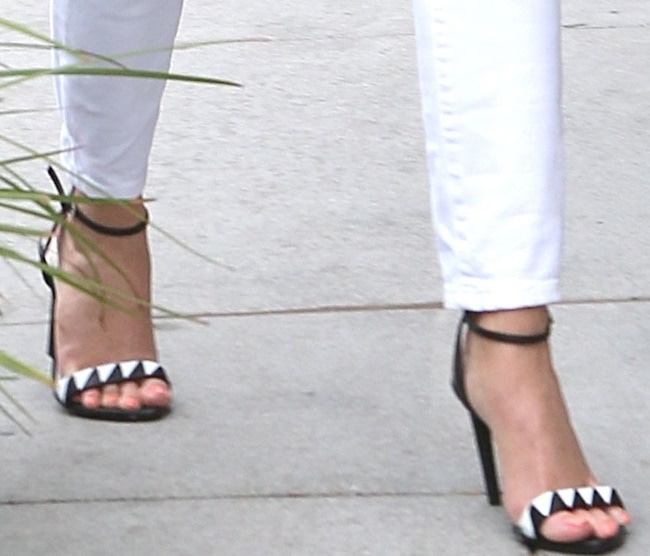 Reese Witherspoon's feet in black-and-white ankle-strap sandals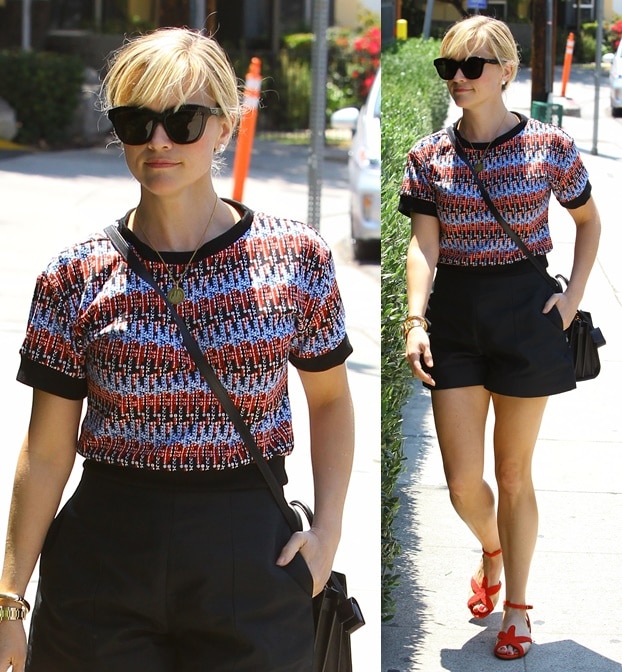 Reese Witherspoon in red, black, and blue as she checks out a new home under construction in Santa Monica on August 6, 2014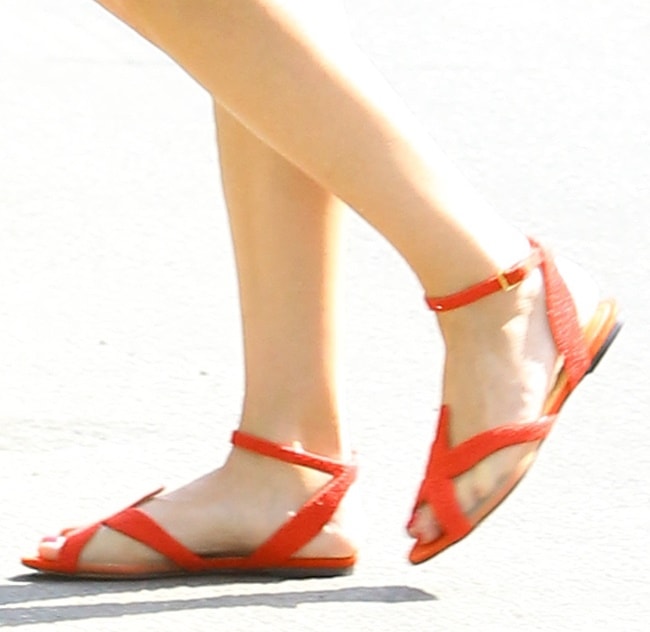 Reese Witherspoon's feet in red sandals
Reese Witherspoon stepping out in a cute blue-and-white floral dress paired with white ankle-strap sandals, a fedora hat, and a yellow purse while out and about on Abbot Kinney Boulevard in Los Angeles on August 8, 2014
Reese Witherspoon's pedicured toes in ankle-strap sandals
See. Can you get with her style? Are you the type who likes to color-coordinate?
Reese always looks amazing in her perfectly matched ensembles. In fact, the outfit she wore on Thursday is one of our favorites.
After a brief vacation in the Caribbean, the Southern beauty stepped out in a Carolina Herrera-esque kind of attire consisting of a white button-up shirt tucked under a wrap skirt printed in aqua blue, red, and white. She paired this outfit with two-tone eyewear, red ankle-strap wedges, and a white Birkin bag. She styled with slightly tousled tresses, red lips and nails, and a chunky gold necklace. To say Reese looked awesome is an understatement because she looked fantastic.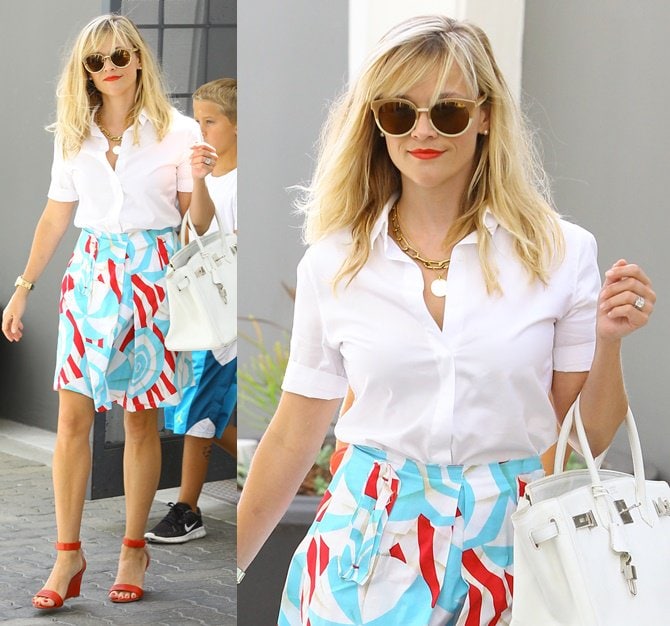 Reese Witherspoon spotted in another well-coordinated outfit in Los Angeles on August 21, 2014
Reese Witherspoon's feet in red ankle-strap wedges
We don't have the details on the pieces in Reese's ensemble at the moment, but we're dying to copy it. Would you like to give her look a try? If that's a yes, then check out our suggested outfit using two-tone sandals from L.A.M.B.:
L.A.M.B. Destiny Single-Band Sandals, $235 / Clover Canyon Grecian Bouquet Pleated Skirt, $295 / Theory Sartorial Nareen Blouse, $15 / Milly Riley Crossbody Tote, $325
Below is a closer look at those L.A.M.B. sandals. These shoes feature ridges at the front straps, slim heels that are about 4 inches tall, and zipper closures on the back for easy access.
L.A.M.B. 'Destiny' Single-Band Sandals, $235 at Shopbop
Below are some of the sandals Reese used for her outfits above. The first pair is from Proenza Schouler, an off-season style that features slim 4-inch-tall heels and a geometric black-and-white pattern on the front straps.
Proenza Schouler Two-Tone Leather Sandals, $595
The actress' uber cute starfish-detailed sandals in the second look are from Charlotte Olympia. Up close, they're bedecked with tiny red beads and feature an ankle-wrap design.
Charlotte Olympia "Sandy" Beaded Sandals, $682 at Net-A-Porter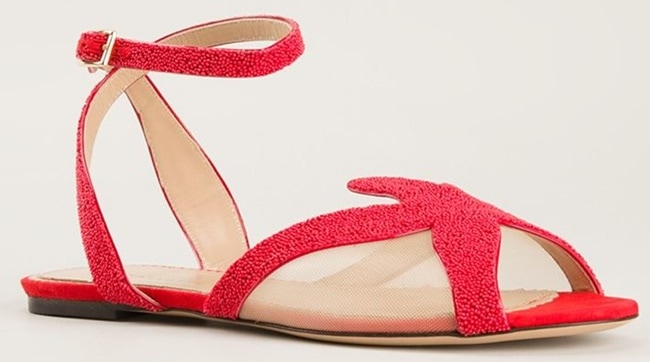 Credit: WENN