Having gone crazy with camouflage in her latest Autumn/Winter 2013 collection for River Island, Rihanna has found the absolute perfect place to wear her current fashion obsession: on a jungle safari in Johannesburg, South Africa.
Looks like Rihanna thought so, too, because she couldn't stop posting pictures of herself wearing the camo-printed thigh-high boots she designed while cozying up to some local wildlife.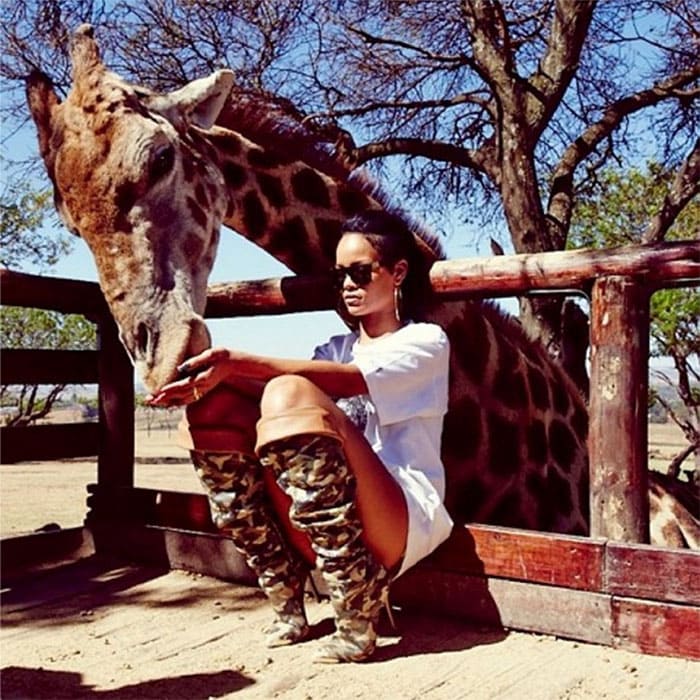 Rihanna feeding a giraffe in South-Africa
Check out just some of the snaps she shared on her Instagram account; the photos were taken at an animal sanctuary in Johannesburg, which Rihanna is currently visiting as part of her Diamonds world tour.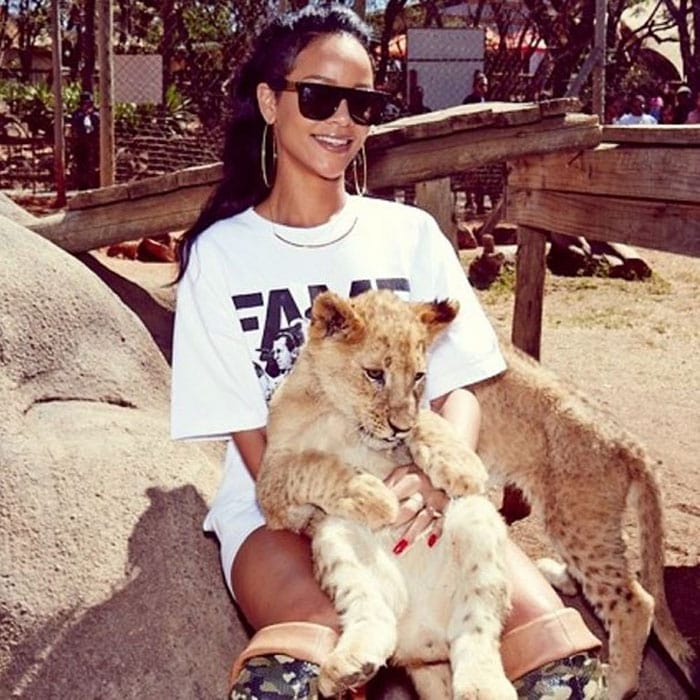 Rihanna visits an animal sanctuary in Johannesburg on October 14, 2013
Rihanna rocks camo-printed thigh-high boots while on safari
As mentioned, Rihanna's boots are from the Rihanna for River Island Fall 2013 collection. You'll be able to find the boots in-store.
A number of Rihanna for River Island shoes are also available for purchase at eBay.
Rihanna for River Island Camouflage Thigh-High Boots
Looks like Rihanna's camouflage craze is very much on-trend — designers such as Christian Louboutin, Giuseppe Zanotti, and even the devotedly feminine Valentino have all come out with camo footwear, which you'll be seeing in detail in an upcoming post.
Watch the video below to see just how much camo Rihanna injected into her Fall 2013 collection for River Island. Keep an eye out for the camo thigh-high boots — they make a cameo right at the start!
Credit: Rihanna's Instagram