Fenty Beauty has taken the world by storm with its 40 shades of foundation, promising to cater to women of all color. In fact, it's so inclusive that it even has a shade for those with Albinism.
Inevitably, makeup moguls scrambled to their feet as makeup fans made much ado over the wide spectrum of shades.
Meanwhile, Rihanna is quickly expanding her makeup line. The pop star jetted out to Spain to for her first international Fenty Beauty launch through Sephora.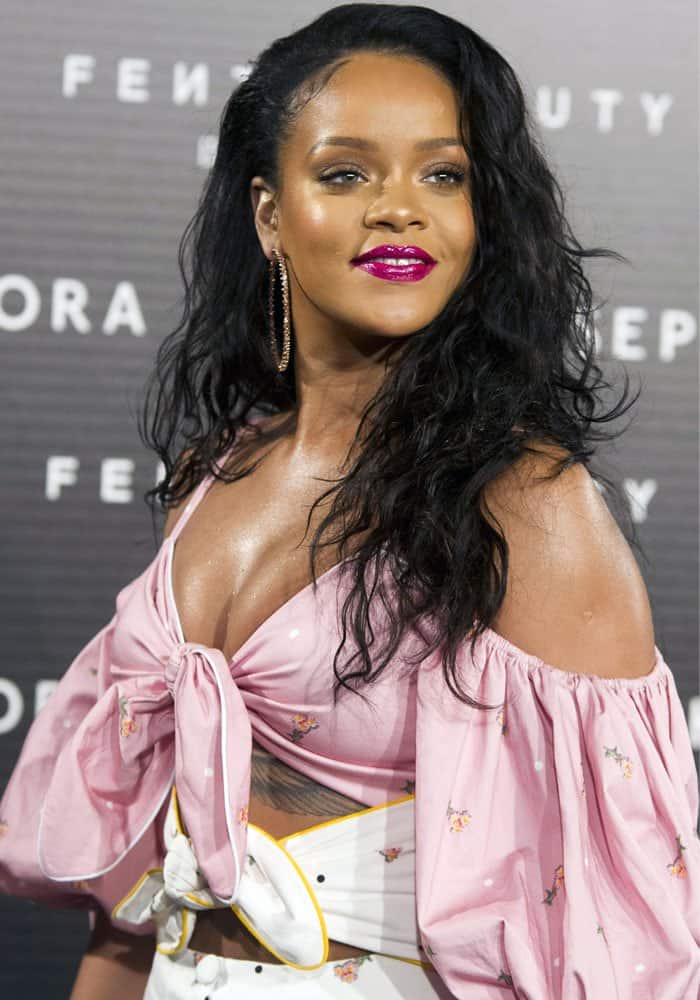 Rihanna attends the "Fenty Beauty" launch at Callao Cinema in Madrid, Spain on September 23, 2017.
Rihanna steps out in a festive feminine creation by Ukrainian designer Marianna Senchina.
The pop star wore a pair of blush tone Olgana Paris "L'Attachante" pumps in satin.
Rihanna brought a bit of Barbados festivity to Spain in a Marianna Senchina Spring 2018 dress. The Ukrainian designer behind the dress has her fashion roots in Italy and Paris.
Badgal Riri turned to Chopard for her accessories. The 29-year-old wore the pink-brown diamond earrings and the "L'heure Du Diamant" watch.
The pop star finished her look with a blush tone pair of Olgana Paris "L'Attachante" pumps in satin.
Rihanna blows kisses to her Spanish fans.
The 29-year-old was visibly happy as she launched the Madrid leg of her beauty line.
The pop star said she chose Spain because she saw a market there, and that she personally loved visiting the country.
Rihanna also emphasized her involvement in Fenty Beauty, saying she conceptualized everything from ground up. The singer also teased her new Galaxy collection.
Rihanna uploads a photo of herself putting on Fenty Beauty makeup before the launch
Rihanna en route to see her Spanish fans.
Purchase the Olgana Paris "L'Attachante" pumps in white from Farfetch.
Olgana Paris ankle lace pumps, $1,226
Credit: Rihanna's Instagram / Sean Thornton / DyD Fotografos / Future Image / WENN