Have you ever seen Rihanna look ladylike? Usually we see her in outfits that are either edgy, retro, punk, rock chic, vampy, glam, and even grunge. Let's not forget the number of hair color changes she has pulled over the years.
But here's the thing, when it comes to shoes, the pop singer never fails to pick sexy and feminine styles (more often than not, at least). Take for example, her latest acquisition – the Manolo Blahnik 'Chaos' ankle strap sandals, which she has been wearing over the past two weeks. Rihanna was first spotted wearing them at Heathrow in London, then while performing at the FIFA World Cup, and later when leaving her hotel in London with Chris Brown last week.
Rihanna rocking Manolo Blahnik 'Chaos' ankle strap sandals
Rihanna leaves her hotel to catch an early morning flight from Heathrow airport in London on September 27, 2012

What do you think of Rihanna's sandals? Those are some seriously gorgeous heels, yes?
Below is a closer look at the shoes for you. The "Chaos" has a very clean and classic silhouette. However, the basic yet skin-baring design is what makes it really feminine and ladylike. Add a fashionably high 4 inch stiletto to the equation and you basically get one hot and sexy shoe that you can purchase at Saks Fifth Avenue.
Manolo Blahnik 'Chaos' Ankle-Strap Sandal, $695 at Saks Fifth Avenue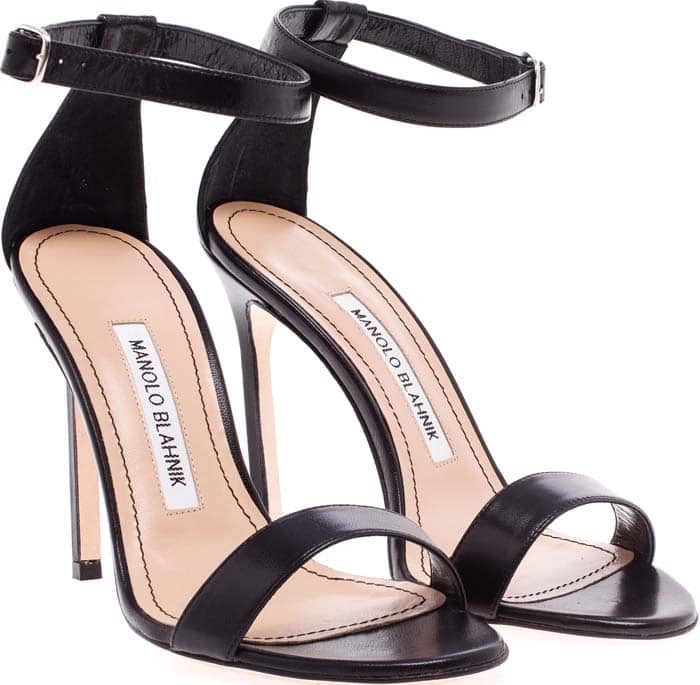 Credit: Will Alexander / WENN