Rihanna has concluded her Diamonds World Tour and is now making the most of her free time in Hollywood. The 25-year-old Barbadian singer has been keeping busy going anywhere and doing anything she wants.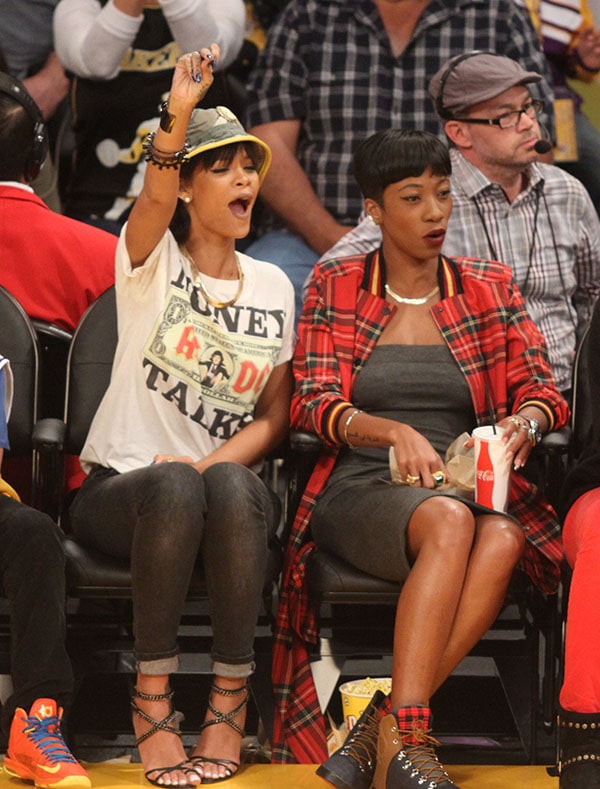 Rihanna and Melissa Forde cheer for the Los Angeles Lakers courtside at the Los Angeles Staples Center on November 22, 2013
As a Lakers fan, it makes sense that one of those things on her post-world tour bucket list was a Los Angeles basketball game.
Rihanna was spotted courtside at the Staples Center for the November 22 Los Angeles Lakers game against the Golden State Warriors. Rihanna and her BFF, Melissa Forde, cheered for their favorite team.
Born on April 11, 1986, Melissa Forde grew up in Barbados with Rihanna and they have been friends since their childhood. She is Rihanna's unofficial Instagram photographer and her account @mdollas11 has almost 1 million followers on Instagram.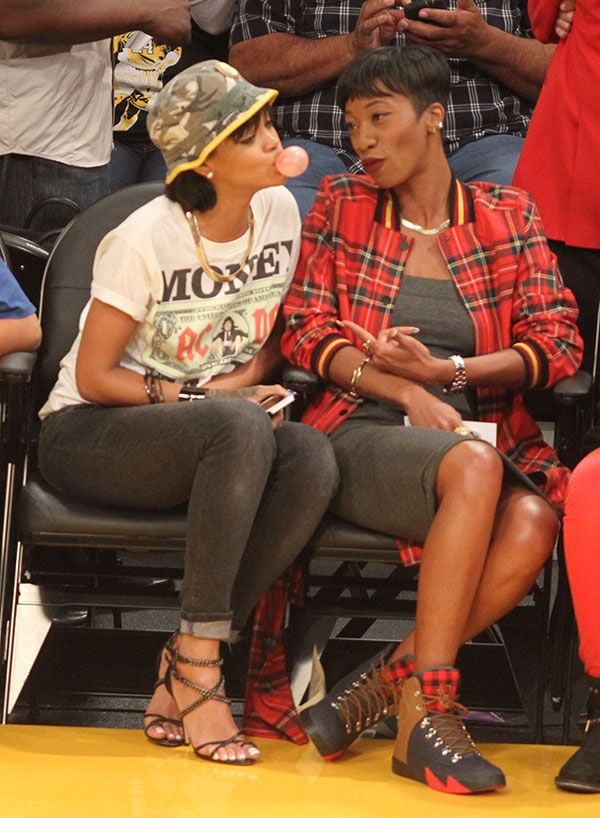 Rihanna's childhood friend Melissa Forde is also her unofficial Instagram photographer
While Melissa sported a fitted dress and a casual tartan jacket, RiRi dressed down in a loose printed tee with a pair of skinny jeans and a bucket hat that covered her short hair and bangs.
She added some edge to her look with a few bangles and a necklace.
Rihanna wears a bucket hat, jeans, and an AC/DC t-shirt for a courtside appearance at a Lakers game
The "We Found Love" songstress, who was featured on Eminem's latest single, "The Monster," finished her outfit with a pair of tough-chic sandals by Olcay Gulsen.
Rihanna completes her courtside outfit with a pair of Olcay Gulsen sandals on her feet
These 4.5-inch heels feature feminine crisscross straps with double adjustable ankle straps and metal chain embellishments that provide a hint of edge.
Rihanna's feet in chain-embellished Olcay Gulsen sandals
Like them? These chain sandals are guaranteed to add tough-chic glamour to any look. In RiRi's case, they added sophistication to her casual ensemble. Check out the bronze and black versions below.
Olcay Gulsen Chain Sandals in Bronze, $600
Olcay Gulsen Chain Sandals in Black, $600
Credit: WENN