It looked like Rihanna was dead set on getting people's attention during Paris Fashion Week. We're guessing she carefully planned every single outfit for each appearance she made. She hopped from Lanvin to Balmain to Dior decked in garb meant to draw eyes to her.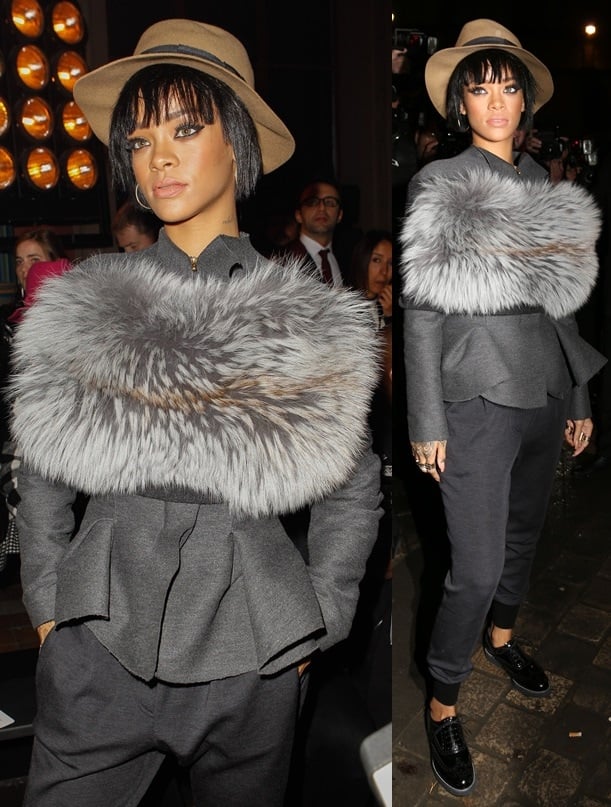 Rihanna in head-to-toe Lanvin at the label's Fall 2014 presentation during Paris Fashion Week in Paris, France, on February 27, 2014
For the Lanvin presentation, Ri-Ri channeled her tomboy side and slipped into a trouser ensemble from the label's Pre-Fall 2014 collection.
Rihanna's wearing masculine brogues
She decorated the outfit with a furry stole, a hat, and a pair of masculine brogues.
Rihanna's Oxfords for the Lanvin show
Determined to keep all eyes glued on her, Rihanna switched into a more risqué number as soon as she hit the Balmain after-party.
The second look consisted of nothing but a fishnet-stocking bodysuit and a black leather skirt — completely different from the green layered outfit she wore to the Balmain presentation, which she reportedly completed with a pair of "Impera" sandals from Christian Louboutin's Spring 2014 collection.
Rihanna at the Balmain show during Paris Fashion Week in Paris, France, on February 27, 2014
These cutout lace-up pumps are also available in nude and black versions, as shown below.
Christian Louboutin "Impera" Pumps in Nude and Black, Spring 2014 Collection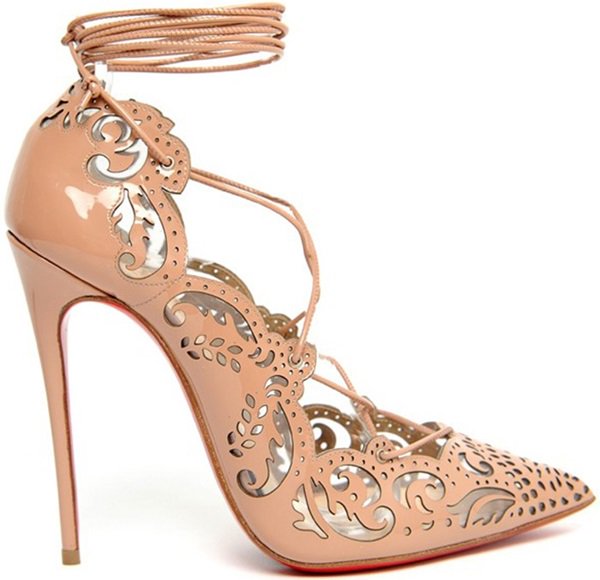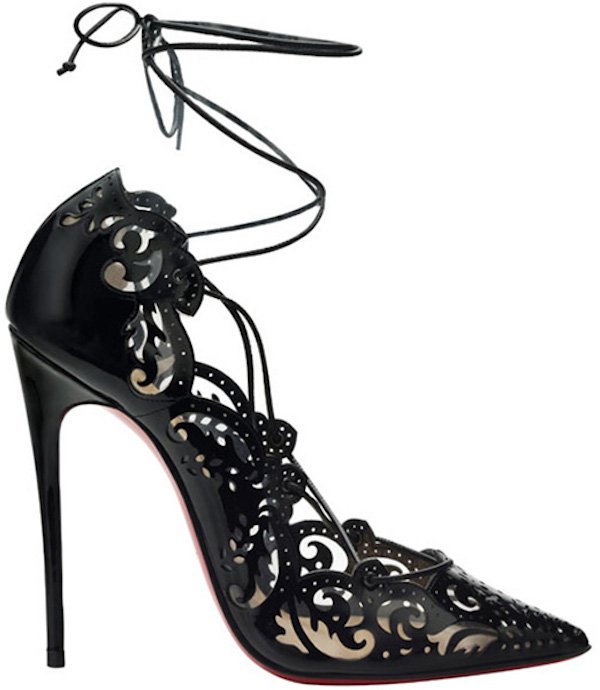 Check out these Instagram pictures posted by Rosie Huntington-Whiteley and another fan who attended the after-party. Clearly, Rihanna was going for daring as she proudly exposed her practically naked torso.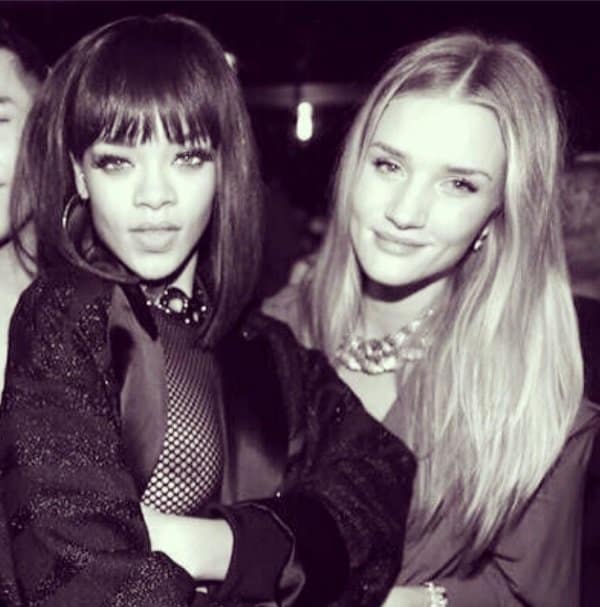 Rihanna posing with supermodel Rosie Huntington-Whiteley an exposing her nipples in a risque outfit for the Balmain presentation after-party in Paris, France, on February 27, 2014
Rihanna's nipples at the Balmain show after-party posted on Instagram
At the Dior show the following day, Ri-Ri channeled more of her inner vixen by wearing a short LBD with a deep neckline that showcased her bosom. She finished the piece with a poppy red coat and a pair of ankle-strap pumps that complemented her exposed thigh-high stockings.
Rihanna flaunting her nipples at the Dior show during Paris Fashion Week in Paris, France, on February 28, 2014
Fan posts of Rihanna attending the Dior show during Paris Fashion Week
We weren't able to get a good picture of the shoes Rihanna wore at the Dior presentation, but you can check out this article at Just Jared for reference. If we're not mistaken, her d'Orsay heels are from the label's pre-fall collection — the same pair on the model below:
A look from Dior's pre-fall 2014 collection
So, how do you find Rihanna's PFW style so far? Truly wow, right?
We can't wait to see what she's going to put out for the other upcoming shows. Forget the fact that she was half-naked at the party because she simply aced every look with flying colors. And let's not forget that with every outfit she wore, she slipped into a pair of standout shoes.
Among the three shoe styles, the exquisite Louboutins take the cake for gorgeousness. They're not available for pre-order yet, but if you need the fix, you can grab the Alice + Olivia "Dina" laser-cut pumps instead. They don't have the ankle-wrap lace-up feature, but they're just as wonderful:
Alice + Olivia "Dina" Laser-Cut Pumps, $395 at Zappos
And if you're interested in the flared-heel silhouette of the singer's Dior shoes, why not try a pair from the previous season? This discounted style from Farfetch is certainly worth checking out:
Christian Dior Flare-Heel Slingback Pumps, $920
Credit: SIPA / WENN / Rosie Huntington-Whiteley's Instagram / Rihanna / ThatShitSlay / Sarah_Navy777