We're glad that Rihanna has finally returned to Instagram because we have been longing to see her adventures and her crazy/funny side, not to mention her daring and interesting outfit posts.
Rihanna channels her inner Olivia Pope in a striking African-inspired look
Just recently, she showed her fans a striking African-inspired look while channeling her inner Olivia Pope (of the political thriller TV series 'Scandal', played by Kerry Washington) during her visit to the White House.
She pretended to be on the show and re-enacted some of the scenes from the series while in a Stella Jean dress that features ethnic prints in multiple colors and striped collar and sleeves that created a chic contrast.
Rihanna wearing a Stella Jean dress featuring ethnic prints in multiple colors
Riri styled her exotic number with a simple Balmain bag with a tusk charm and a pair of oversized hoop earrings in gold.
The 26-year-old singer clearly wanted her dress to stand. She opted for simple yet timelessly chic black Chaos sandals by Manolo Blahnik, which feature buckled ankle straps, front straps, and about 4-inch heels.
Rihanna at the White House in Washington D.C. on November 10, 2014 – posted on Instagram on November 11, 2014
Want Rihanna's entire look? You can check out her entire ensemble in more detail below.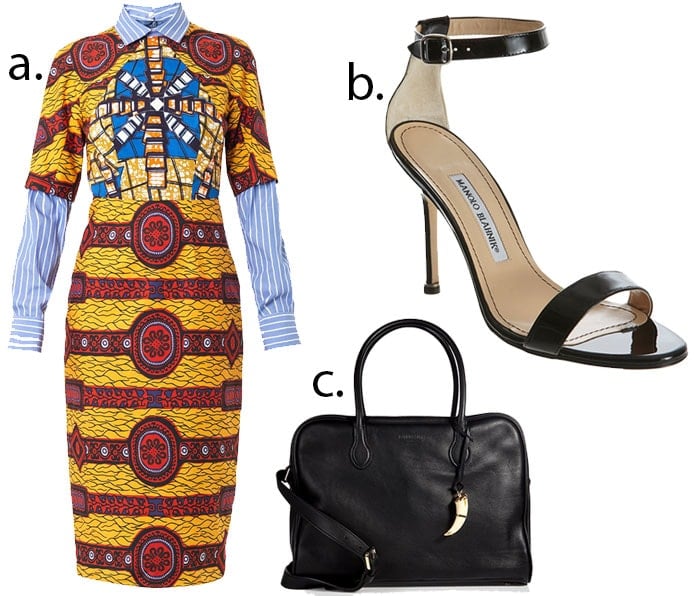 a. Stella Jean "Barbara" Layered-Shirt Printed Dress, $989
b. Manolo Blahnik "Chaos" Sandals, $725
c. Balmain "Pierre 24 Hours" Leather Tote, $4,415
Credit: Rihanna's Instagram