We all know that Rihanna is very much into ankle-strap sandals. We've seen her in several, such as Celine, Givenchy, and Manolo Blahnik.
This month, however, it looks like the pop singer has a new favorite pair. They're red, and they feature thick buckled ankle straps. Rihanna sported them yesterday while leaving her hotel in Manchester. She wore the shoes with loose jeans, a graphic tee, a beanie, and some cat-eye sunnies — not exactly the best mix to go with the heels, but she made the whole outfit look cool nonetheless.
Rihanna wearing loose jeans, a graphic tee, a beanie, and cat-eye sunnies while leaving her hotel in Manchester on June 13, 2013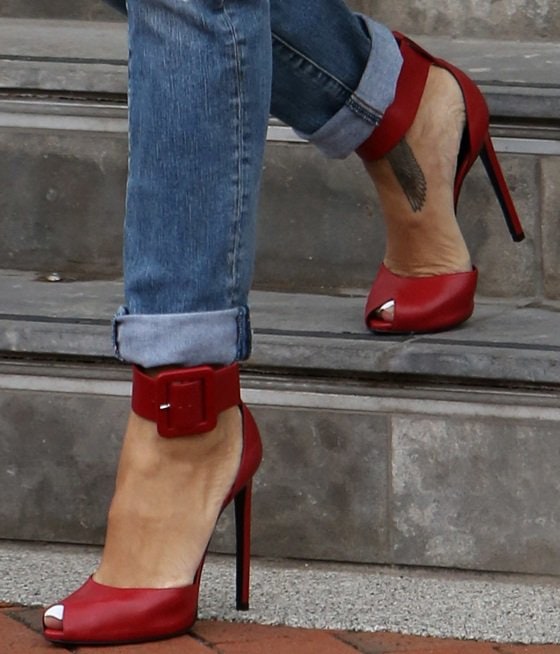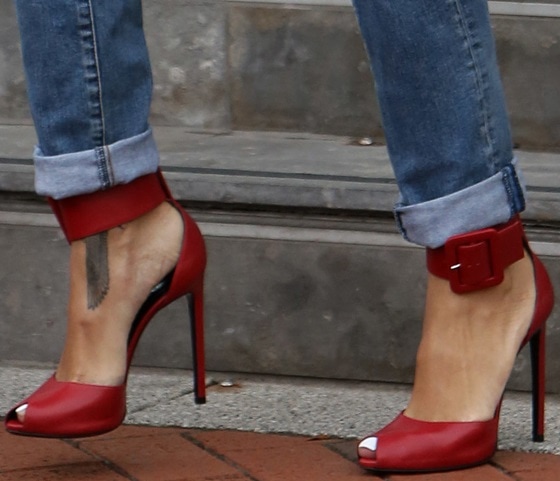 Rihanna showing off her feet in Saint Laurent "Paris" ankle-cuff sandals
How do you like Ri-Ri's off-duty style? And what are your thoughts on her hot red 'Paris' ankle-cuff sandals from Saint Laurent? Love, lust, or both? They are quite sexy, yes?
Yup, they're pretty much the open-toe versions of the celebrity-favorite Saint Laurent Paris Escarpin pumps.
What makes this pair different from the usual single-band ankle-strap silhouette we often see in the stores is the tapered and narrow peep-toe front. It doesn't expose the toes as much.
Saint Laurent "Paris" Ankle-Cuff Sandals, $895 at Nordstrom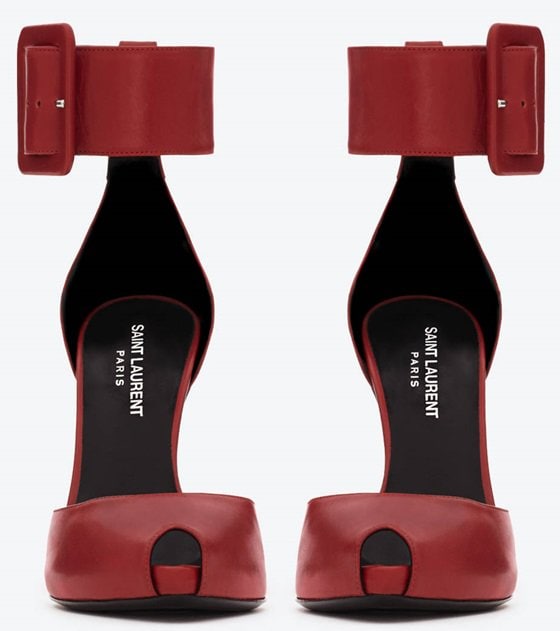 Sadly, the Paris sandals are sold out online, so you'll have to try your luck at the Saint Laurent store if you want a pair. However, if you don't mind grabbing something similar and less pricey, the alternatives below from Alexander Wang and Paul Andrew will easily do the trick. They feature the same cuffed silhouette, and they're just as stunning.
Alexander Wang "Aminata" Ankle-Cuff Sandals, $625 at Shopbop
Croc-embossed Alexander Wang sandals make a bold, exotic statement. A curved strap details the open toe, and a buckle closes at the cutout ankle.
Paul Andrew "Alexandria" Ankle-Cuff Sandals, $995 at Shopbop
A sexy pair of heeled sandals from Paul Andrew harnesses the ankle with thin straps on a high cuff. The long back zip makes these easy to wear, and a covered stiletto heel creates seductive height.
Credit: WENN