Rita Ora's latest single "Your Song" has been making waves since it first dropped in May 2017. Her hit is showing no signs of waning any time soon as it continues to top charts in the UK, trailing closely behind DJ Khaled and Calvin Harris.
Despite her recent hosting gigs, the British singer and actress took time out to give her single the promotion it deserves, arriving to promote her work at "Pitch Battle: Live Final" in Manchester.
Rita Ora was spotted outside the studio in her another casual-cool outfit by styling genius Kyle De'Volle.
Rita Ora spotted leaving Dock 10 Studio's Media City UK after filming "The Pitch Battle Live" finals in Manchester on July 22, 2017.
The pop star was spotted in a vintage Oasis concert tour shirt.
Rita stepped out in her usual spunky chic demeanor, wearing a vintage Oasis concert tour shirt underneath an animal print blazer. The pop star paired her top with black distressed jeans.
A Rita Ora look wouldn't be complete without the over-the-top accessories. The "Your Song" crooner layered on silver necklaces and hid her eyes behind a pair of oversized sunglasses from Møy.
The 26-year-old finished her look with the gorgeous metallic "Phylis" slippers from Bally. A little fact about this pair of shoes: The wearer can actually convert them to mules by folding down the convertible back panel. How cool!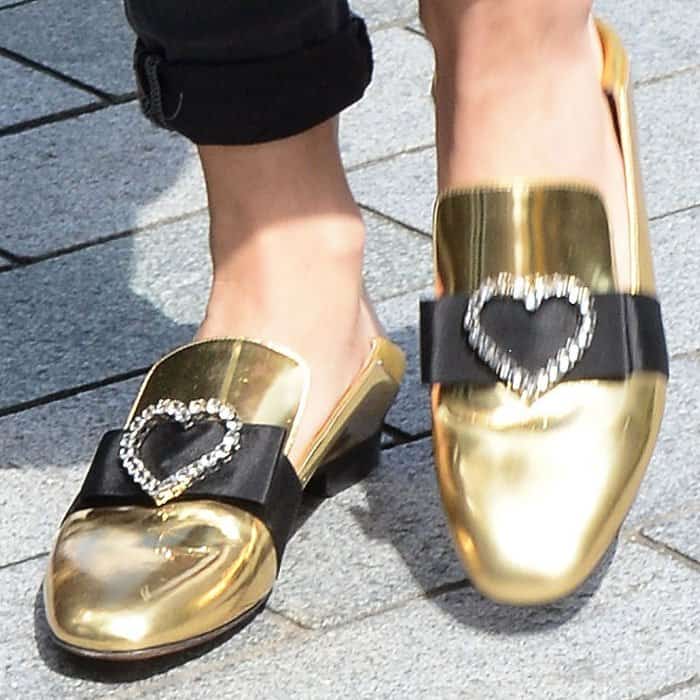 Rita puts the finishing touches on her look with a pair of Bally "Phylis" metallic leather slippers.
Rita uploads a photo of her OOTD on Instagram.
The pop star snaps a photo with her backup dancers during rehearsals at "Pitch Battle: Live Final."
Rita's "Your Song" is her ninth single to make it to the top ten list overall in the UK. Whew.
The pop star first announced her new single on May 12, 2017, and performed it for the first time two weeks later at the 2017 Cannes Film Festival where the back-up vocals were performed by Ed Sheeran.
On a television show, Rita shared that "Your Song" was one of the easiest songs she's ever recorded. She and Ed took only two hours to put it on record, and afterward, the two went to a pub for burgers.
Unfortunately, Rita's exact pair of shoes is no longer available online, but you can check out other styles from the same designer at Bally.
Bally "Phylis" women's calf leather slipper
Credit: Rita Ora's Instagram / WENN