Ruby Rose has become an overnight sensation after stepping into the role of Stella Carlin on the widely-acclaimed show "Orange Is the New Black."
Ruby Rose heads to a medical building in Beverly Hills on July 14, 2015
But lately, it hasn't been her acting making the headlines. Rather, it's been her introduction to the idea of gender fluidity.
Ruby Rose channels Justin Bieber in a flannel shirt and loose shorts
The 29-year-old said she doesn't feel completely man or woman. Some days she feels like wearing a skirt, other days she prefers men's clothing.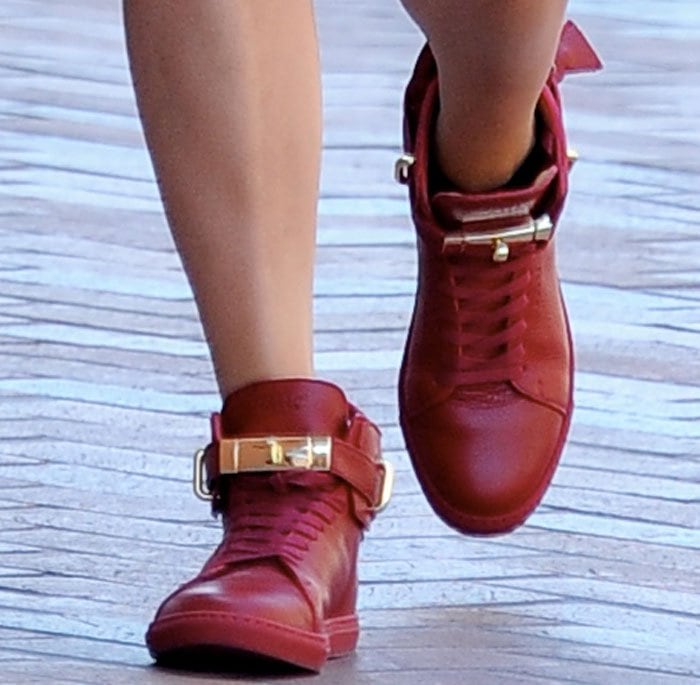 Ruby Rose's feet in Buscemi wedge sneakers
Ruby Rose was recently spotted heading to a medical building in a Justin Bieber-inspired outfit consisting of a flannel shirt, plain tee, loose shorts, sunglasses, and a pair of wedge sneakers by Buscemi.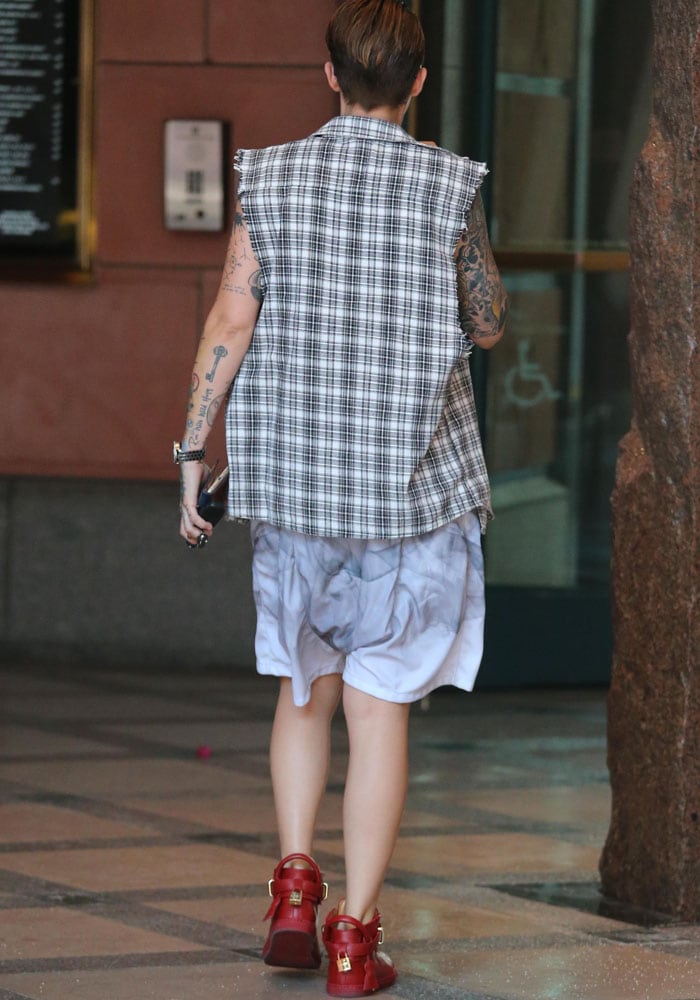 Ruby Rose wears a sleeveless flannel shirt and baggy shorts
Ruby also discussed why she decided to go against sex reassignment surgery, following the news of Caitlyn Jenner.
"I had this jar that I would collect dollars – in fact, we were so poor, it would have been cents. So I probably had 19 cents to go towards this surgery that I didn't really know a lot about. I think I had seen like a daytime documentary, probably something on Oprah and I was like, 'That's what I'm going to do.' And so I started saving from probably the age of 5," she explained in an interview with Access Hollywood.
"When I got to 15 was when I kind of decided to get more into my body, and I shaved my head, and my mom was just like, 'I don't know what's going on right now, but if you are happy, then do it,' " Rose explained.
"And I decided to change the way that I dressed and talked and realized that I didn't want to transition, I just wanted to be more comfortable in my own skin."
About a year ago, Ruby uploaded a short film on gender transitioning called "Break Free," in which she transformed from a feminine look to a masculine one. The film has since raked in a whopping 9.2 million views.
Ruby Rose uploaded a short film about gender transitioning called Break Free, which has now garnered 9.2 million views
Gender talk aside, we are loving Ruby's Buscemi shoes. Grab a red-and-gold pair from Farfetch while they're still available.
Buscemi Leather Wedge Sneakers, $890
Credit: Cousart / JFXimages / WENN