First Lady of the United States Melania Trump joined her husband President Donald Trump on a visit to the national shrine of Pope John Paul II on Tuesday last week, amid civil unrest across the nation over the death of African-American man, George Floyd.
President Donald Trump and First Lady Melania Trump visit Saint John Paul II National Shrine in Washington, D.C. on June 2, 2020
The former model opted to wear a black dress for the somber occasion as she and Donald Trump honored Saint John Paul II with a ceremonial wreath at the national shrine.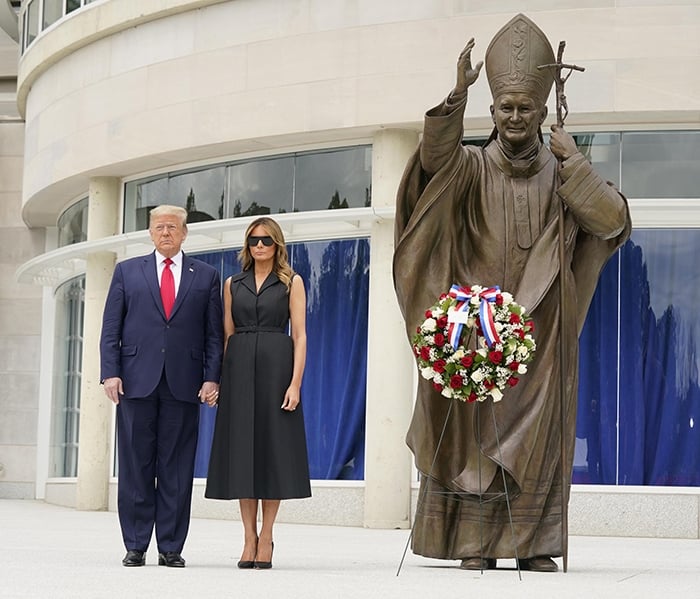 Donald Trump and Melania Trump honor Saint John Paul II with a ceremonial wreath
Sticking to her signature style, she wore a Dior bespoke sleeveless coat dress that features a collar, a v-neckline, and a waist-cinching belt.
Melania Trump wears a black Dior sleeveless dress
She teamed her muted frock with her favorite Manolo Blahnik BB pumps in black with pointed toes and about 4-inch heels.
Wearing her signature center-parted loose waves hairstyle, Melania finished off her rather low-key look with a pair of Saint Laurent SL M16 sunglasses ($450 at Shopbop).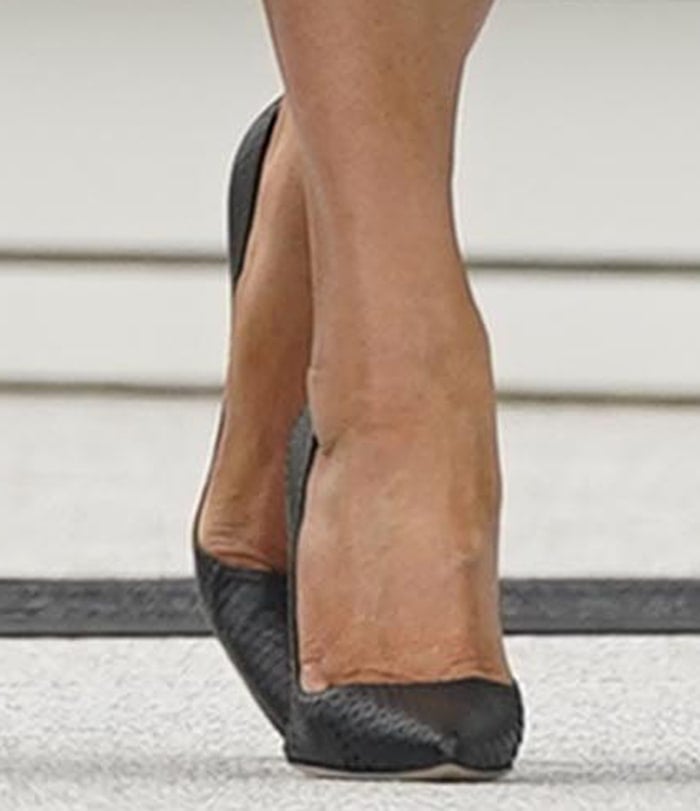 Melania Trump shows off her feet in black Manolo Blahnik pumps
Donald and Melania Trump's religious photo stunts drew condemnation from Democrats and religious leaders, saying that the president was "misusing religious symbols for partisan purposes."
Ahead of their scheduled visit to the shrine, Archbishop of Washington Wilton Gregory issued a statement.
"I find it baffling and reprehensible that any Catholic facility would allow itself to be so egregiously misused and manipulated in a fashion that violates our religious principles, which call us to defend the rights of all people even those with whom we might disagree. Saint Pope John Paul II was an ardent defender of the rights and dignity of human beings. His legacy bears vivid witness to that truth. He certainly would not condone the use of tear gas and other deterrents to silence, scatter or intimidate them for a photo opportunity in front of a place of worship and peace."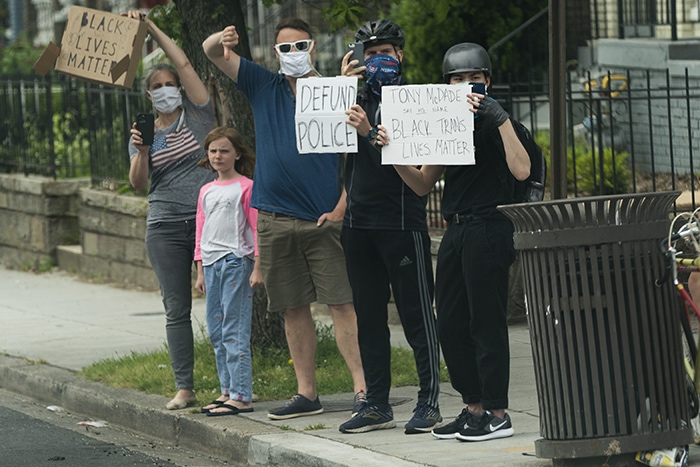 Protesters demonstrate along the route taken by Donald Trump and Melania Trump to visit the Saint John Paul II National Shrine
On Monday, a day prior to their shrine visit, Donald Trump visited the historic St. John Church near the white house and posed for photos with a Bible in hand.
Faith leaders, protesters, and local and state executives were outraged as police used tear gas and flashbang grenades against peaceful protesters to clear Lafayette Park so that Donald Trump could walk to the nearby church for a photo-op.
Former Vice President Joe Biden also condemned the act during his speech in Philadelphia. "When peaceful protesters [are] dispersed in order for a president — a president — from the doorstep of the 'People's House' — the White House — using tear gas and flash grenades in order to stage a photo op — a photo op — on one of the most historic churches in the country, or at least in Washington, D.C., we can be forgiven for believing the president is more interested in power than in principle. More interested in serving the passions of his base than the needs of the people in his care."
A police officer joins protesters demonstrating peacefully during the protests for George Floyd in Hollywood, California, on June 7, 2020
Credit: Instar / WENN