It seems like Oscar nominee Saoirse Ronan has taken a liking to Ian McEwan novels, particularly after her work on "Atonement" bagged her Golden Globes and Oscars nominations.
Now, almost 10 years later, Saoirse is taking on another McEwan original by bringing it to life on the big screen. This time, a more mature Saoirse is taking on a much more challenging role.
The Irish actress stepped out into rainy London for the UK premiere of her latest McEwan film, "On Chesil Beach."
Saoirse Ronan at the premiere of "On Chesil Beach" during the 61st BFI London Film Festival, at Odeon Leicester Square in London on October 8, 2017.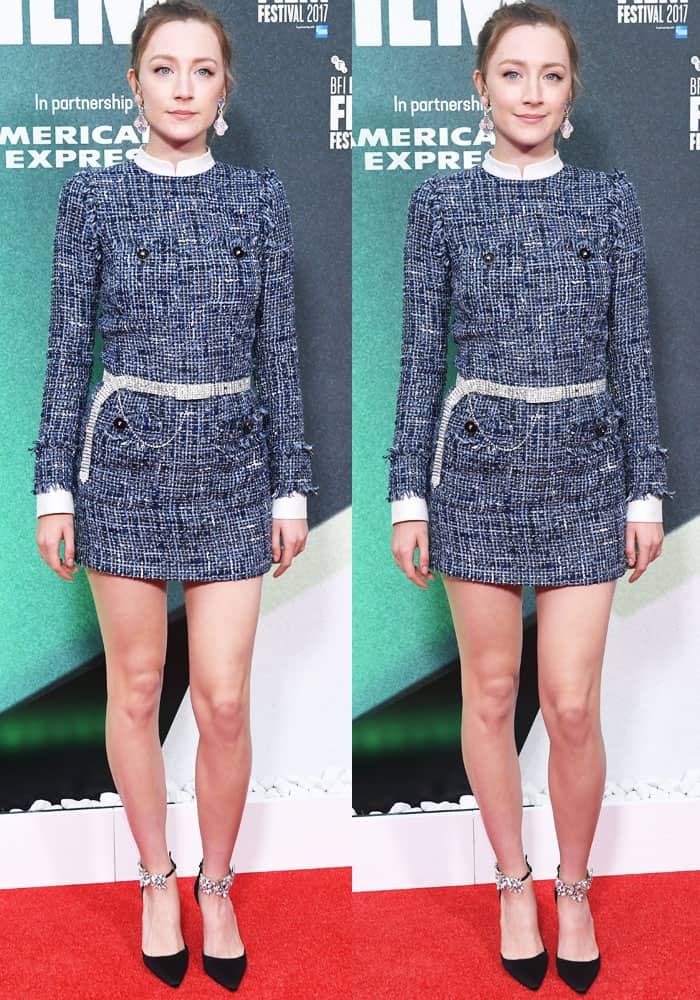 Saoirse steps out in a beautiful tweed dress by Alessandra Rich.
The beautiful actress channeled Coco Chanel in a full-on tweed dress by Alessandra Rich. We love the contrast of the fabric against crisp white cuffs and a stand-up collar.
A crystal-adorned belt helped break the monotony of the blue tweed.
Saoirse turned the focus to her feet as she posed in the Manolo Blahnik "Sicariata" pumps. Pastel-colored drop earrings subtly finished her look.
The actress adorned her feet with crystals in a pair of Manolo Blahnik "Sicariata" pumps.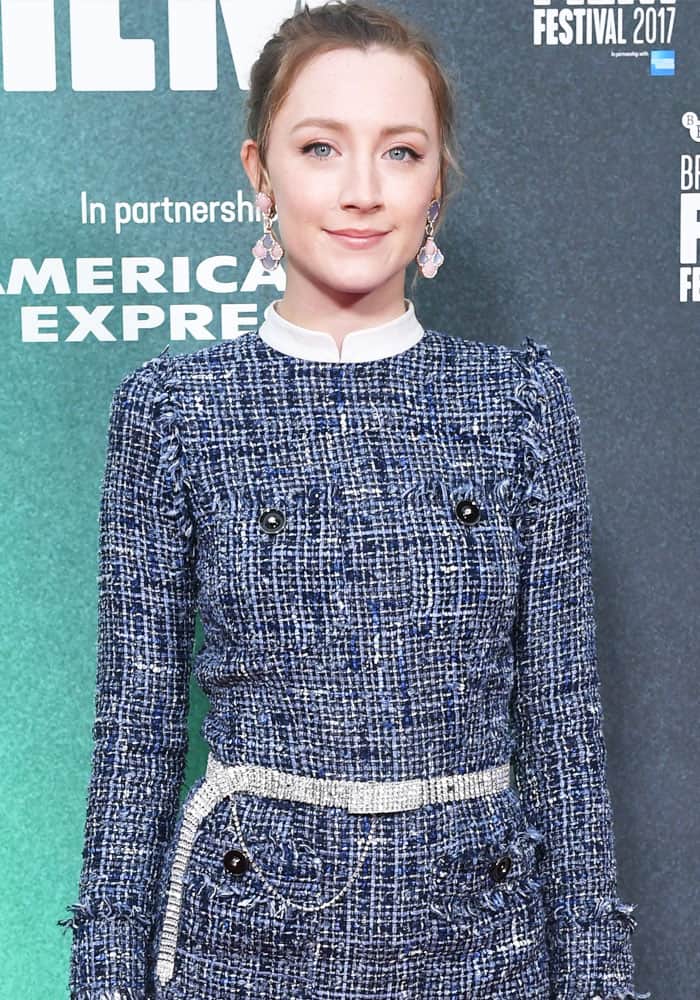 The usually bubbly Irish actress turns reserved for the cameras.
Saoirse, now 23-years-old, demonstrates her wisdom with the role of Florence in "On Chesil Beach." Set in 1962, the story follows a sexually repressed young couple who struggle with consummating their marriage.
The actress said in those days, talking about sex was taboo, which often led to lack of communication even between married couples.
Saoirse also shared a bit of her insight on today's dating apps, as well as how relationships can now be formed in an instant.
Shop Saoirse's glamorous Manolo Blahnik "Sicariata" pumps at Nordstrom.
Manolo Blahnik "Sicariata" embellished pumps, $1,225
Credit: WENN