In October 2015, the tables turned for Sarah Jessica Parker. Back in 1996, the actress landed a spot on an off-Broadway show, playing the title character of "Sylvia." Directed by John Tillinger, the cast also included Blythe Danner and Charles Kimbrough.
Nine years later, SJP's husband Matthew Broderick landed a role in the same production as the leading man alongside Tony winner Anneleigh Ashford.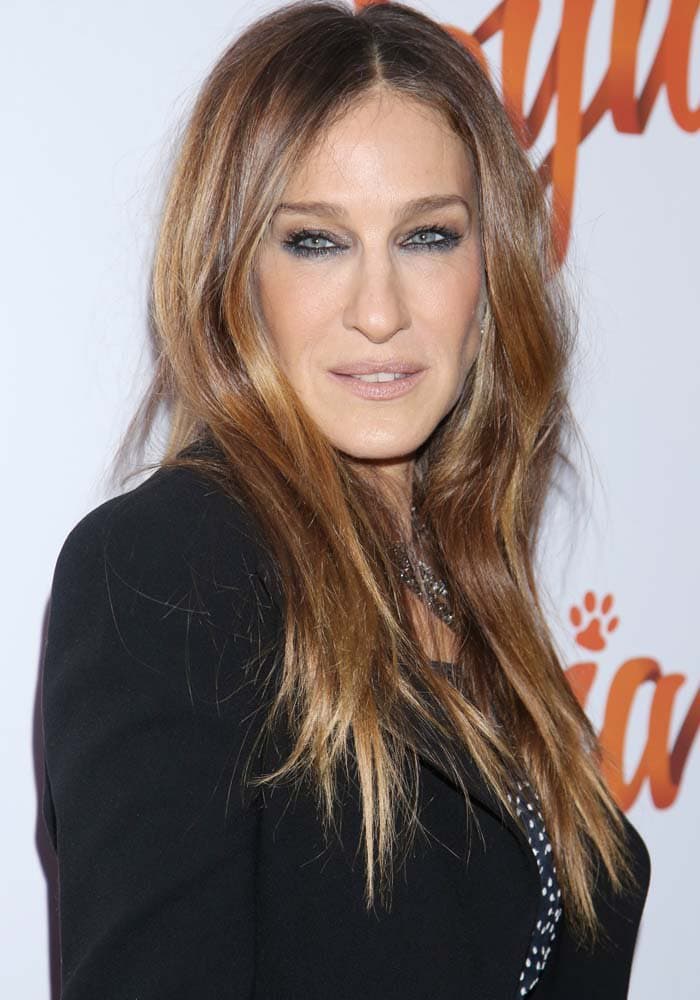 Sarah Jessica Parker wears her hair down at the opening night of the Broadway play "Sylvia" held at the Cort Theatre in New York on October 27, 2015
Sarah showed up on the red carpet arm-in-arm with the man of the hour, her husband, at the opening night of the beloved Broadway show.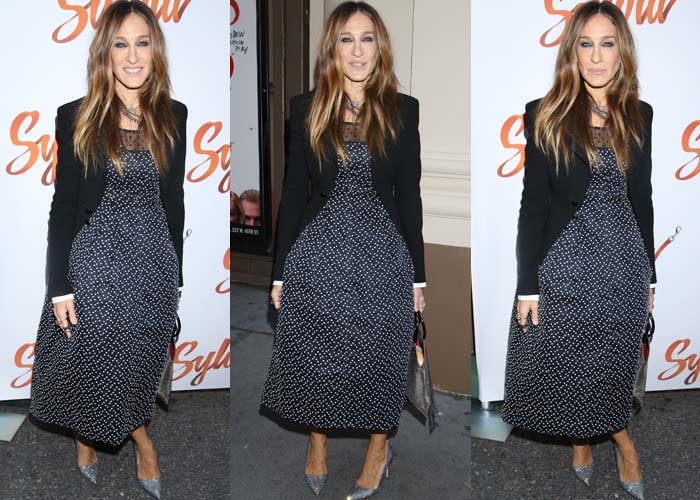 Sarah Jessica Parker wears a Dior dress at the production of "Sylvia"
The Square Pegs star wore a mesh-and-polka-dot Dior dress underneath a black blazer.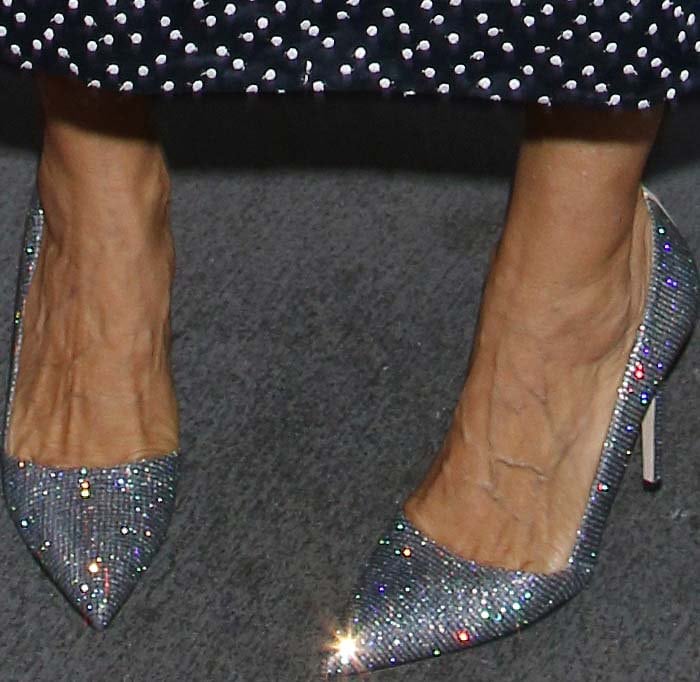 Sarah Jessica Parker's feet in "Rampling" heels
She finished her ensemble with a pair of "Rampling" heels from her own shoe line, SJP by Sarah Jessica Parker.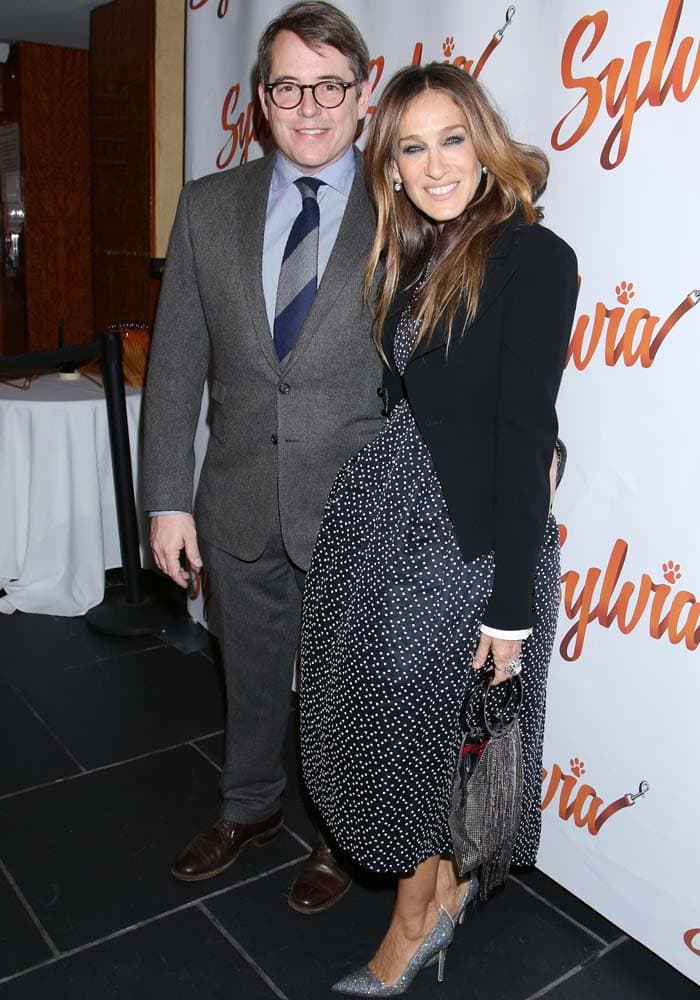 Sarah Jessica Parker poses with her husband, Matthew Broderick, at the opening night of "Sylvia"
Sarah said it was nice to be on the supporting end of her husband's work, and that she enjoyed watching the play and seeing Matthew's devotion to the theater.
To see "Sylvia" hit Broadway today — with her husband starring in it! — must strike some nostalgic chords for SJP. Watch the interview below:
Sarah Jessica Parker watches her husband's performance in "Sylvia" on Broadway
How did Sarah Jessica Parker meet Matthew Broderick?
In November 1991, the Sex and the City actress was introduced to her husband shortly after her split from longtime boyfriend Robert Downey Jr.
Sarah Jessica Parker and Matthew Broderick met for the first time through her brothers, Pippin Parker and Timothy Britten "Toby" Parker, who helped start the Naked Angels Theater Company in New York City.
Actress Sarah Jessica Parker and actor Matthew Broderick attend the 57th Annual Golden Globe Awards on January 23, 2000, at Beverly Hilton Hotel in Beverly Hills, California
"Matthew and I come from a different time and place. When we were young people, all we ever wanted was to be good working actors. We didn't think of fame or money because, honestly, money was never part of the dream," Parker told Harper's Bazaar in August 2013.
"It was to work in theater, to be around those people whose work I was in total awe of."
Actor Matthew Broderick and wife actress Sarah Jessica Parker leave The Merrion Hotel to go for a Guinness in Foley's Pub across the road on May 21, 2004, in Dublin, Ireland
"I do remember first meeting her," Broderick told the YES Network in 2012. "I still remember very clearly seeing her walk down the street toward the movie theater…it's very unique, because I wouldn't remember most people the first time I saw them come down the street. [But] I remember it as clear as day." So romantic!
You may check out Sarah Jessica Parker's dazzling glitter creations by heading over to Bloomingdale's, Zappos, and Saks Fifth Avenue.
SJP by Sarah Jessica Parker "Rampling" in Scintillate, $375
SJP by Sarah Jessica Parker "Fawn" Sparkle Fabric Pump in Bronze, $365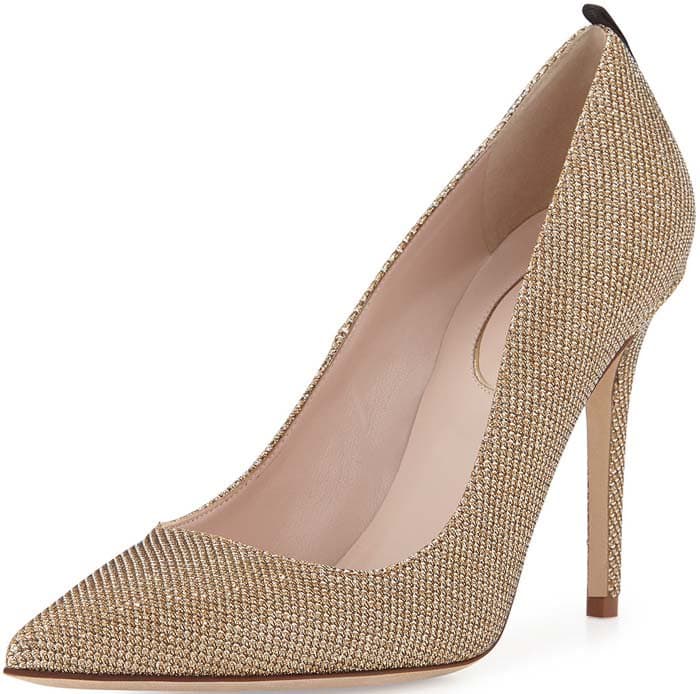 SJP by Sarah Jessica Parker "Fawn" in Silver Luminor, $365
SJP by Sarah Jessica Parker "Fawn" in Oro Liberty Nappa, $365
Credit: Joseph Marzullo / WENN