Scarlett Johansson looked every inch a movie star as she arrived at the 'Late Show with David Letterman' studio yesterday. We always thought Scarlett had a classic beauty about her, and it was played up to the hilt in the retro-style navy dress, camel coat, cat-eye sunglasses, and curled hairdo that she wore for her guest appearance on the show.
Scarlett Johansson arriving in a retro-style navy dress at the Late Show with David Letterman studio in New York City on January 8, 2014
You can tell she was really into her vintage-inspired outfit that day. She even managed to throw a few "I'm a big movie star" expressions and poses like this one:
Scarlett Johansson's "I'm a big movie star" expression
We say, work it, ScarJo! Own your top paid actress status and your old Hollywood glamour looks.
Perhaps the only thing with a touch of modernity in Scarlett's outfit was this pair of crystal-encrusted mesh sandals on her feet: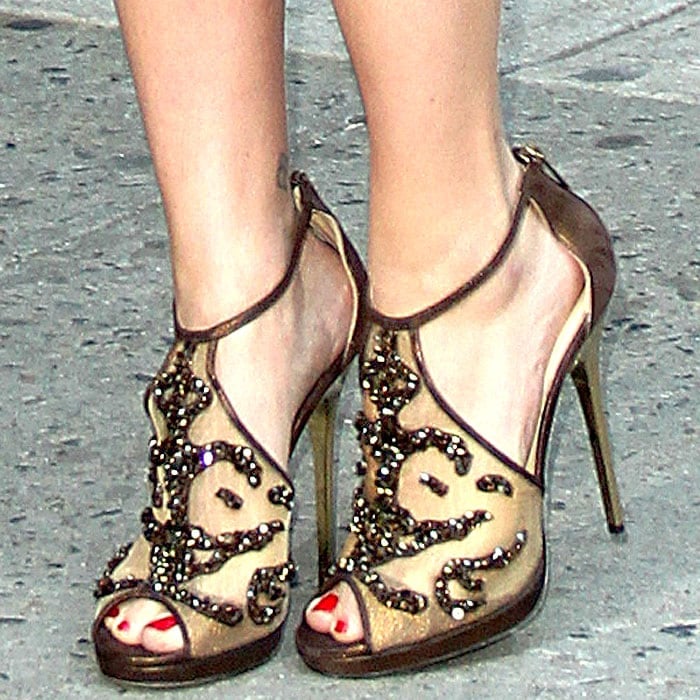 Scarlett Johansson's crystal-encrusted mesh 'Fraze' sandals
The expertise that went into crafting these exquisite sandals is so recognizable to us. Very few can make an evening sandal like Jimmy Choo.
Check out the sandals in black, which, though still fetching a high price, are now marked down by 30% at Saks.
"Fraze" Crystal-Embellished Mesh-and-Suede Sandals, $1,995 at Saks
Credit: HRC / Steve Vas / Future Image / WENN