Selena Gomez recently became the face of Adidas' fast fashion label, NEO. The pop star couldn't be more ecstatic about this recent stint, always tweeting about it and flaunting the newest NEO designs.
In fact, she was seen sporting a neon yellow hoodie from the said brand as she touched down in Los Angeles airport yesterday after staying in Europe for a NEO fan event.
Selena Gomez arriving on a flight from Europe and accompanied by her bodyguard at LAX airport in Los Angeles, California, on July 10, 2013
If Selena's goal is to stay off the radar, she is failing miserably because that neon hoodie draws attention like moths to flame. And although the hoodie has a sporty flair, she has no qualms pairing it up with more classic pieces, such as her favorite Viktor & Rolf Bombette bag and ankle-high booties.
The Selena Gomez collection for the Adidas Neo lookbook can be viewed Adidas Neo. We couldn't find Selena's hoodie in their shop, though.
If you love yellow hoodies as much as Selena, try the following alternatives from Amazon:
1. Free City Neighborhood Let's Go Baja Hoodie, $238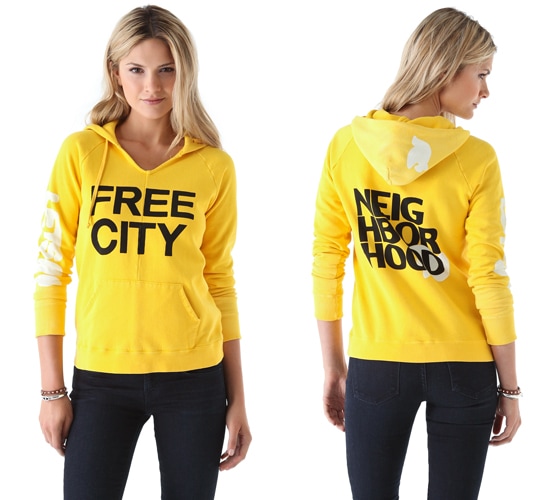 2. Vans Link Zip-Up Hoodie, $44.50
3. Billabong Going Far Top, $39.99
Credit: STS/WENN