In Italy on Wednesday, Selena Gomez graced the 2014 Ischia Global Film Festival where she received the Kids' Global Award and premiered her latest movie, 'Rudderless'. For what seems like an important occasion in her career, Selena was dressed very casually.
The young starlet opted for a boho look in a L'Agence dress with drawstring ties for the upper half that was barely hanging on to her frame. Its plunging neckline reached down to her belly button, while its slit at the thigh was only a few centimeters away from qualifying it as a pelvic-bone-flaunting dress. Perhaps to match the frock's laid-back look, Selena finished up with stiff brushed-back hair, clean makeup, and no jewelry whatsoever.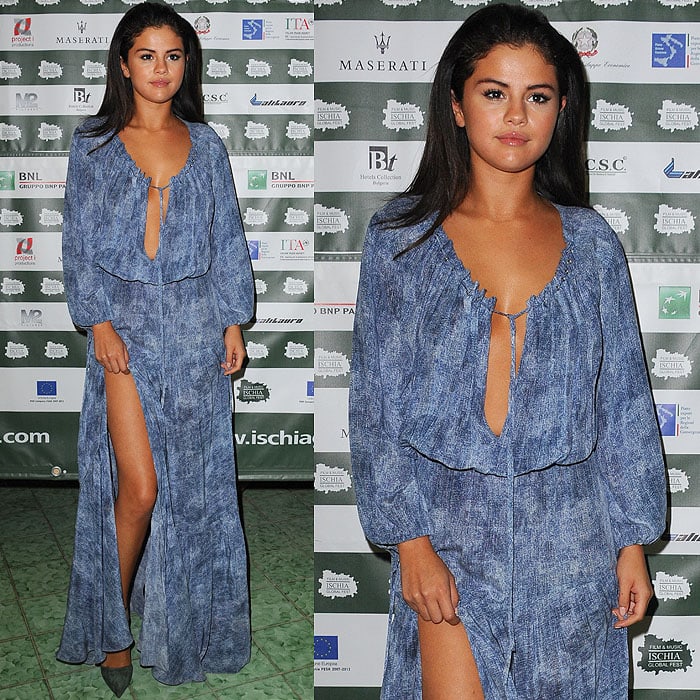 Selena Gomez at the 2014 Ischia Global Film and Music Festival held in Italy on July 16, 2014
Selena was clearly going for an easygoing vibe with this dress, but you can tell she was uncomfortable in it with the way she kept adjusting the drawstrings and placing her hand over the the slit.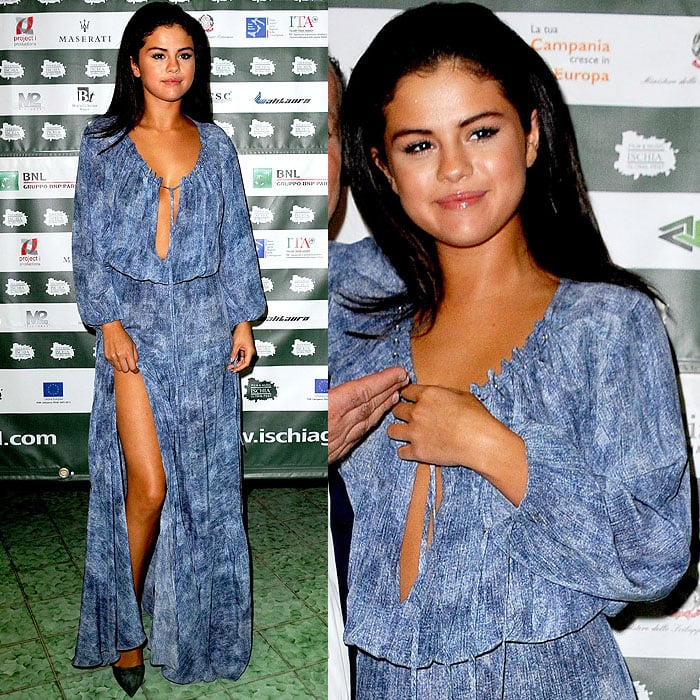 Selena Gomez discreetly adjusting her dress to keep herself covered
L'Agence Drawcord Dress in Indigo Denim Print, $550
Strangely enough, Selena paired her casual getup with these dressy Casadei ankle-strap pumps:
Casadei Gold-Heel Ankle-Strap Pumps
Wouldn't sandals or open-toe heels have made more sense?
What's your verdict on Selena's mixed boho look — carefree or sloppy?
Credit: WENN