Nicki Minaj was supported by her fiancé Kenneth Petty, a registered sex offender, while making her way inside her new Fendi Prints On x Nicki Minaj Collection Launch Celebration held on Tuesday in Beverly Hills, California.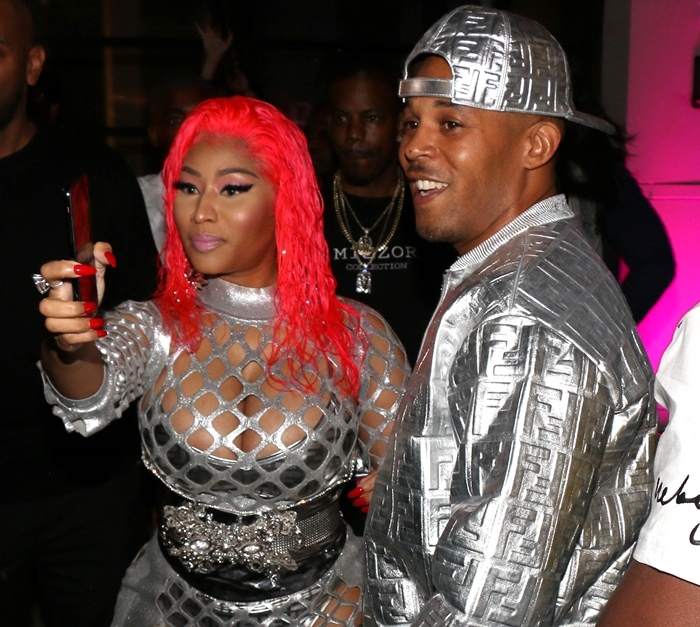 Nicki Minaj and Kenneth Petty arrive at her new Fendi Prints On x Nicki Minaj Collection Launch Celebration in Beverly Hills on October 15, 2019
Greeted by a mob of fans outside of the event, the 36-year-old Queen rapper smiled to the cameras in a metallic fishnet dress over a logo-covered swimsuit with high-waisted briefs and a triangle top.
Showing off her feet in silvery pointy-toed ankle-strap pumps, she toted a small Mon Tresor bucket bag with drawstring fastening and metal decorations in the Fendi logo shape.
Nicki Minaj styled her metallic fishnet dress with a statement belt
Nicki is reportedly on friendly terms with Silvia Venturini Fendi, the only family member still working at the historic Italian business, and was a pal of creative director Karl Lagerfeld, who died of pancreatic cancer in February this year.
"I want to make clothes that make girls with my body look sexy," Minaj told Elle ahead of the release of her line, which arrived in 52 selected Fendi boutiques this week.
Registered sex offender Kenneth Petty wore a T-shirt printed with Minaj's face
"What I want [to tell] girls is not necessarily, 'Go and gain weight and have a big booty,' but 'If you do have curves, be proud of it, flaunt it — love the skin you're in.'"
"When I was little, I always imagined princess and marriage and the wedding and now it's more to me about the life, the future, the love, the partnership, than the wedding," the entertainer told Entertainment Tonight. "[It's] so strange cause I didn't expect myself to be one of those people who didn't care about the hoopla, but I really don't."
Her 41-year-old boyfriend, who was convicted of attempted rape when he was 16 years old, wore an oversized crew-neck T-shirt printed with Minaj's face underneath a silver metallic bomber jacket and accessorized with a matching hat and glittering high-top sneakers.
Nicki Minaj flaunts her impressive curves in a metallic dress
Credit: WENN / Avalon