Going braless on the red carpet is no big deal nowadays, particularly for Sharon Stone who had no qualms about stripping completely naked for the September issue of Harper's BAZAAR.
In fact, even though the 57-year-old's nipples could be visibly seen through her Traver Rains dress at a recent charity gala, it's not her headlights that are making headlines. It's the costume wings she wore that people are talking about that appear to be not just one but two sets of wings.
Sharon Stone wearing what appear to be two sets of wings at an "Enchanted Garden"–themed gala
The feathery accessories were oddly fluffed up around Ms. Stone, which made the Basic Instinct actress's sheer-topped, floral-curtain-skirt dress with a plunging neckline look all the more strange.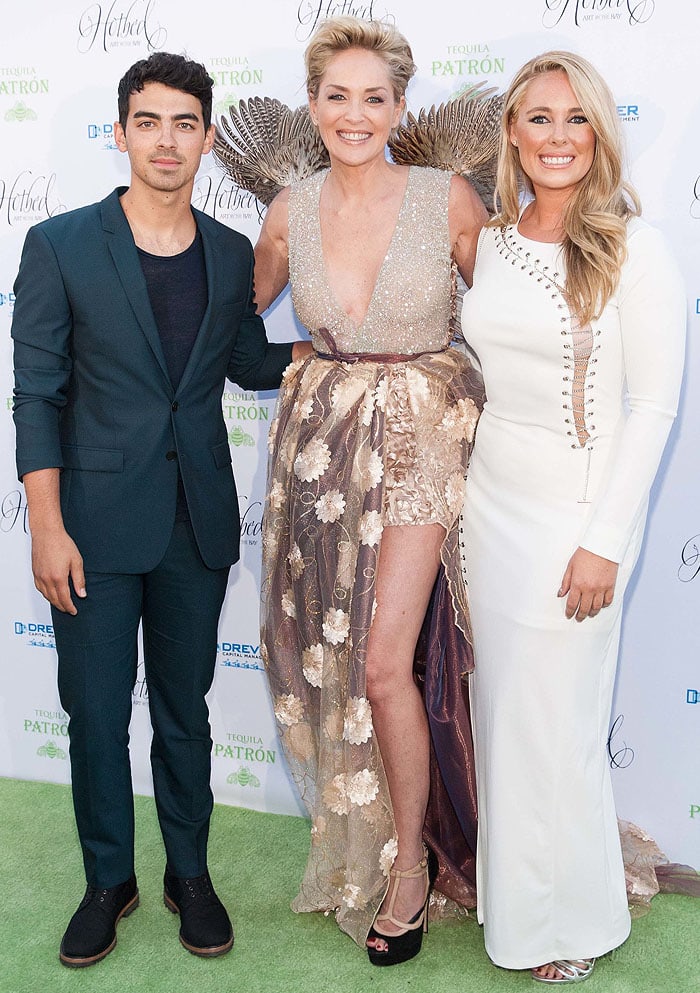 Sharon Stone flanked by Joe Jonas and singer-songwriter Victoria Noyes at the 2015 Hotbed Gala presented by the Drever Family Foundation held at The Drever Estate in Tiburon, California, on August 22, 2015
At least they matched the gold-and-champagne color scheme. The gala also was Enchanted Garden–themed, so Sharon in this winged getup was dressed appropriately.
Sharon Stone going braless in a risqué Traver Rains dress with a sheer beaded top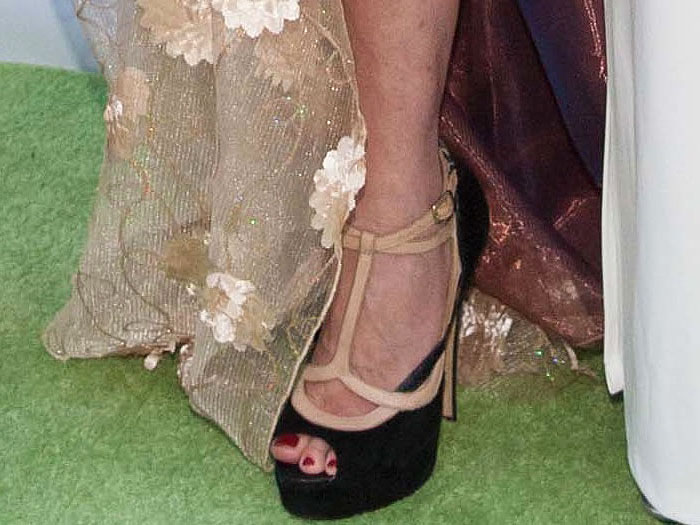 Sharon Stone's feet in beige-and-black peep-toe t-strap platform heels
Considering how there was this golden ram-dude and this apple-wielding guy painted like a tree at the gala, Sharon in her turkey wings really was not the most bizarrely dressed out there:
In fact, we even wish that Sharon Stone took her ensemble a little further and wore winged shoes to match her wings.
Instead of the blah beige-and-black t-strap platforms she had on, she could've made things more magical with the Sophia Webster "Evangeline" sandals. We even found a look-for-less version for budget-conscious fashionistas below.
Sophia Webster "Evangeline" Angel-Wing Sandals, $560
"Ooh You're an Angel" White-and-Rose-Gold Winged Ankle-Strap Heels, $38
Credit: Drew Altizer / WENN