Katy Perry's much anticipated music video for her song "Dark Horse" just dropped, and we all can't get enough of its weird moments, ridiculousness, and overall Katy-Perry-ness. It takes you on an acid trip through ancient Egypt "a crazy long time ago" where a Cheetos-eating, pole-dancing, merciless Katy-Patra rules over the land. Her sexy female minions wear cat-head masks, while the males are bare-chested with Pharaoh-emblazoned boxers peeking over their gold wrap skirts.
Everything invokes creative license in the video, and that goes for the fashion, too, starting with this billowy white Atelier Versace dress Katy Perry opens the video with:
Katy amped it up with a blue-stenciled white wig, blue nails, a gold anklet, and what appears to be the Manolo Blahnik "Pacha" PVC pumps with studded silver toe caps on her feet.
Manolo Blahnik "Pacha" Crystal-Toe PVC Pumps, $925
We know we said that this post is all about the shoes Katy Perry wore, but we just can't ignore the cool knee-high gladiator sandals on the female backup dancers. Never mind that gladiator sandals are more Roman/Greek than Egyptian; it's not like we expect the video to be factual or historically true anyway.
The sandals look very similar to the Altuzarra tall gladiators released way back when the knee-high gladiator sandal trend was still new. We amazed even ourselves when we found this super-close lookalike going for just $50 at Amazon:
Breckelle's "DIVA-22" Tall Gladiator Sandals, $50 to $54.99 (before: $85)
Going back to Katy, she was soon out of her clothes and in Egyptian god statue form. Gold accents, including Katy's gold mirror pumps, were highlighted to contrast against all the gray stone. This has got to be our favorite scene from the video, and we wish it lasted a little longer.
The shape of Katy's shoes is more similar to the Brian Atwood "Maniac" pumps, but the color is a lot closer to these Giuseppe Zanotti mirror leather pumps:
Giuseppe Zanotti Gold Mirror Pumps
Katy then starts her pole-dancing routine. As she is the queen, she gets to wear a cheerleader skirt and her fringe bangs get to be studded.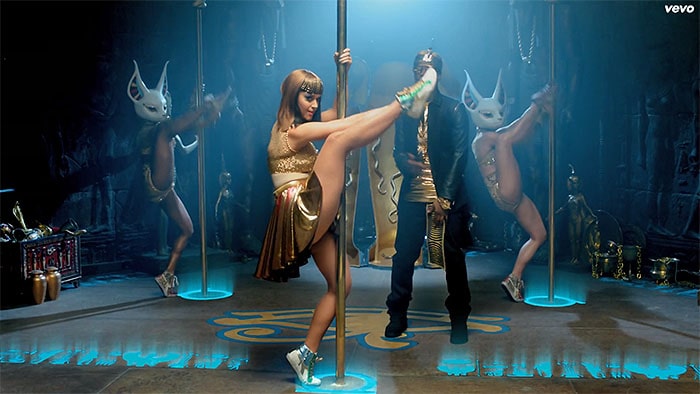 Katy does high kicks and splits in a pair of green-gold-and-blue high-top sneakers by Diadora.
Diadora "Kim W Lurex" Sneakers, €192.50
The zoomed-in shots and the the fact that all the men in video are wearing Diadora points to Katy having some type of x-deal with the Italian sportswear brand. Katy-Patra's blue-skinned male minions wore the blue color of the Diadora "MI Basket II" sneakers, while the visiting red-skinned clan wore the respective red color.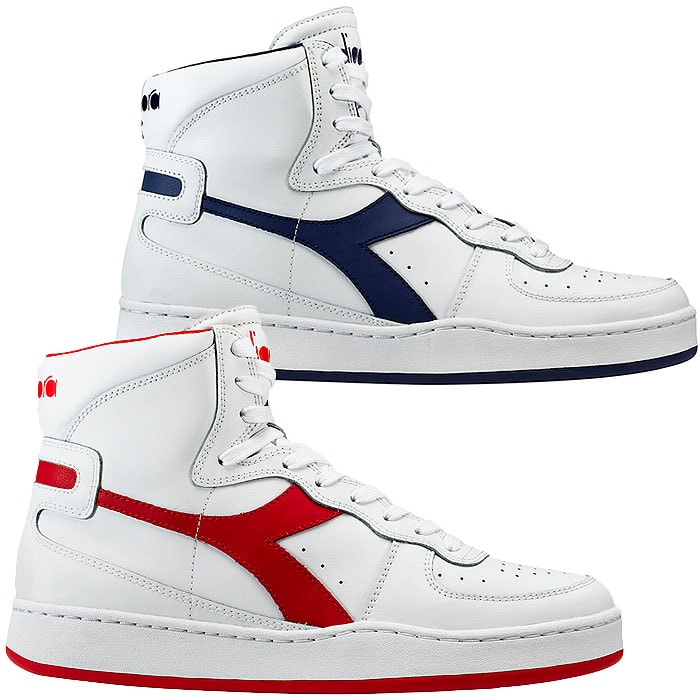 Diadora "MI Basket II" Sneakers, €85
The best shoes in the video are the sandals Katy is wearing in the scenes where she's sitting on her throne; unfortunately, they were mostly covered by the dress.
It's difficult to get a screencap, but the glints of gold from Katy's ankles gave us a hint that they're these Giuseppe Zanotti gold-studded-cuff sandals:
Giuseppe Zanotti Gold-Stud-Cuff Sandals, $1,482.04
Maybe it's a good thing we couldn't see the shoes because otherwise, we wouldn't be able to appreciate the rest of Katy-Patra's costume, from the gorgeous Nicolas Jebran Fall 2013 printed long-sleeved gown down to the gaudy blinged-out grillz.
Get ready for all the craziness when you watch Katy Perry's "Dark Horse" video in its entirety below. Don't say we didn't warn you!