'Vanity Fair' hosted the NBC 2013 Fall Launch party at The Standard Hotel in New York City on Monday, September 16.
Although we didn't see some of the usual A-listers, many attendees turned up in stylish outfits. Also, we're glad we found some interesting shoes!
Mariska Hargitay in Lanvin Croc-Stamped Pumps
'Law & Order: Special Victims Unit' is set to return to NBC on September 25, so it was not surprising to see Mariska Hargitay at the event. She was chic in her Dolce & Gabbana lace dress, which was edgily paired with Lanvin pumps. Dainty sandals would've completed a classic feminine look, but these pumps definitely added modern flair.
Mariska's shoes feature a chic color contrast, showing dominant white calfskin leather combined with bronze croc-stamped pointed toe caps as well as black leather trimming and ankle straps.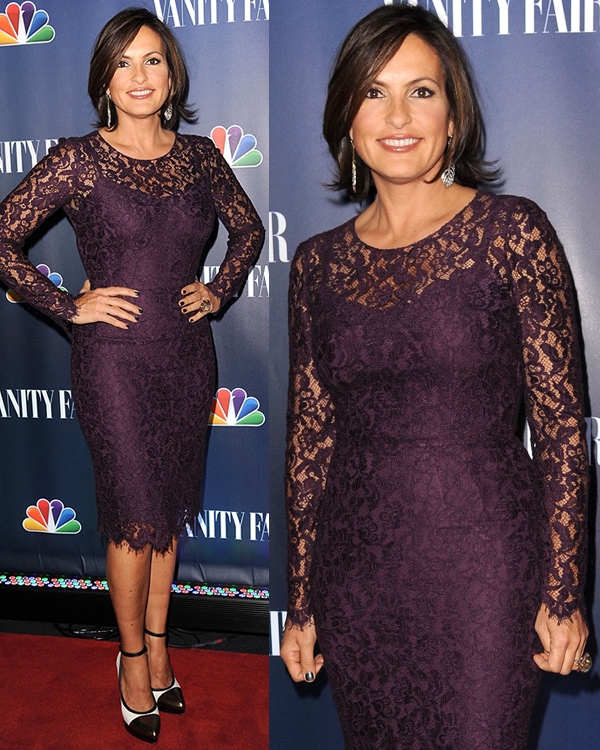 Mariska Hargitay at NBC's NBC & Vanity Fair Toast the 2013 Launch in New York City on September 16, 2013
Want these heels? Well, you're in luck because these are now discounted by 60% at Barneys Warehouse.
Lanvin Croc-Stamped Capped-Toe Pumps, $499 (before: $1,250) at Barneys Warehouse
Megan Boone in Metallic Heels
After 'Law & Order: Los Angeles', Megan Boone will now star as FBI Special Agent Elizabeth Keen, one of the lead characters in the upcoming drama series 'The Blacklist', which will premiere on September 23.
At the NBC fall launch party, the 30-year-old actress stunned a lot in a leather dress. She actually looked so edgy and modern. Her metallic heels also complemented the modernity of her entire look! They have leather vamps with peep toes, while the ankle straps and heel counters come in metallic silver.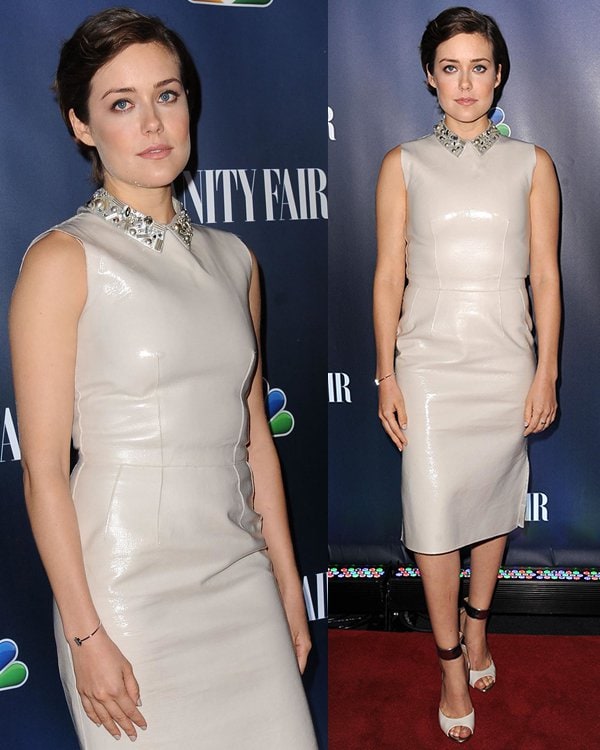 Megan Boone at NBC's NBC & Vanity Fair Toast the 2013 Launch in New York City on September 16, 2013
We couldn't find her heels online, but we found two chic alternatives:
Schutz "Shauna" Heels, $179.99 at Gilt
Topshop 'Rees' 2-Part Hi Sandals, $100 at Nordstrom
Nasim Pedrad in Color-Blocked Sandals
Like Mariska, Nasim Pedrad of 'Saturday Night Live' also wore a lace dress. Hers seems revealing with skin-tone lining. To add color to this black/nude dress, the 31-year-old actress wore color-blocked heels, which feature nude front straps, black buckled ankle straps and heels, and orange heel counters. Like the pop of citrus?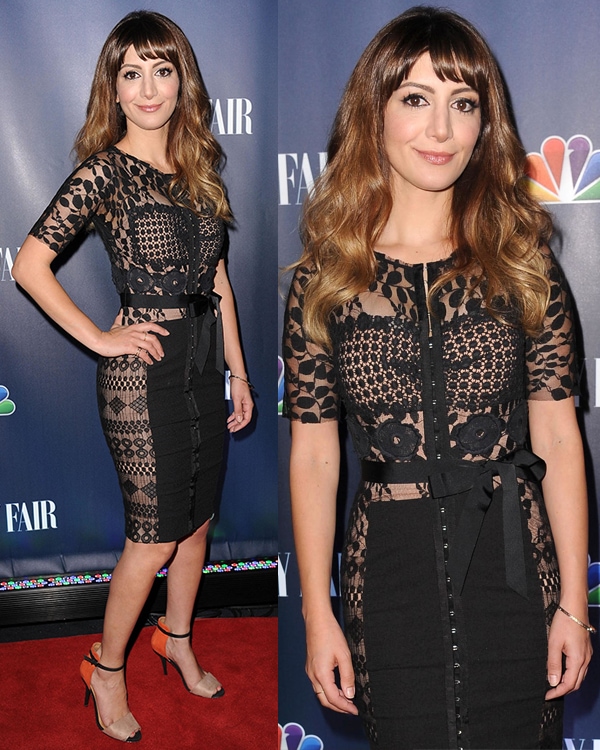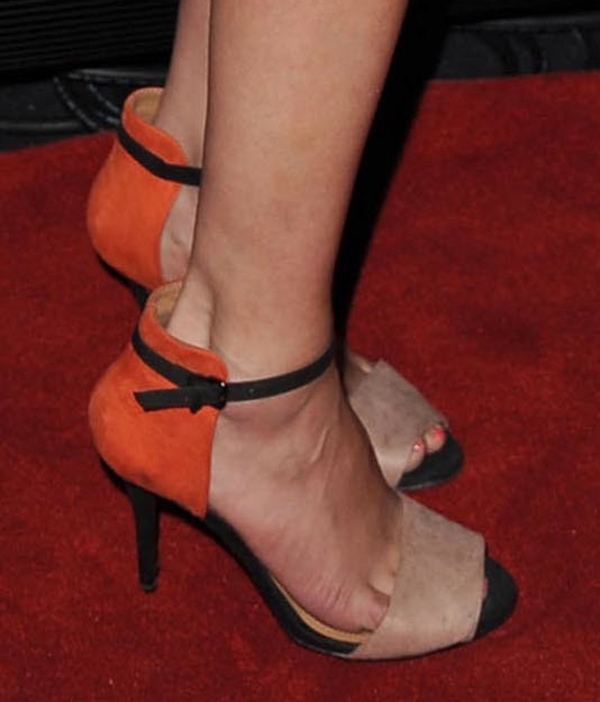 Nasim Pedrad at NBC's NBC & Vanity Fair Toast the 2013 Launch in New York City on September 16, 2013
We're not really sure where she got her heels, but we actually found a lot of similar styles online. There's one pair that's so close to what Nasim was wearing. Do you think it's the exact same style? Check it out:
Bebo Colorblock Sandals, £19.99
Katie Finneran in Jessica Simpson Slingback Pumps
Katie Finneran was all smiles as she posed on the red carpet in a little black dress. She has landed a role in the new NBC comedy 'The Michael J. Fox Show', which is obviously why she's at the event. She finished her classic look with a pair of slingback pumps by Jessica Simpson. Although they seem simple in dominant black leather, her pumps actually boast textured toe straps and snakeskin platforms and heels.
Katie Finneran at NBC's NBC & Vanity Fair Toast the 2013 Launch in New York City on September 16, 2013
These will certainly give any simple ensemble its fierce element!
Jessica Simpson Snakeskin Platform Pumps, $44.99
Tiffani Thiessen in Lace-Up Pumps
Tiffani Thiessen from 'White Collar' stunned in a tight-fitting black-and-pink patterned dress that accentuated her curves. Although black heels would have looked better with this dress, Tiffani completed her outfit with a pair of navy strappy heels. This style is one of the hottest trends today. They seem to show a hybrid of pump and boot silhouettes complete with lace-up fastening.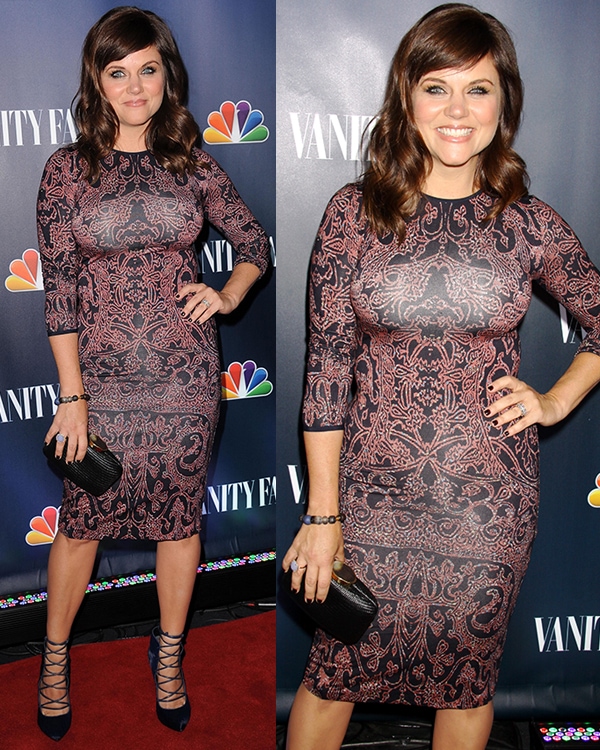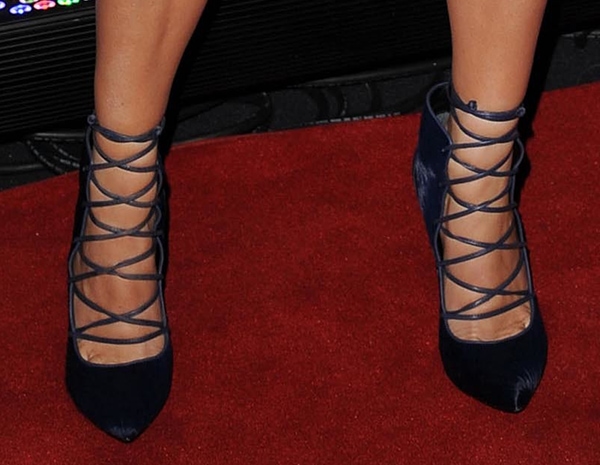 Tiffani Thiessen at NBC's NBC & Vanity Fair Toast the 2013 Launch in New York City on September 16, 2013
Unfortunately, we cannot find these heels online. What we found, though, is this Alejandro Ingelmo creation:
Alejandro Ingelmo Lace-Up Pumps, $1,295
Credit: Joel Ginsburg/TRY CW/WENN