Sienna Miller has always been more popular for her poor personal choices in her twenties rather than her actual career achievements (for those who only read about her in tabloids, Sienna's bread and butter is actually acting).
After her fiasco with Jude Law and their nanny, a "homewrecking" stint with billionaire Balthazar Getty, and finally an engagement ring and a beautiful daughter with Tom Sturridge, things seem to be looking up for the 33-year-old.
After realizing that her rough twenties was the reason why she could no longer get the work that she wanted, the actress decided to straighten out her personal life. Soon after, she found herself building an impressive body of acting work, which included a role opposite Bradley Cooper and directed by none other than Clint Eastwood.
The now-low-key actress was spotted enjoying a match in Wimbledon shortly after being photographed at the beach with her fiancé and daughter.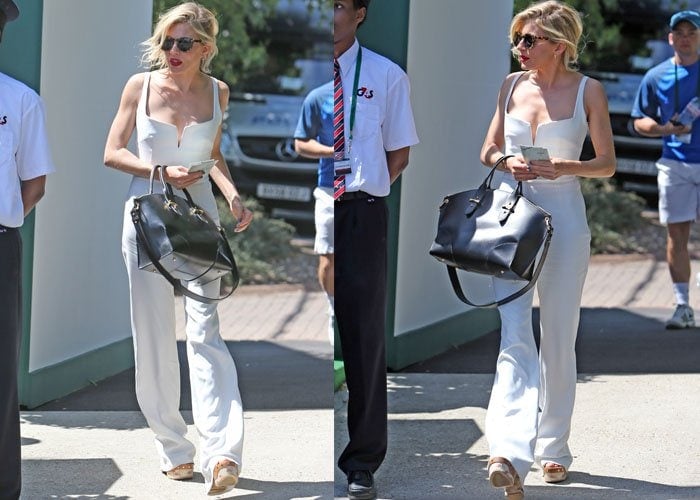 Sienna Miller arriving at the 2015 Wimbledon Championships in London on July 10, 2015
Sienna Miller films a hilarious video which showcases her "low-key life" for Vogue
Sienna Miller proved to be the belle of the (tennis) ball as she turned heads at Wimbledon in a white Galvan jumpsuit. The actress paired her ethereal look with a purse from Alexander McQueen and a pair of jacquard and leather clogs from Prada.
Sienna's exact pair have already been sold out, but we found a more casual version just for you. Head over to Neiman Marcus to grab a boho chic pair of your own.
Prada Colorblock Clog-Bottom Sandal, $950
Credit: Vogue's Youtube Account / Rocky / WENN