Cara Delevingne showed off her two lip ring piercings while leaving her London hotel with Kendall Jenner to attend the second day of the 2015 Women in the World London Summit at Cadogan Hall on Friday last week.
Cara Delevingne's double-band silver lip ring
At the event, she bravely opened up about depression and how she wanted an "intervention" at the height of her career, admitting that she was "sick" of the modeling world.
She also talked about her battle with psoriasis, which was probably the result of stress and being overworked.
The English model said, "I felt disconnected from myself, but my agency simply shoved me into a doctor's surgery, where I got cortisone shots, but in reality, I wanted someone to stop me, but nobody did."
"I never felt like I was good enough, that I deserved success. I felt like I was living somebody else's dream. Kate Moss saved me. She stepped in and picked me up off the floor at a stressful time," she added.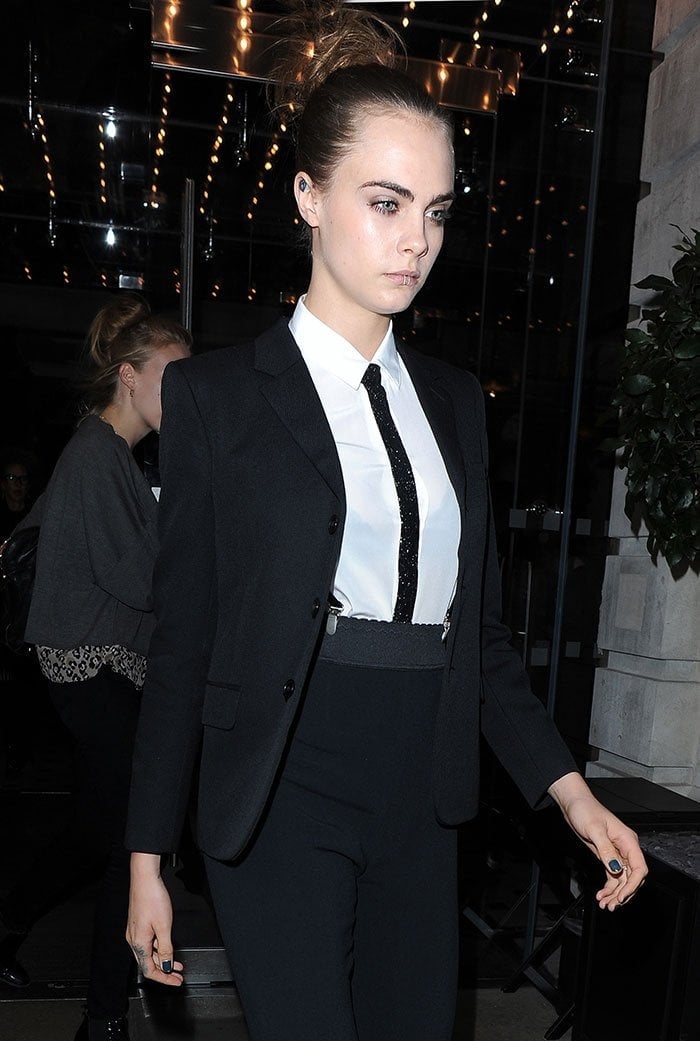 Cara Delevingne in a monochrome trouser suit
The 23-year-old model and actress opted for an androgynous look in a monochrome trouser suit, including a black Saint Laurent three-button blazer, a crisp white shirt underneath, suspenders, and a pair of cropped trousers.
Cara Delevingne in a black-and-white ensemble at Women in the World festival in London, England, on October 9, 2015
She added a touch of sparkle to her black-and-white ensemble with a skinny glittery tie and upped the sex appeal with a sexy pair of strappy pumps.
To keep things edgy, she wore a new double-band silver lip ring and finished off her look with smudgy eye makeup, her signature bushy brows, and a slicked-back updo.
Cara Delevingne's signature bushy brows and slicked-back updo
Cara's strappy pumps are the Christian Louboutin "Toerless Muse" pumps in black leather.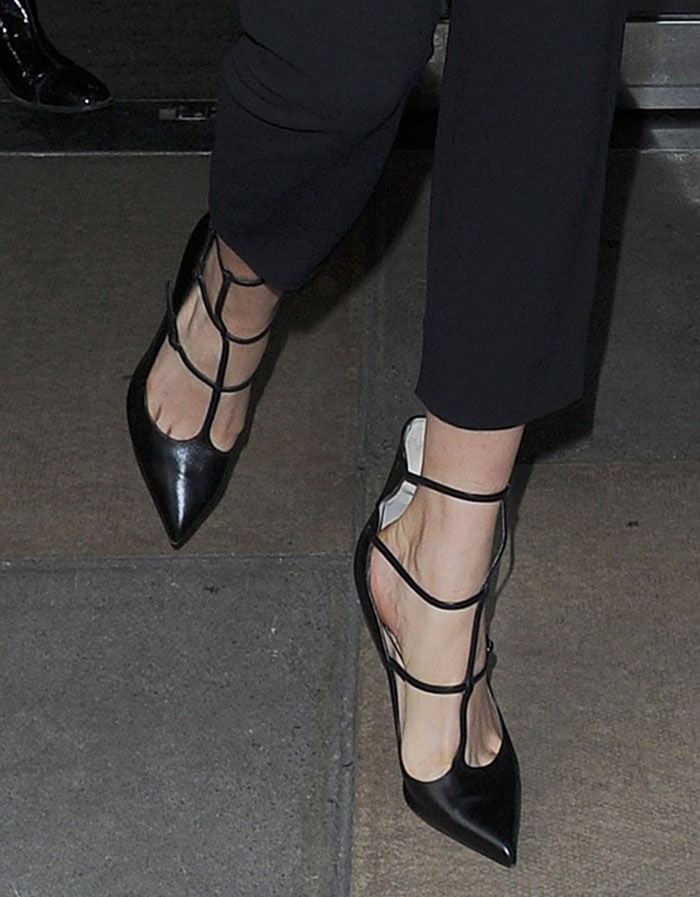 Cara Delevingne's toe cleavage in Toerless Muse pumps
They are striking with triple adjustable buckled straps, pointed toes, a high back silhouette, and 4-inch heels.
Cara Delevingne's hot feet in Christian Louboutin pumps
They are no longer available in black, but you can get them in red suede and lame versions.
Credit: Will Alexander / WENN