She first debuted her shoe line in 2014. Seven years later, Sarah Jessica Parker is still providing hands-on customer service to her clients.
In celebration of her seven years in the shoe business, the 55-year-old actress welcomed and greeted customers at her store in Uptown New York City on Sunday.
Sarah Jessica Parker celebrates the 'SJP Collection' 7th Anniversary at her Uptown shoe store on February 28, 2021
Bracing the cold weather, Sarah Jessica bundled up in a chic black coat paired with cuffed jeans and white leg warmers underneath.
Inside her boutique, SJP stripped down to a checkered peasant-style blouse with fringed hems.
Sarah Jessica Parker reveals a checkered peasant-style blouse underneath her black coat
Wearing her signature look, SJP skipped wearing elaborate jewelry save for a pair of stud earrings. The Footloose actress stayed safe with a gray leopard-print face mask, kept in place by a silver chain strap.
Looking beautiful as ever, the mom-of-three wore smokey eye-makeup and styled her curly tresses in a center-parted braided ponytail.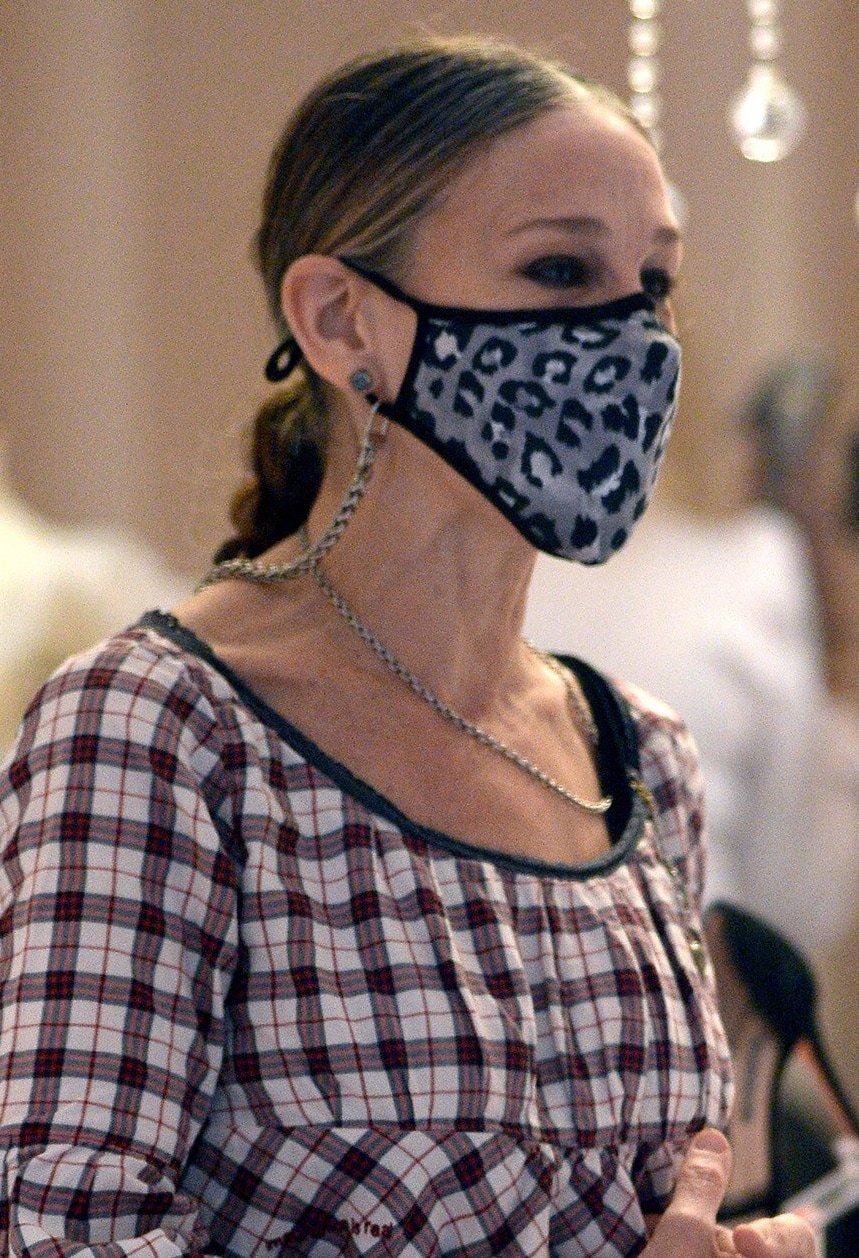 Sarah Jessica Parker styles her hair in a braided ponytail and wears a leopard-print face mask
Proving she's her own best advertisement, SJP slipped into a pair of sparkly lace-up shoes from her collection.
Sarah Jessica gave a twist on the classic saddle shoe with the SJP "Chaucer" shoes that you can buy on Amazon. These preppy-looking shoes feature a smooth leather upper with crystal-embellished lace-up vamps, almond toes, and about 4-inch heels.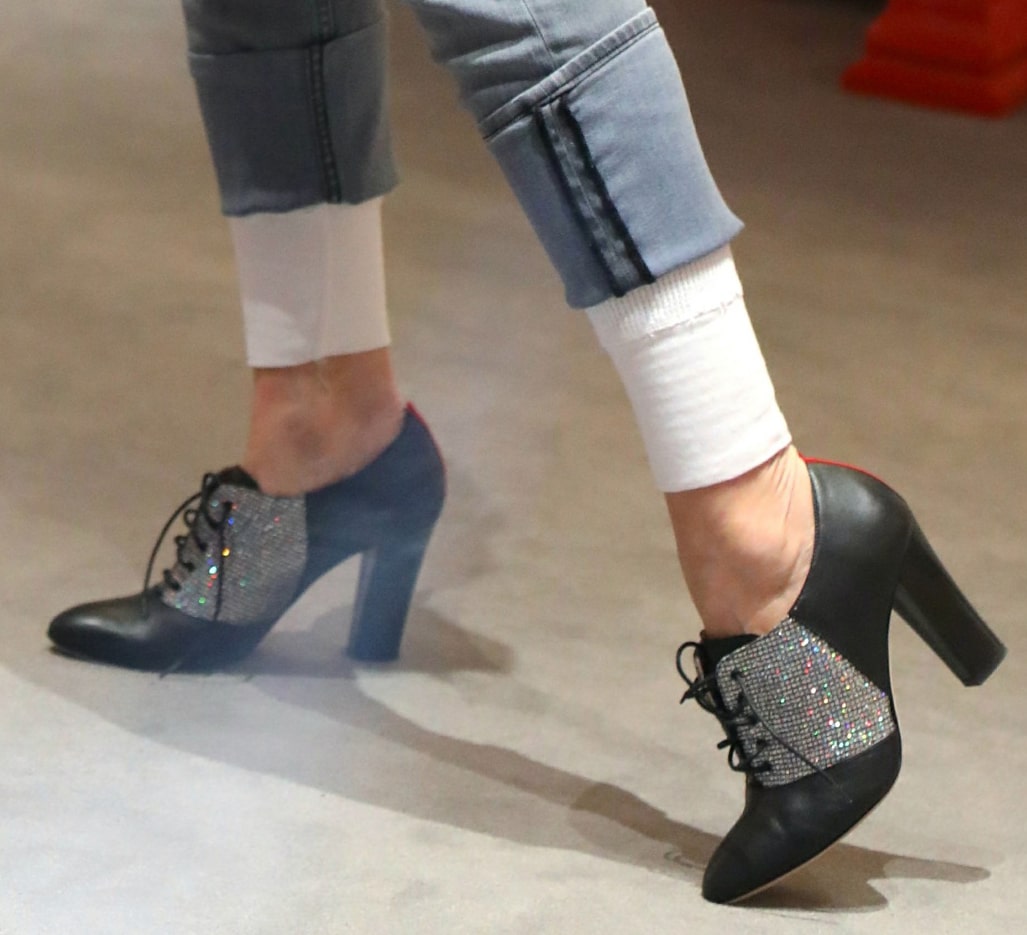 Sarah Jessica Parker slips into a pair of Chaucer oxford pumps
SJP by Sarah Jessica Parker 'Chaucer' Oxford Pumps, $246.73 – $293.51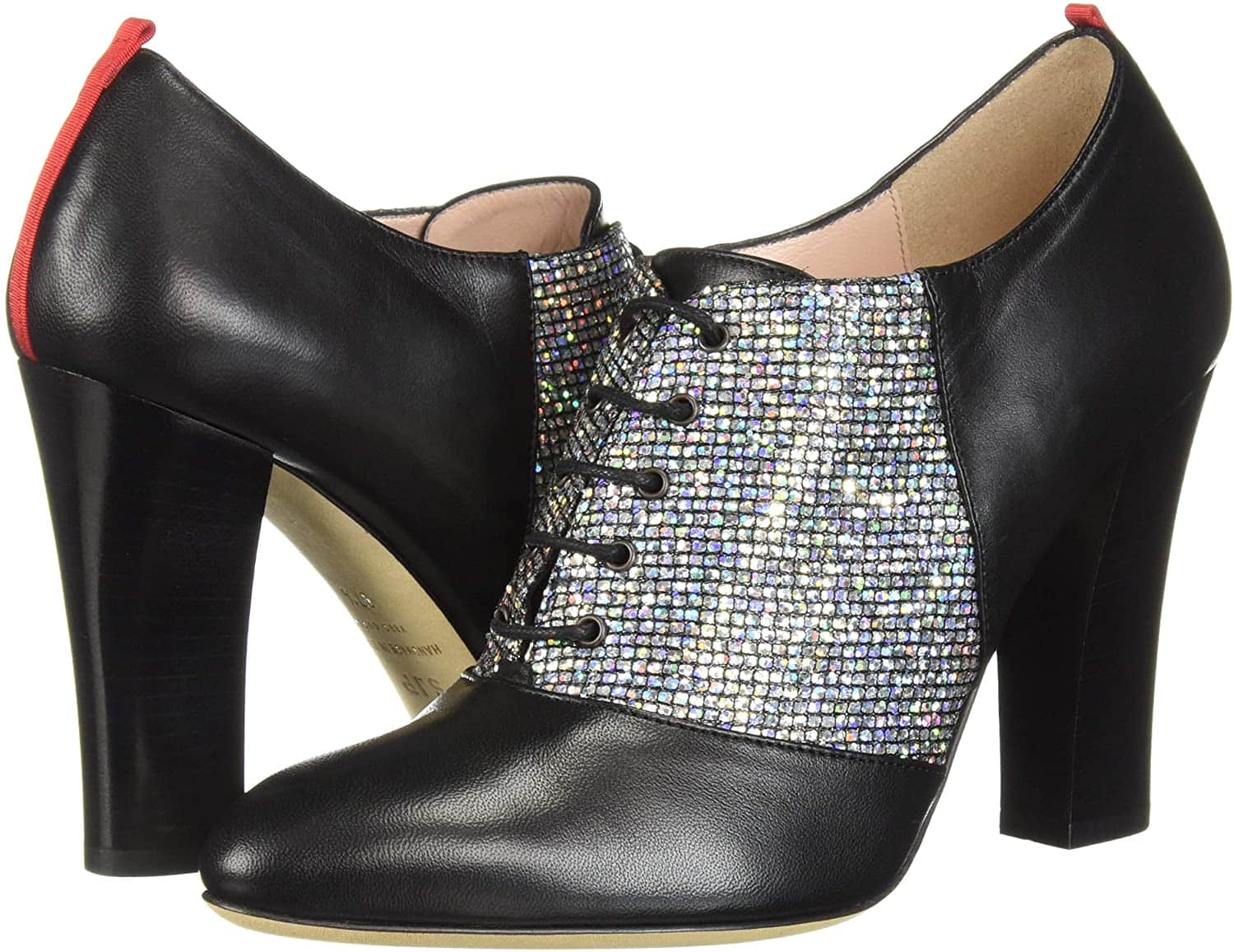 The SJP Chaucer heeled oxfords feature a rhinestone-encrusted lace-up vamp
Last Saturday, the businesswoman visited her South Street Seaport store in a red, white, and gold oriental-style embroidered coat.
She toned down the look a bit by pairing the classy outerwear with a gray top and matching gray track pants from Pangaia.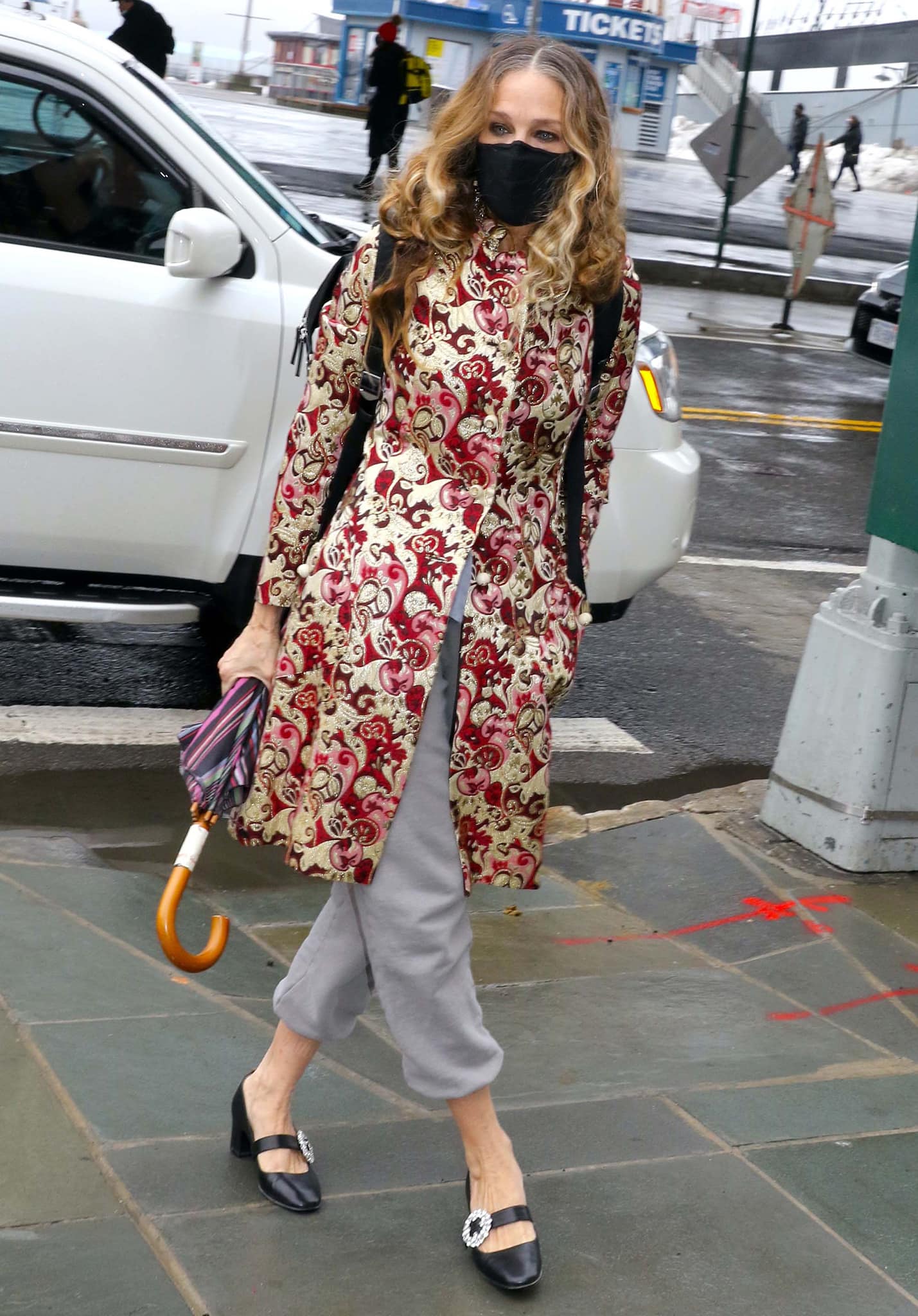 Sarah Jessica Parker visits her South Street Seaport store in an oriental-style embroidered coat on February 27, 2021
Wearing her long tresses in natural curls, SJP completed her look with a Masqd black face mask and a pair of Mary Jane pumps.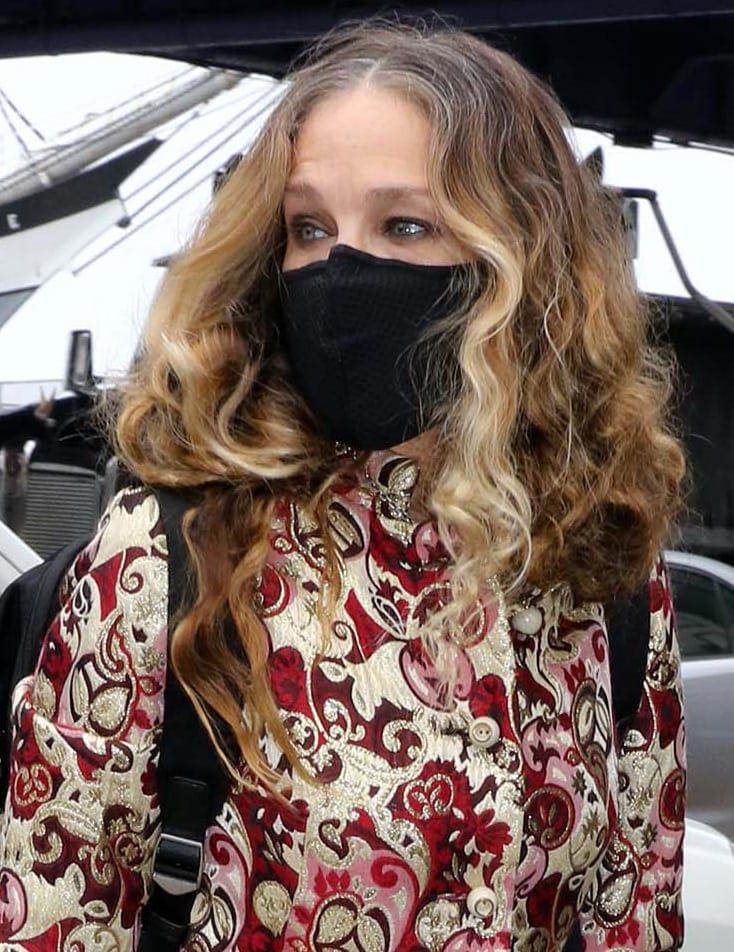 Sarah Jessica Parker wears her natural long curly tresses down
She opted for the "Celine" Mary Jane pumps, featuring 3.5-inch block heels and rhinestone-encrusted buckles. You can find them at Zappos.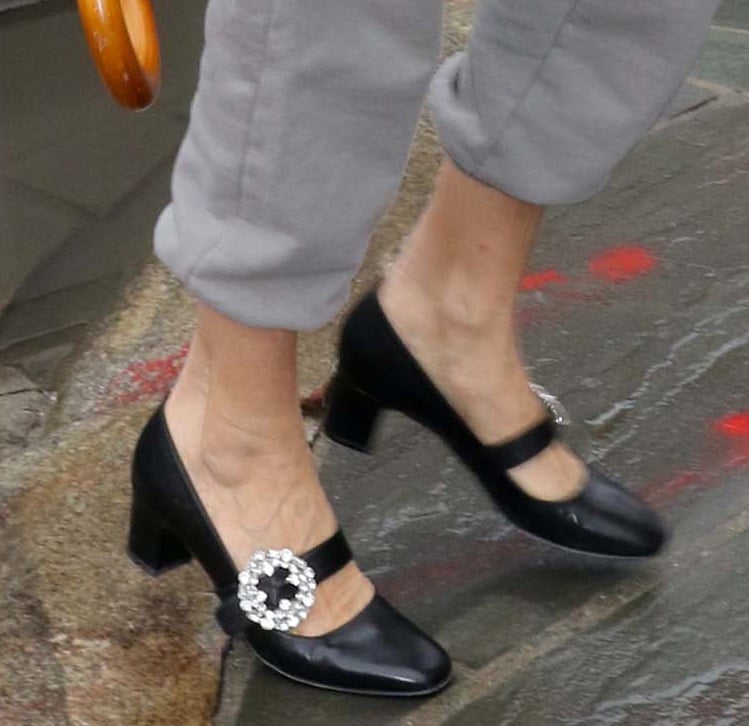 Sarah Jessica Parker pairs her coat with track pants and Mary Jane pumps
SJP by Sarah Jessica Parker 'Celine' Mary Jane Pumps, $425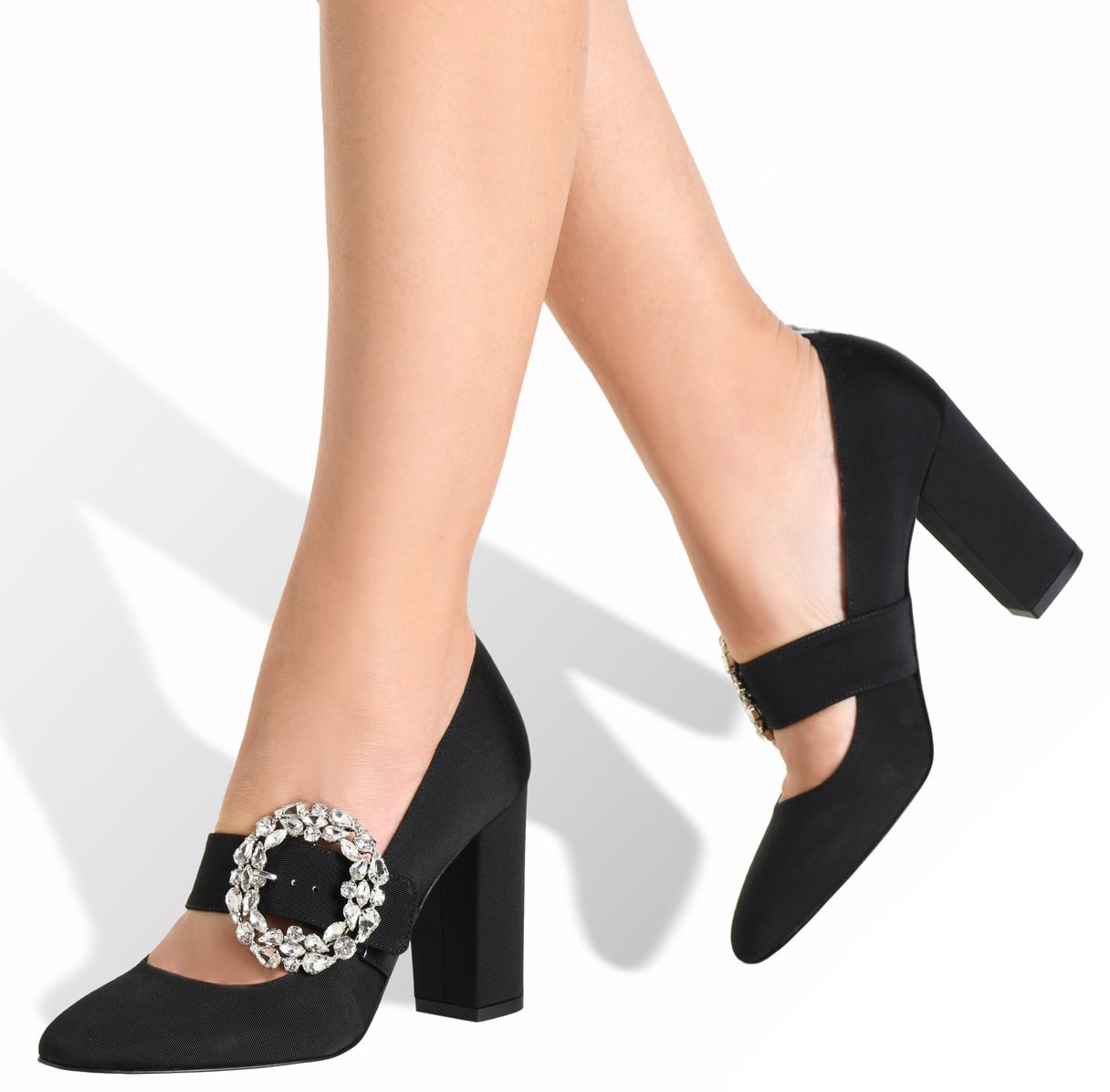 The SJP Celine pumps are known for their crystal buckled Mary Jane straps
Credit: Avalon / Instar / WENN