With spring just around the corner, in February 2016 Slumdog Millionaire actress Freida Pinto jumped right into the new season with a floral-printed pastel dress that she wore at the 31st Film Independent Spirit Awards held at Santa Monica Beach.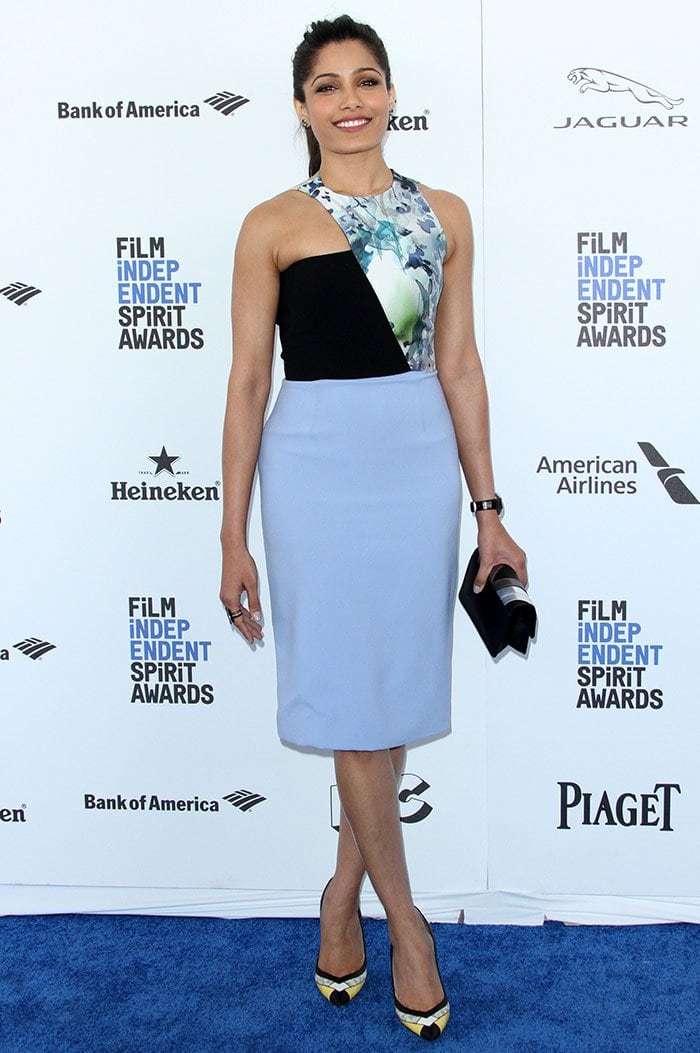 Freida Pinto wears her hair back at the 31st Film Independent Spirit Awards held on February 27, 2016, at Santa Monica Beach in Los Angeles (Credit Adriana M. Barraza / WENN)
The then 31-year-old actress picked a figure-flattering dress from Indian-American fashion designer Bibhu Mohapatra's Resort 2016 collection.
8 years earlier, she had her breakthrough with her film debut as Latika in the drama 2008 British drama film Slumdog Millionaire.
Before she was cast to play the female lead in Danny Boyle's phenomenally successful film, she had just finished hosting an Indian travel show and was close to quitting the business.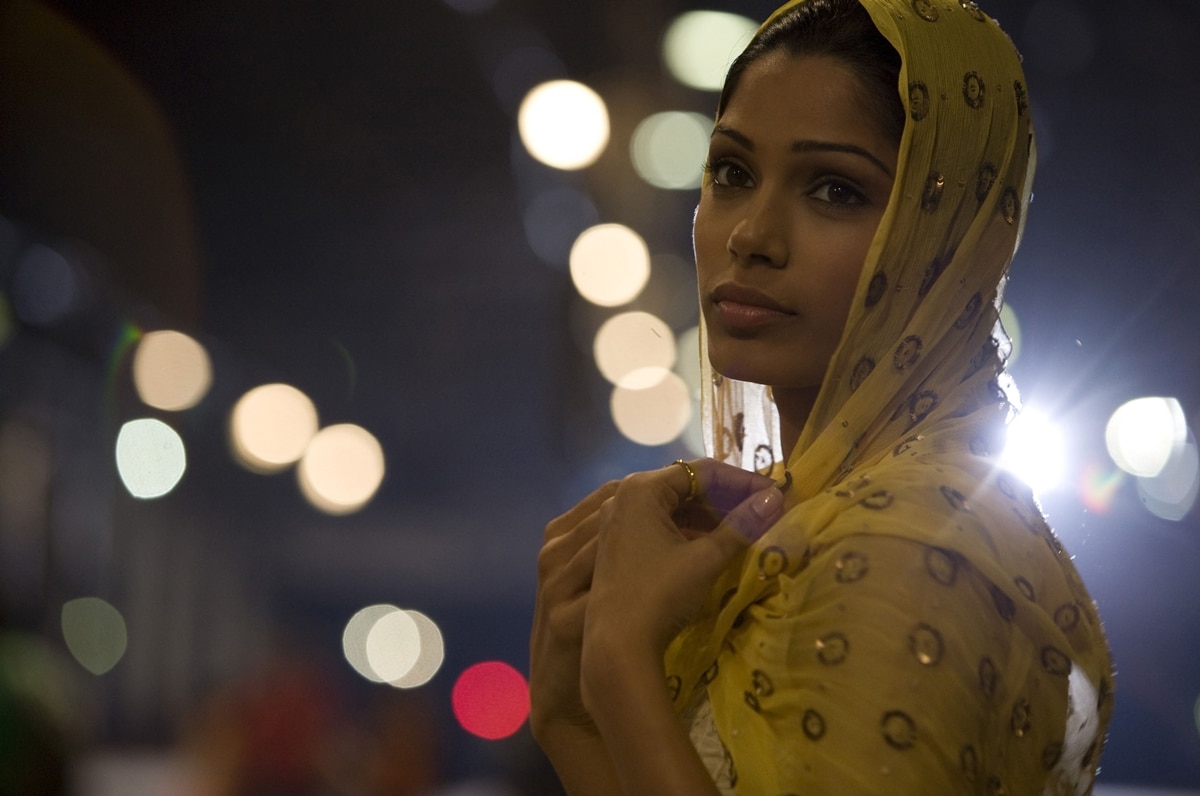 Freida Pinto was 23-years-old when filming the drama Slumdog Millionaire (Credit: Pathé Distribution)
"I'm glad things happened the way they happened. I needed to be rejected, and I needed to learn that it's part of the game," she told Interview Magazine about being rejected for numerous other roles.
"I said, "It's okay. I can have 100 rejections, but I'm sure there's going to be one particular thing that is almost destined for me to have, and I am going to have it." Some of those things I got rejected for, I look back and say, "Oh, my god, I'm so happy that happened." There would be a lot of things I would have regretted."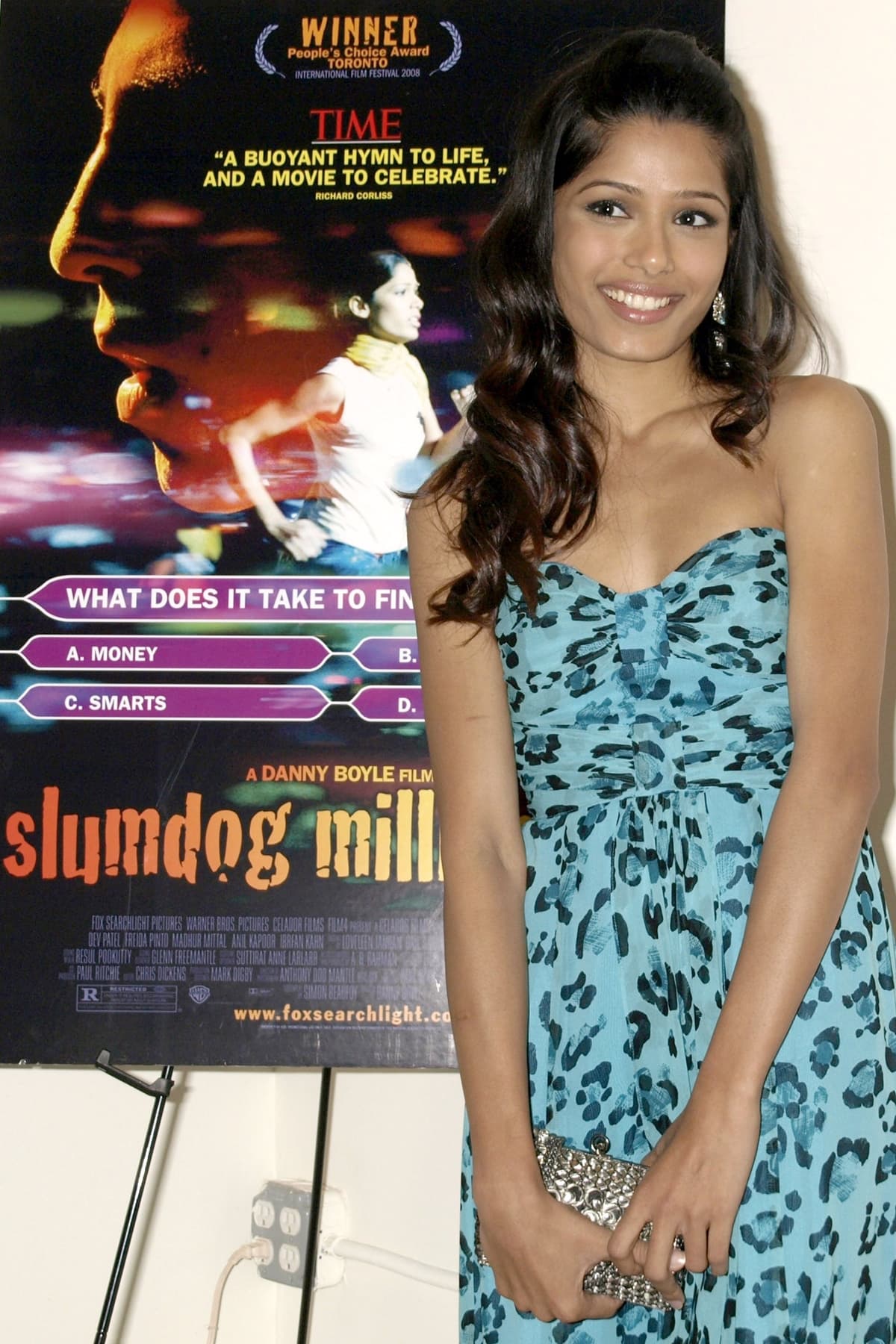 Actress Freida Pinto was 24 years old when attending a screening of "Slumdog Millionaire" during the 2008 Tribeca cinema series at Tribeca Cinemas Gallery on November 10, 2008, in New York City (Credit: Tina Paul / WENN)
Freida started dating her co-star Dev Patel in 2009 and broke up nearly six years later.
In June 2021, the actress announced that she is pregnant and expecting her first child with fiancé Cory Tran. They announced their engagement in November 2019 after dating for around 2 years.
View this post on Instagram
When filming for Slumdog Millionaire began on November 5, 2007, Freida Pinto had just turned 23. When the movie was released in the United Kingdom on January 9, 2009, she was 24. On October 18, 2009, the Indian actress turned 25.
Freida Pinto wears a Bibhu Mohapatra dress on the blue carpet (Credit Adriana M. Barraza / WENN / Apega)
Her dress features a black tube top with an asymmetric floral pattern overlay and a form-fitting pastel blue pencil skirt that fell right at her knees.
Freida amped up the edge of the look by styling it with black accessories, including a clutch from Tod's with a metallic design, a Dauphin ring, a pair of John Hardy earrings, and a new Audemars Piguet watch that boasts 578 diamonds.
Freida Pinto highlights her bone structure with a chic ponytail (Credit Apega / WENN)
The "Slumdog Millionaire" star pulled her hair back into a chic ponytail that highlighted her bone structure. She sported taupe metallic eyeshadow, soft pink lipstick, and blush.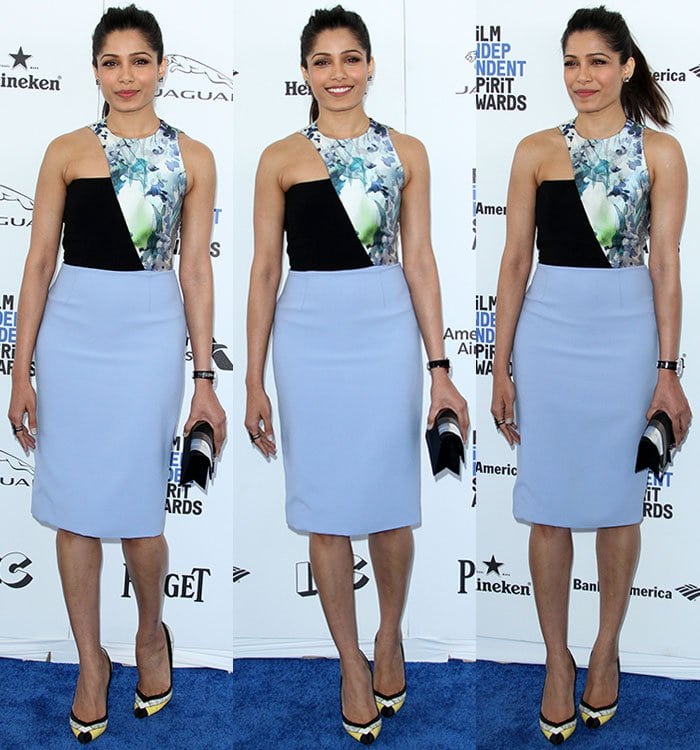 Freida Pinto wears a black and blue Bibhu Mohapatra dress to the Film Independent Spirit Awards (Credit Adriana M. Barraza / WENN / Apega)
Freida rounded out her spring look with a pair of yellow and black Salvatore Ferragamo "Susi" pumps.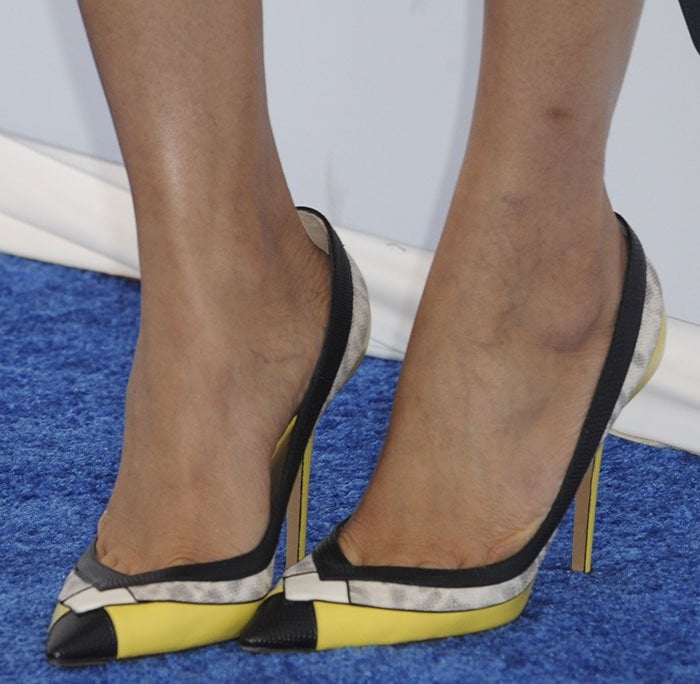 Freida Pinto's feet in yellow-and-black Salvatore Ferragamo pumps (Credit Apega / WENN)
These pointed-toe pumps feature overlapping stripes of lizard-embossed leather and about 3.75-inch heels.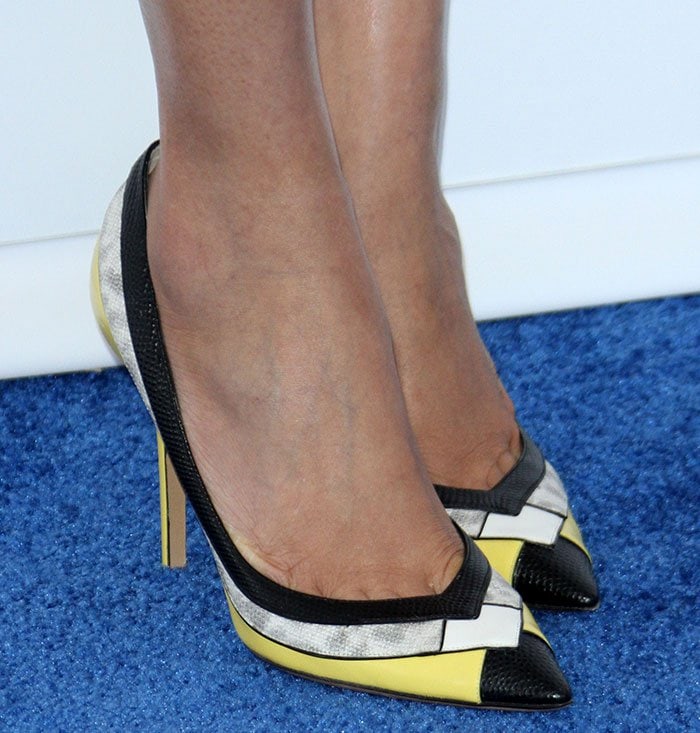 Freida Pinto's feet in lizard-embossed leather "Susi" pumps (Credit Adriana M. Barraza / WENN)
These Salvatore Ferragamo pumps are available in different versions at Shopbop, Farfetch, and Nordstrom.
Salvatore Ferragamo "Susi" Pumps, $725