Smoking slippers are no longer just for men. This classic style is now becoming available for the female wardrobe as luxurious new flats. Smoking slippers can easily be dressed up or down, and they offer the comfort of your favorite worn-in house shoes. Once you step into a pair, you may want to put your heels on hiatus.
Lana Del Rey spotted out in West Hollywood on January 9, 2015 / Emily Blunt seen arriving for a taping of Jimmy Kimmel Live in New York City on December 15, 2014 / Kourtney Kardashian at Fred Segal in Los Angeles on August 1, 2013 / Gwen Stefani out and about in Los Angeles on June 1, 2014
Take a look at how these four fashion bloggers styled their smoking slippers.
1. Menswear-Inspired
Like Brittney of Beauty v. Brains, why not pair masculine shoes with a chic menswear-inspired ensemble? Brittney's white tuxedo jacket and black trousers are correctly proportioned to flatter her figure, giving this outfit some ladylike elegance. Her accessories, including the red smoking slippers, also add femininity.
Brittney rocking red suede smoking slippers
2. Cute and Comfortable
Carrie's outfit is soft and airy, like the perfect pair of pajamas. Her cat-face slippers complement her laid-back look and add a touch of quirky personality to it. It's easy to see that Carrie from WishWishWish feels great in this look.
Carrie wearing Charlotte Olympia smoking slippers
3. Funky Dress
Jess' patent leather slippers help to anchor her textured black minidress. Her pink blazer adds structure, and it also acts as a standout pop of color. This is a great look for a night out with friends, and the slippers will ensure happy feet. Her blog, Jess Loves Fred, is unfortunately no longer available online.
Jess wearing Aldo smoking slippers
4. Leopard Print
Kelly's outfit is fun, comfy, and generally easy to wear. The combination of a chambray top with cutout shoulders and pink skinny jeans is unexpected but successful. Here, the leopard-print slippers are a lovely final touch. You can see more of Kelly's outfits at Sequins & Shadows.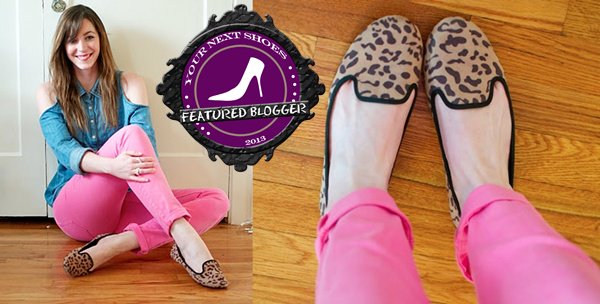 Kelly wearing Gap smoking slippers
Are you interested in trying this new luxe take on flats? Check out these affordable styles we found at Saks Fifth Avenue and Neiman Marcus.
Charles Phillip Shaghai "Sheila" Leopard-Print Smoking Slippers, $90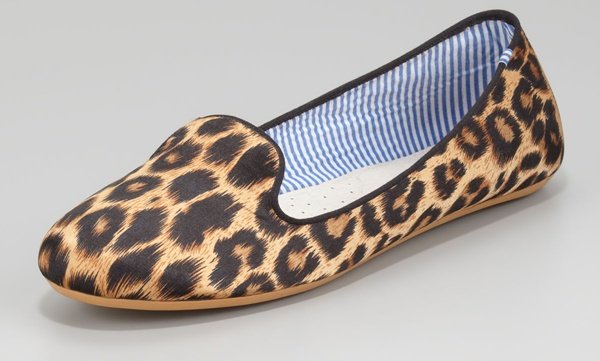 Charles Phillip Shanghai "Lizzette" Python-Print Smoking Slippers, $117
BLUE "Brody" Striped Canvas Smoking Slippers, $90
BLUE "Brody" Red Suede Smoking Slippers, $90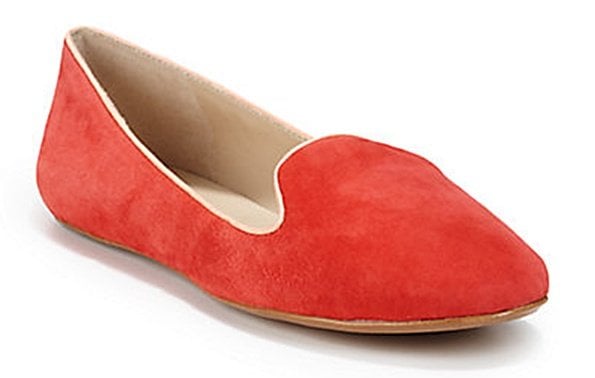 Who do you think looked best in smoking slippers? Please let us know by leaving a comment below!
Credit: Michael Wright / WENN