One could say that the 2015 Kids' Choice Awards was all about Iggy Azalea.
With three award nominations, a double performance with Jennifer Hudson of their song "Trouble", and a dramatic orange carpet walk, Iggy managed to steal the show in more ways than one.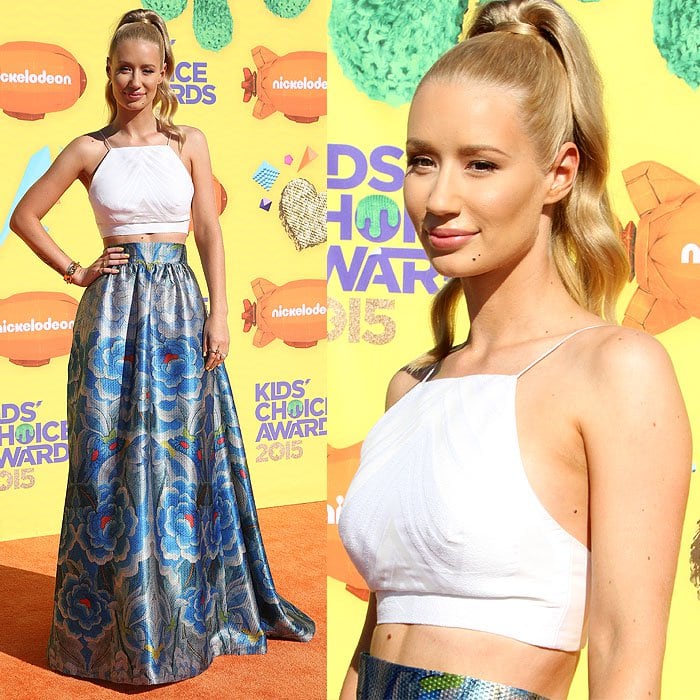 Iggy Azalea at Nickelodeon's 28th Annual Kids' Choice Awards held at The Forum in Los Angeles, California, on March 28, 2015
The Australian rapper started things off on the right foot by arriving in a very springtime two-piece ensemble. She kept the skin-baring to a minimum for the kid-friendly event, and only showed a slice of midriff in a white halter crop top.
Although her shimmery blue-and-silver ball skirt hid her shoes, it was undoubtedly the pièce de résistance of her outfit. Iggy topped her look with a high ponytail that highlighted both her high cheekbones and bare shoulders.
Iggy Azalea modeling her white halter crop top and her shiny, blue-and-silver floral ball skirt
Like Kaley Cuoco, Iggy's fresh style didn't make her immune to the sun's intense afternoon rays.
Iggy Azalea not liking having the sun in her eyes
Threatening to ruin the look that Iggy and her glam squad must've spent hours on, the blinding sun had the hip-hop star checking that her makeup hadn't melted off her face yet.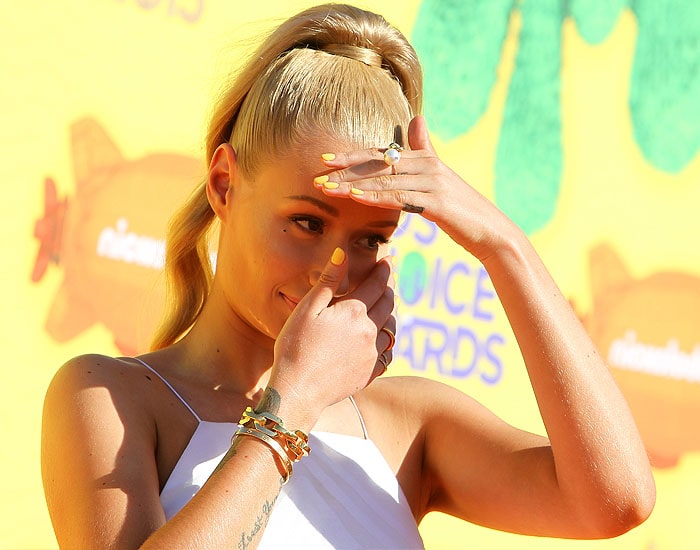 Iggy Azalea shielding her face from the sun's glare and making sure her makeup hasn't melted
Iggy allowed herself a moment to show some disdain for the heat, but being the pro that she is, was quickly back to working the carpet and posing for the cameras.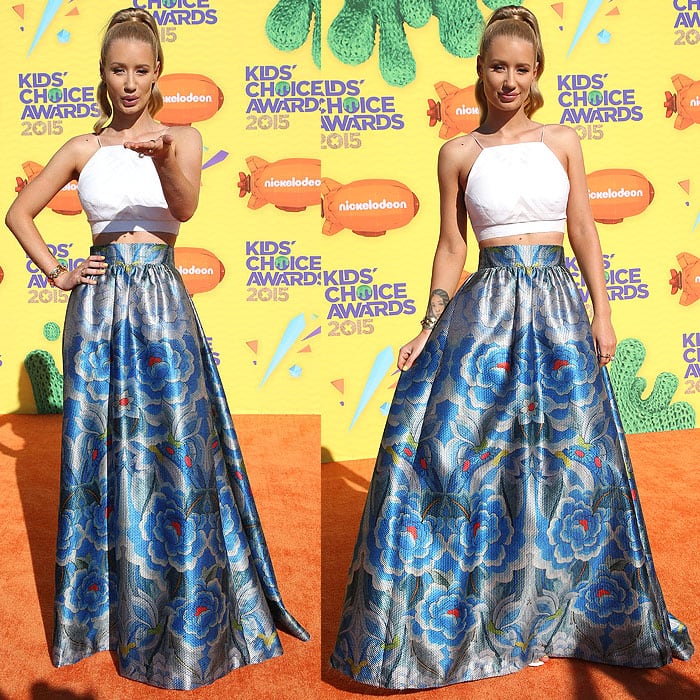 Iggy Azalea blowing kisses and fluffing her still intact skirt for the cameras
Interestingly, it wasn't the intensely shining sun that ruined Iggy's look, but the shoes that we couldn't see. In our efforts to get a peek at Iggy's feet, we discovered a pulled thread on her skirt's hemline that she must've snagged on her shoes while walking the orange carpet.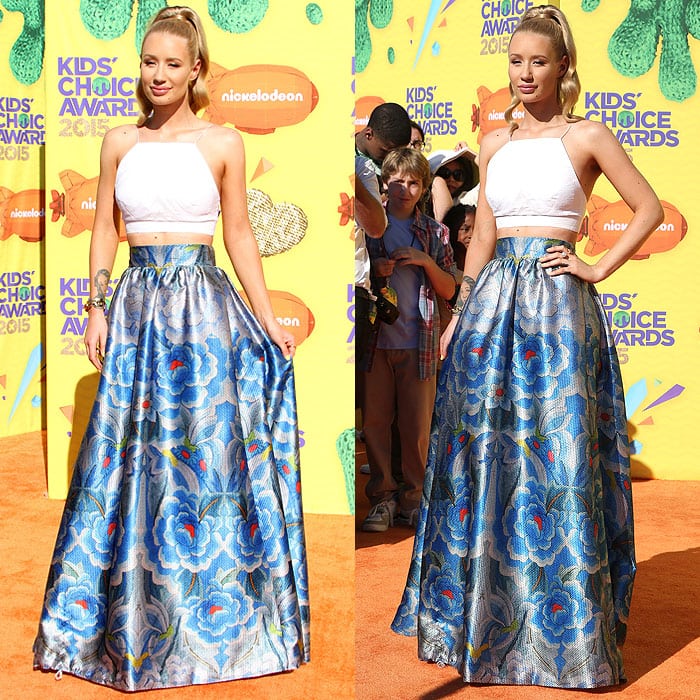 Iggy Azalea with the hem of her skirt now visibly ruined
It's a tiny detail, but we think it's enough to say that the expensive designer skirt is ruined.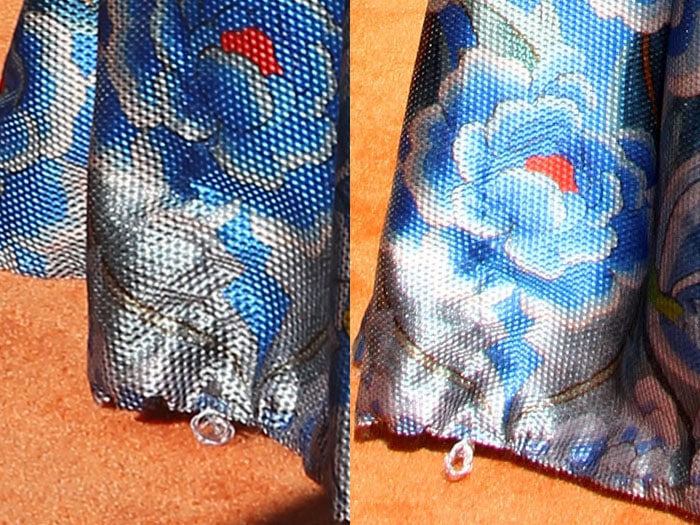 A snagged thread pulled from the hem of Iggy Azalea's skirt
We can't help but wonder if the shoe-culprit is among the styles Iggy Azalea designed for Steve Madden? We could only see the white open toes of Iggy' sandals in the pictures, so our guesses are the white-soled ones below.
Scubaa Neoprene Zip-Front Sandals in Floral Multi, $129.95
Bout-It Knee-High PVC Gladiator Sandals in White, $149.95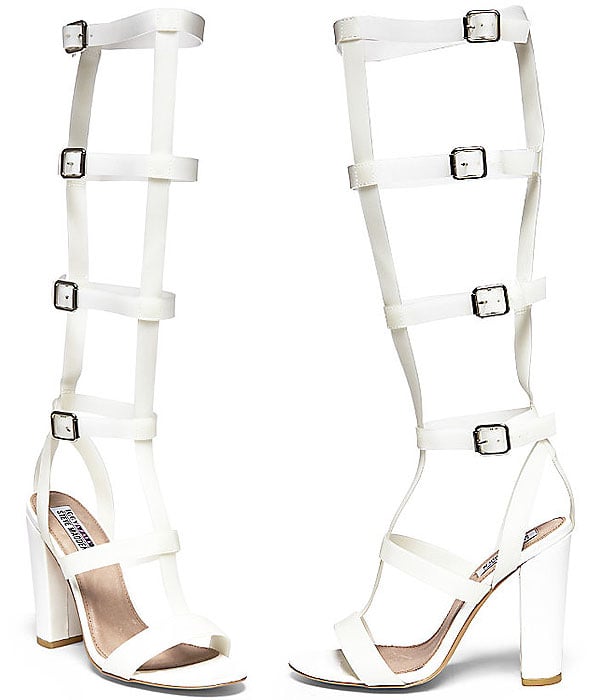 Ale Padded Mesh Mules in Gray Multi, $129.95
Steve Madden x Iggy Azalea "Get-It" Metallic Rubber-Platform Sandals in Pink, $109.95
Credit: Adriana M. Barraza / FayesVision / WENN