In addition to playing the drums, piano, clarinet, and guitar, Ellie Goulding is famous for writing most of her own songs. The main exceptions are her covers of Elton John's "Your Song," Alt-J's "Tessellate," James Blake "Life Round Here," and Active Child's "Hanging On."
While she began writing her own songs when she was a teenager, Ellie started taking songwriting seriously during her college days at the University of Kent. Many of her most popular songs are co-written with songwriters such as Max Martin, Savan Kotecha, and Ilya Salmanzadeh.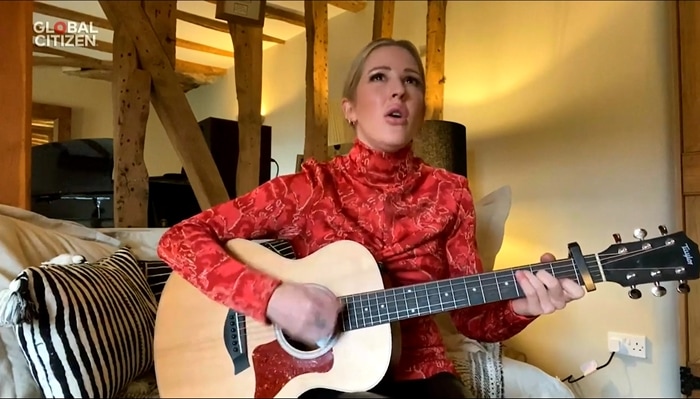 English singer and songwriter Ellie Goulding writes all of her own songs
In 2010, Ellie decided she stop writing songs for other artists. Before that, she co-wrote three songs for "Songs from the Tainted Cherry Tree", the debut studio album by English singer and songwriter Diana Vickers.
"I don't think I'll write for anyone again. It's not for me. Saying that, I might write with someone," she told Glasgow's ABC in 2010.
Did Ellie Goulding write "Love Me Like You Do"?
This is another rare exception. A song recorded for the soundtrack to the film Fifty Shades of Grey, "Love Me Like You Do" was written by Savan Kotecha, Ilya Salmanzadeh, Tove Lo, Max Martin, and Ali Payami. The film's director, Sam Taylor-Johnson, asked Ellie Goulding to sing the song.
Ellie Goulding plays the guitar at the BBC One Show in London on May 10, 2019
In an interview with The Salt Lake Tribune in April 2016, she talked about writing songs for her third studio album, titled Delirium, which was released on November 6, 2015.
I always wanted to make an album the way that I made "Delirium." I went to L.A. for weeks and then came back and went again. It seemed like the way I wanted to do things for a while. It was quite clean and stress-free. I think that shaped the sound a little bit more because I could really just let the music do a little bit more than my voice. "Halcyon" [Goulding's sophomore album] was a really emotional time — it was quite dark and more experimental.

I wrote it at a time when I was very depressed so it's an interesting one. "Delirium" is so happy and vibrant and I put that to even small things like being in the sun. I've never really done that with an album before. I guess an album is weather-dependent as well. I wrote "Halcyon" in the cold, windy, rainy valley.

I really think that affects your mood. There is something positive about being in L.A. and about being with people you completely admire and look up to and respect. Naturally, making music is always shaped by my situation. I write music in the moment. I am very time-sensitive [in] what I write.
In December 2015, Ellie Goulding kept things serious as she arrived at the Los Angeles International Airport, refusing to flash a smile for the waiting paparazzi.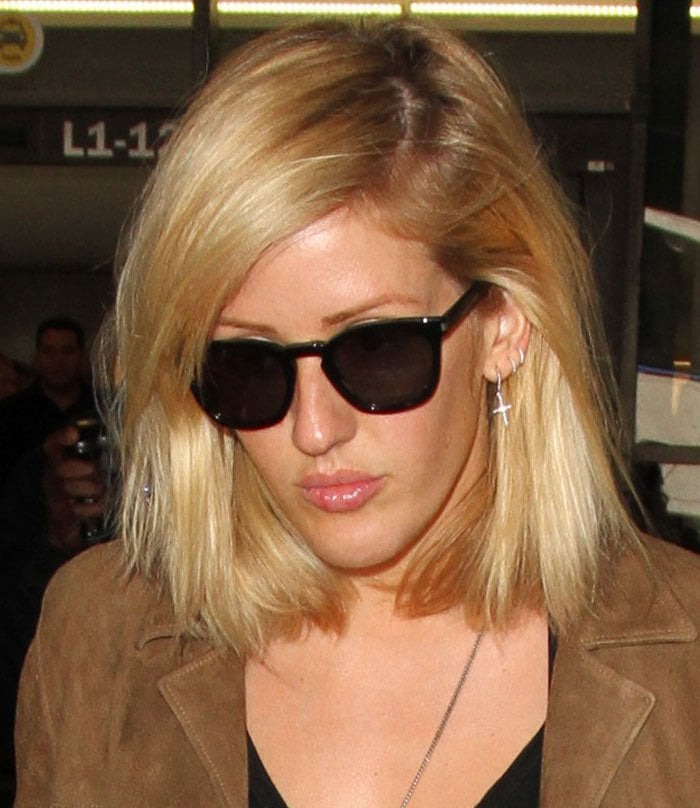 Ellie Goulding wears her blonde hair down as she arrives at Los Angeles International Airport on December 3, 2015
The "Love Me Like You Do" singer, who was reportedly taking some time away from her relationship with Dougie Poynter due to their busy schedules, was in the city to promote her third studio album, "Delirium," and to perform at KIIS FM's Jingle Ball.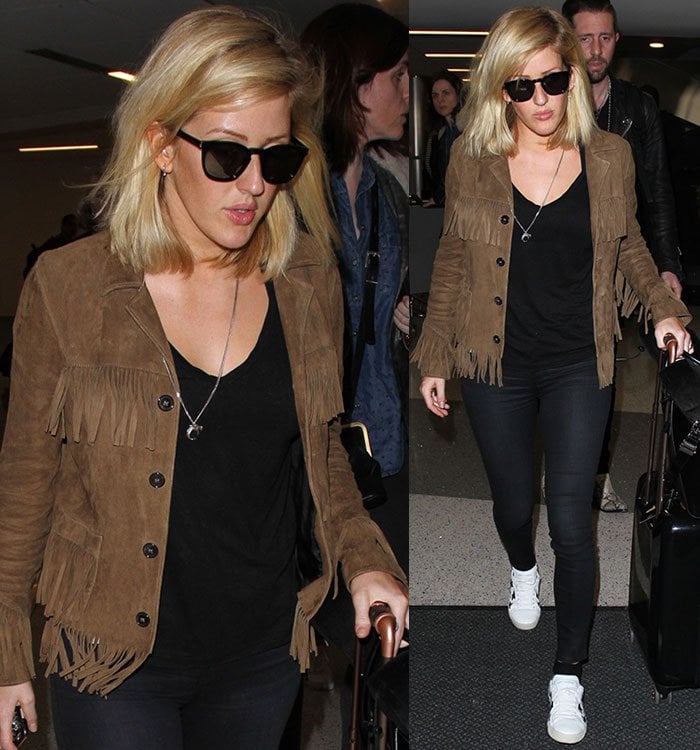 Ellie Goulding covers her eyes with a pair of dark sunglasses as she rolls her suitcase through LAX
The then 28-year-old singer showed off her styling prowess as she sashayed through the terminal in a pair of fitted black pants, a low-cut black tee, and a brown suede jacket with fringe detail.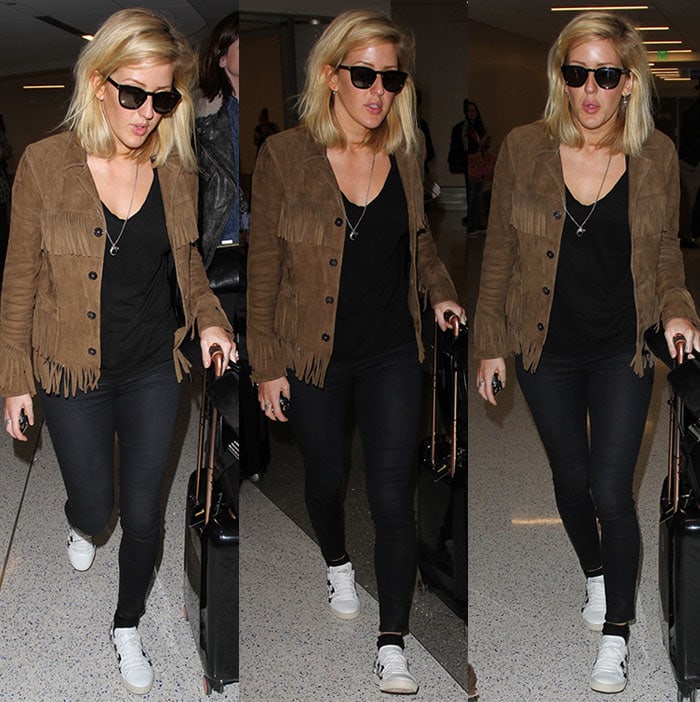 Ellie Goulding wears a brown fringe jacket over black pants and a black t-shirt
She accessorized with a long silver necklace and a couple of earrings and kept her eyes hidden behind a pair of black sunglasses.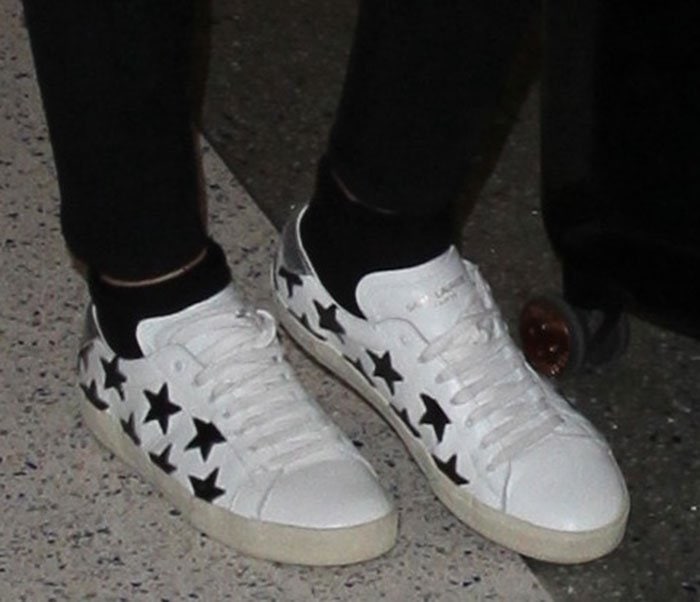 Ellie Goulding's feet in Saint Laurent sneakers
Ellie chose a very comfy pair of sneakers by Saint Laurent for her feet. Rumored to have undergone plastic surgery, she wore minimal makeup and parted her blonde hair to the side.
Her white leather sneakers are covered in embroidered stars. They feature metallic silver leather tabs at the back, lace-up fastenings, logo-detailed tongues, padded insoles, and rubber soles.
These sneakers can be purchased in different versions at Farfetch and Nordstrom.
Saint Laurent Star Embroidered Sneakers, $506 – $645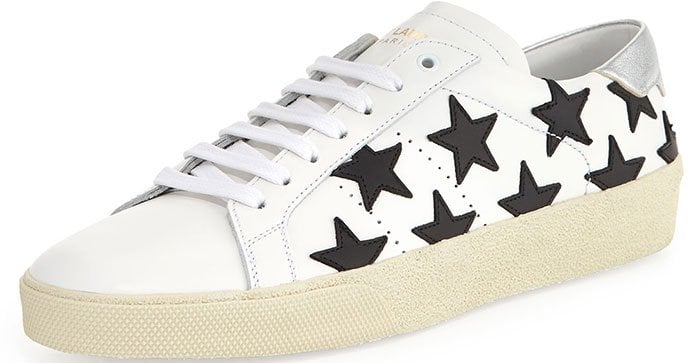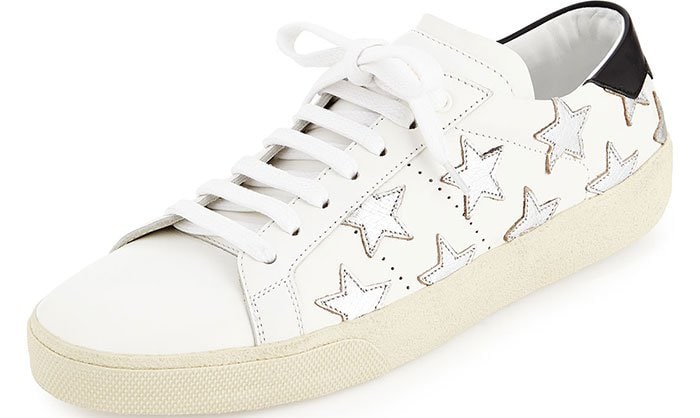 Credit: WENN / Avalon