A lot of Stephanie Pratt's paparazzi pictures are of her on the set of the reality TV show "The Hills," filming "The Hills," and basically doing everything revolving around "The Hills."
Even though the show might have faded from the limelight, and its main star distanced herself from it, "The Hills" remains Stephanie's significant mark in the entertainment industry (Credit: WENN)
Unfortunately, the show has become irrelevant; its popularity has gone way down, and even the main star has completely severed herself from the show.
It's Stephanie Pratt's claim to fame, so ratings, relevancy, and self-respect be damned.
Anyway, I'm only here to talk about the gorgeous Gerard Darel fringe hobo she's been seen toting around on the set of "The Hills." I last saw it nearly four months ago, in December 2009, and it just recently came up again in Stephanie Pratt's April candids:
Stephanie Pratt on set for the final season of 'The Hills' in Brentwood on April 8, 2010 (Credit: WENN)
Oh, and these are the pictures where I originally saw the Gerard Darel fringe hobo. The first one was taken in December 2009, as I said, and the second one is a paparazzi picture dated January 15, 2010.
Stephanie Pratt and her new boyfriend leaving after filming a scene for the TV show, 'The Hills' at The Coral Tree Cafe in Brentwood on January 15, 2010 (Credit: WENN)
I guess you won't notice that parts of this scene were filmed months apart once it's edited, but when you put the two pictures side by side, you'll notice the little changes in Stephanie's hair and makeup.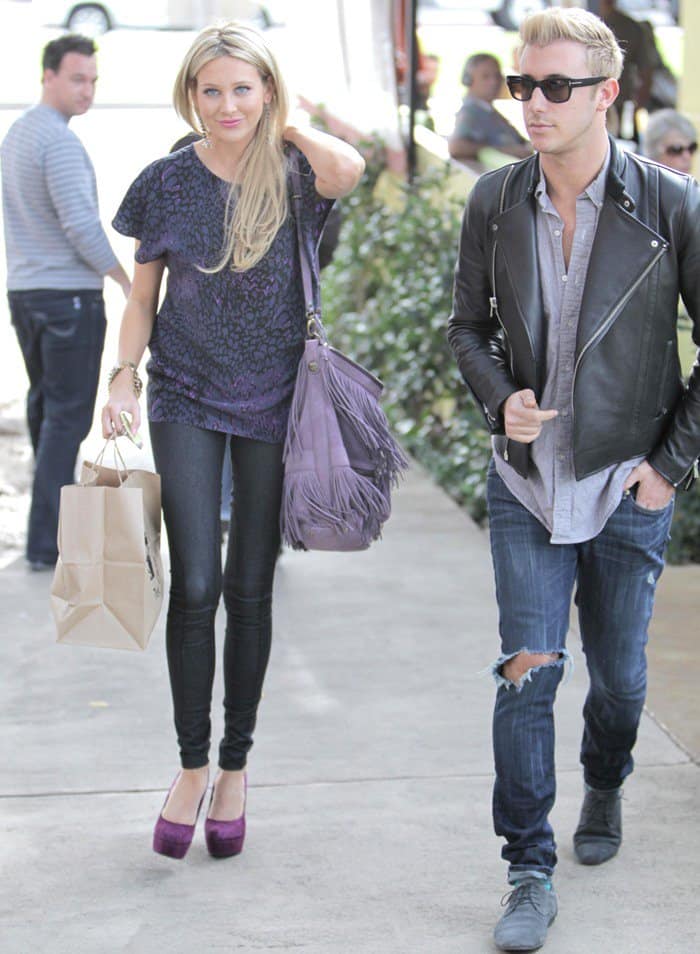 Stephanie Pratt totes an elegant Gerard Darel fringe hobo bag (Credit: WENN)
The French label Gerard Darel is notoriously tricky to find outside of France. Some online stores carry Gerard Darel, but their stocks are minimal, and they fly off the shelves quickly.
Some celebrity fans like Eva Longoria have reportedly traveled to Paris just so she could shop for Gerard Darel's handbags herself!