We love sparkly shoes as much as the next girl but whoa, how's this for some serious bling (and some really in-your-face luxury):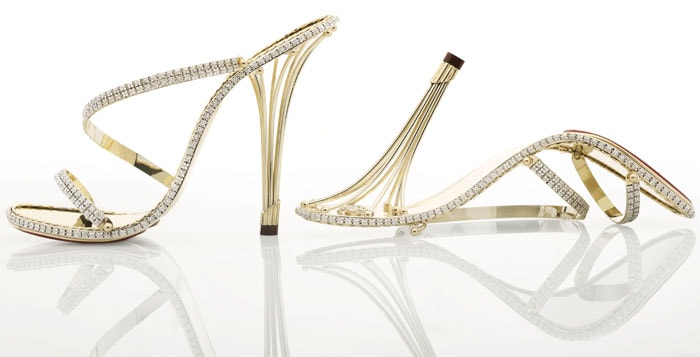 The $230,000 "Eternal Borgezie" diamond stilettos: cost more than your entire wardrobe for three lifetimes
Luxury jeweler House of Borgezie has created stilettos that cost — wait for it — $230,000 per pair.  Dubbed the "Eternal Borgezie" diamond stilettos, the bespoke shoes, which come with a 1,000 year guarantee, are comprised almost entirely of diamonds and gold.
Each shoe is first handcrafted by a goldsmith and then handed off to a diamond setter, who encrusts the shoe with over 2,200 individual sparkling diamonds.  Total diamond bling factor: 30 carats.
The company declares that it has "created perfection" with these shoes and likens them to other "perfect" creations like the Faberge Egg, the Bugatti Veyron, and the Mask of Tutankhamun.
The shoe's designer, Christopher Michael Shellis, told the Daily Mail that he spent three years developing the shoe.
"To bring the Eternal diamond stiletto to life, I quite literally had to reinvent the fundamental principle of classical stiletto construction," said Shellis, "The result is not so much a shoe, but rather a fine piece of jewelry that can be miraculously yet practically worn as the ultimate feminine adornment."
So who do you think will be first to wear these ultra luxurious pair of shoes? NYDailyNews guesses it's going to be Victoria Beckham, but we want it to be someone even more outrageous and out-of-her-mind crazy. Lady Gaga pops into our heads, but this design is too tame for her, so we'll just go with our second, much tamer guess, which is Sarah Jessica Parker. If these shoes were created before 'Sex and The City 2', you know SJP would be all over these and wear these shoes to the premieres.
You know what accessories would go well with these shoes? The Victoria's Secret $15 million Red Hot Fantasy Bra that's strewn with diamonds and rubies, the $187,000 gold-and-diamond iPad, and might as well throw the $60,000 diamond-encrusted earphone covers into the mix.
As expensive as they are, "Eternal Borgezie" diamond stilettos' design is a bit plain and underwhelming. It's not as jaw-dropping as the price tag. It must be tough working with such precious materials, but we bet there are sparklier and cheaper shoes out there that are more wowing than these jewelry-cum-shoes.
Credit: House of Borgezie