Leather shoes are gorgeous pieces of footwear, but it can be hard to find the right fit. You may love your new pair of leather pumps, but every time you wear them your feet are left with blisters and sores.
Luckily, if your leather shoes are a little tight there are plenty of methods available to help stretch the leather and make your feet feel more comfortable. Below are the top five methods you can use to stretch your leather shoes at home.
1. Break them in by walking around
This might go without saying, but before you do anything too drastic to your leather shoes, try breaking them in first by wearing them around the house. Walking around the house in your new shoes is perfect for several reasons.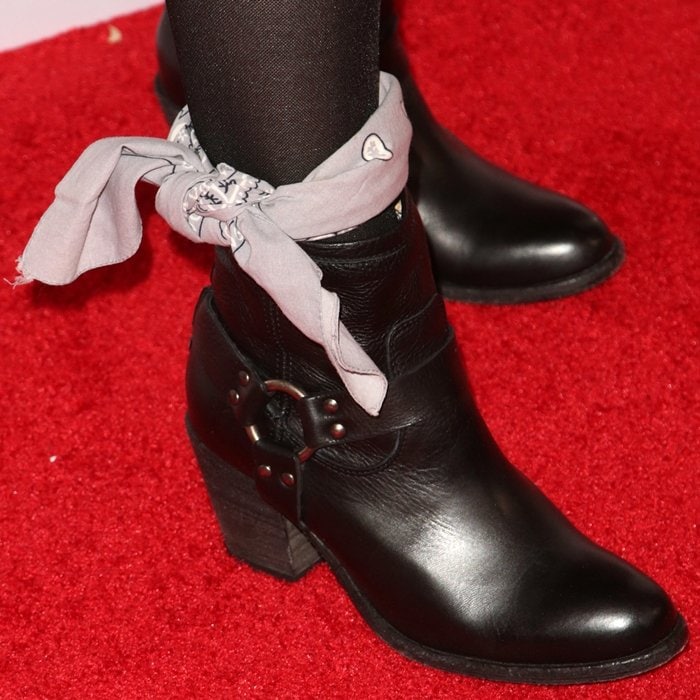 Wear your new leather shoes around the house for short periods of time to jump-start the break-in process
First, as soon as you feel a blister or sore starting to form, you can take the shoes off. Second, you can put on a pair of socks (or two) and walk around to give the shoe an extra stretch.
If you need to break in some leather pumps or dress shoes, put on a pair of thick wool socks and walk around for a while. The extra cushion will help protect your feet, but the added layer will help the shoe stretch.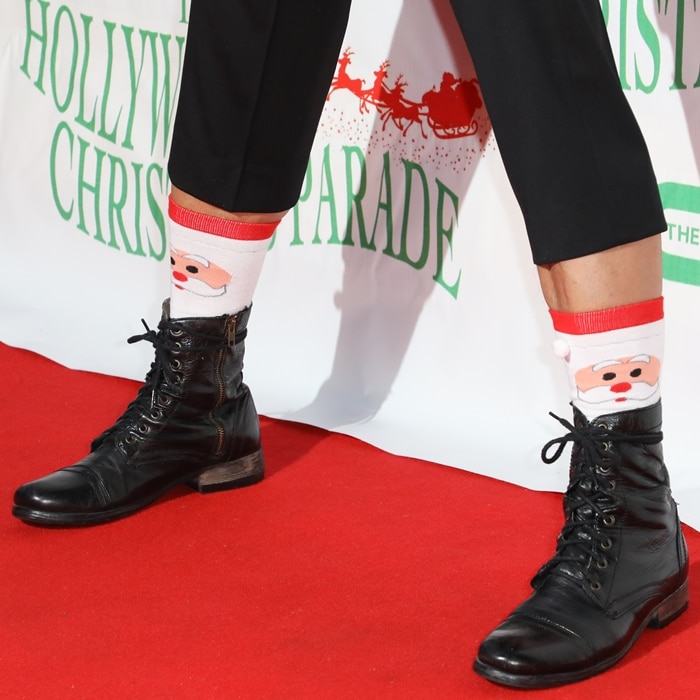 Break in your leather shoes with socks that are a little thicker than you normally would wear
Applying heat to the shoe while wearing the socks can also be helpful. Take out a blow dryer and heat up the corner of the shoe that is giving you the most trouble. Be careful not to overheat any one area and leave the shoes on as the material cools back down.
2. Choose a good stretch spray
If you've broken your shoes in and they're still too tight, then try some leather shoe spray. Yes, there is actually a spray available that will help you stretch out your leather shoes.
Professional Boot & Shoe Stretch Spray, $7.97 at Amazon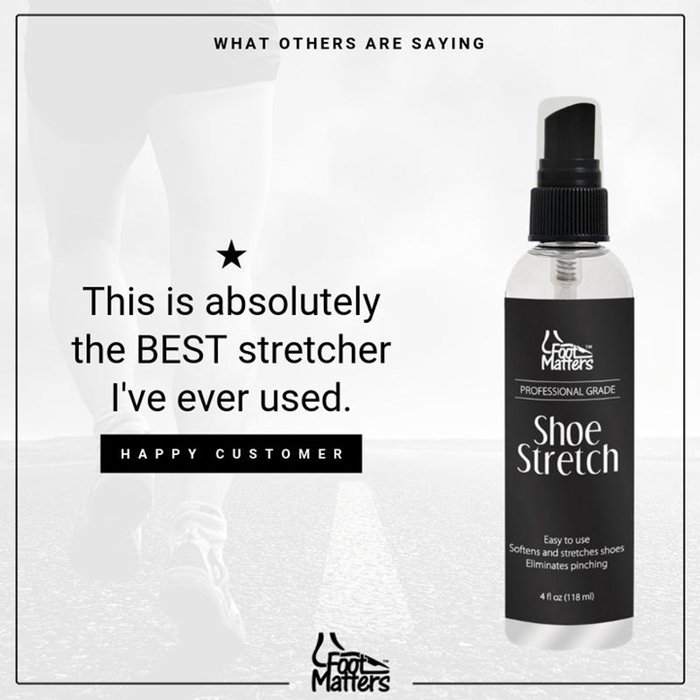 FootMatters' professional shoe stretch is a leather conditioner that is formulated to soften and stretch tight-fitting shoes or boots, while you walk
The spray works by penetrating the fibers of the shoe and then relaxing them so it's easier to work with the material.
It's also a good idea to use a stretch spray with some of the other stretch options as it'll loosen the material and make it more malleable.
3. Find a shoe stretcher
You might read about people using cans of hairspray or other tube-shaped objects to stretch out their shoes. That might work with some materials but shoving a can of hairspray into your leather shoes isn't a good idea.
Leather shoes are expensive so if you're going to stretch the material you want to ensure you're getting a uniform stretch that will maintain the proper shape of the shoe. That's where a two-way shoe stretcher comes into play.
Professional 2-Way Shoe Stretcher, $57.95 at Amazon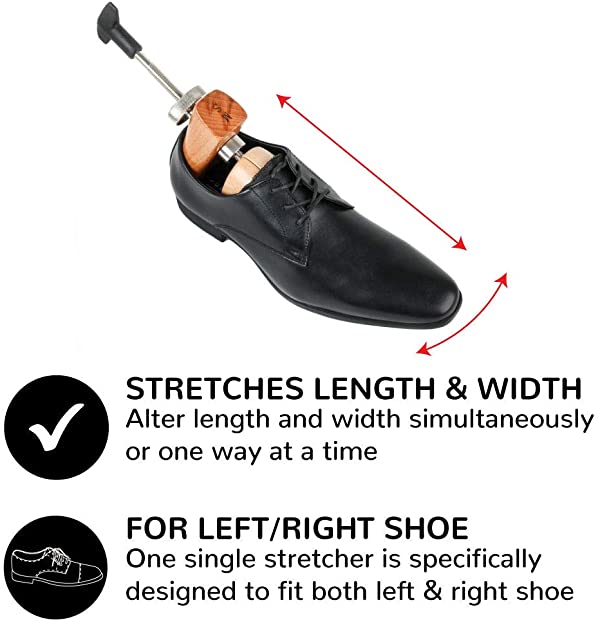 Alters length and width of all flat-soled, fabric, and leather shoes
A two-way stretch can expand both the width and the length of your leather shoes. All you have to do is insert the stretcher, twist the handle a bit, then leave it in the shoe for around 24 hours.
If your feet are just a bit too wide and the shoes are just a smidge too small, then a two-way shoe stretcher will help you get that perfect fit.
4. Stretch with ice
Ice is another option you can use if you want to really DIY it. Fill an air-tight baggie with water and place it in the toe box of your shoe. Then put the shoe in the freezer.
As the water freezes it will expand within the shoe and create a bit more space. You may need to use this method a few times to get the shoe stretched out well enough, but it can work. Just make sure the bag isn't leaking at all before putting it inside your shoe.
5. Buy the right size
Ultimately, it's always best to buy shoes that fit right from the start. Stretching leather is difficult and sometimes the leather can be damaged by your attempts to make the material fit your foot.
Not to mention it's painful wearing around too-tight leather shoes. As a rule of thumb, try to do your shoe shopping in the afternoon or evening.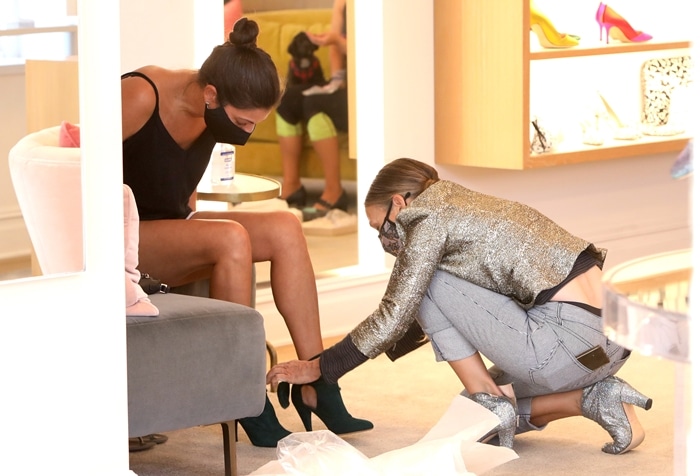 Sarah Jessica Parker helps a customer find the right shoe size at the "SJP By Sarah Jessica Parker" store at the Seaport District, Manhattan, on September 24, 2020
Feet swell as the day wears on from walking around and doing various activities so if you buy shoes too early in the day you'll likely end up with a tight fit.
Of course, the above at-home shoe stretching methods will give you a bit of grace when it comes to the fit of your shoe, and if all else fails you can always visit a local cobbler.
Credit: Brian To / WENN / Sheri Determan / Avalon