In December 2014, Supernatural actress Paris Hilton was spotted at LAX with her Chihuahua, Peter Pan, as they were about to board a flight to Miami.
Paris Hilton carrying her Chihuahua, Peter Pan (Credit: WENN)
5 years earlier, she appeared in the fifth episode of the fifth season of the American television series Supernatural.
"Paris Hilton is playing a demonic creature that takes the form of….Paris Hilton," said series creator and executive producer Eric Kripke about Hilton's guest appearance.
"It'll be a fun, irreverent episode and we here at Supernatural' are thrilled that Paris agreed to do it."
Paris Hilton guest stars in the episode Fallen Idols of Supernatural's fifth season (Credit: TNT)
"[She plays] a monster who takes the form of Paris Hilton," series creator Eric Kripke told Access about Paris Hilton's role in the series.
In the episode titled "Fallen Idols" that first aired on October 8, 2009, she plays a shape-shifting Eastern European forest god and gets her head chopped off.
"We never expected in a million years that she would do it, but I spoke to her and she got the joke immediately and signed on quickly," he added.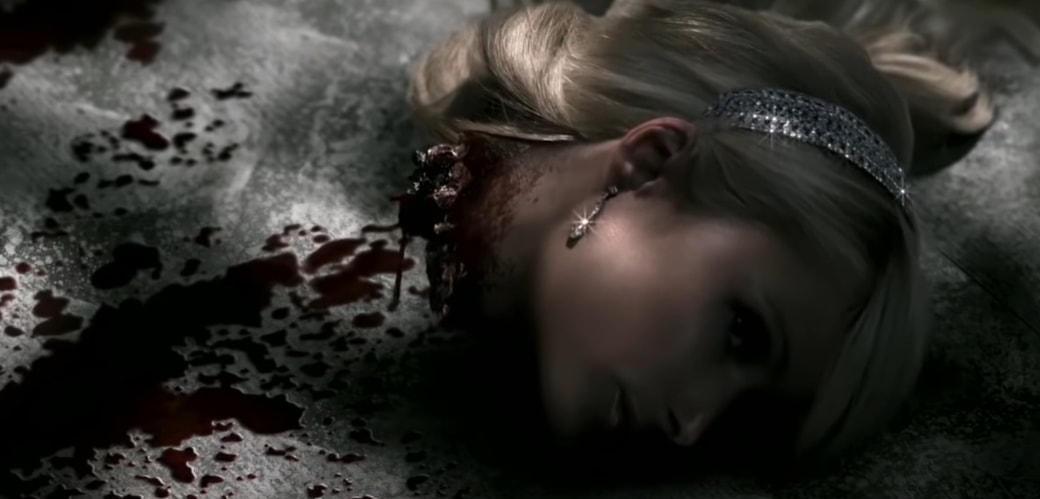 Paris Hilton has her head cut off by an iron ax in Supernatural (Credit: TNT)
"I give her a lot of credit for being a hell of a good sport. The fact that she was game to play the part speaks volumes about her sense of humor."
The then 33-year-old great-granddaughter of Conrad Hilton, the founder of Hilton Hotels, sported a fierce snakeskin "Liv" jumpsuit by Parker. In addition to her micro dog, Paris carried a classic Chanel bag.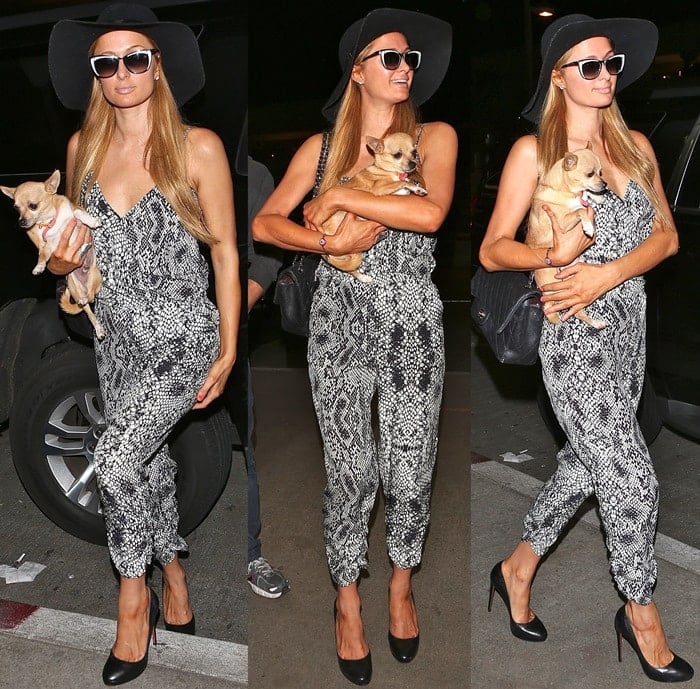 Paris wears a fierce snakeskin Liv jumpsuit by Parker at Los Angeles International Airport (LAX) on December 2, 2014 (Credit: WENN)
She accessorized with black "Diva" sunglasses by Swarovski and completed the outfit with a pair of black patent leather pumps from Alaïa.
Paris Hilton shows off her feet in black pumps (Credit: WENN)
How do you like Paris's jumpsuit and shoes? The round-toe covered stiletto heels have sold out at Farfetch, but we've found some more reasonable alternatives at ShoeDazzle and Zappos:
Chinese Laundry Wow Pumps, $69.95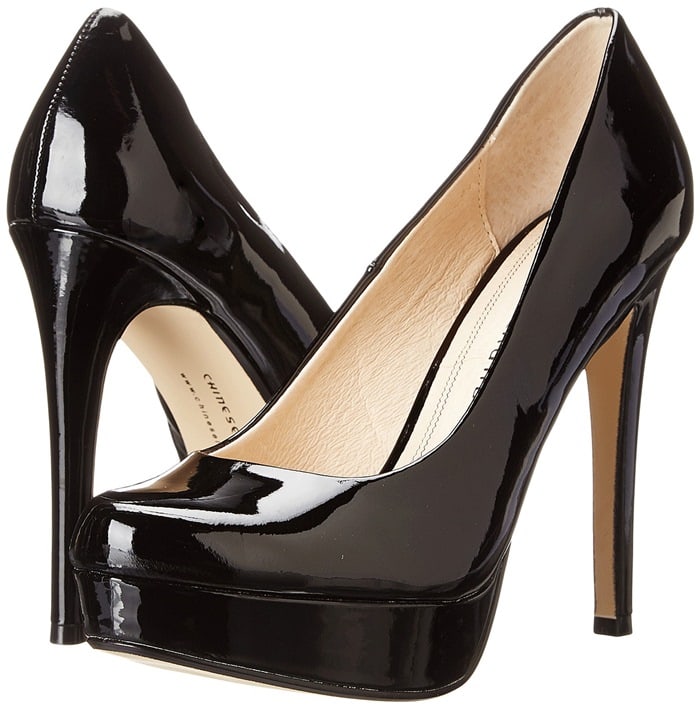 Shamira Glossy Platform Pumps, $10