"Don't ever go out in public in sweatpants" is probably one of the first things we are taught as students of style. But as fashion is ever temperamental, even that supposedly hard-and-fast rule is subject to change.
Sisters Kylie Jenner and Kendall Jenner heading to their parked car in Los Angeles, California, on April 28, 2015
Kendall and Kylie Jenner both practically threw that rule out the window, and stepped out not only in sweatpants but in full sweats-on-sweats gear!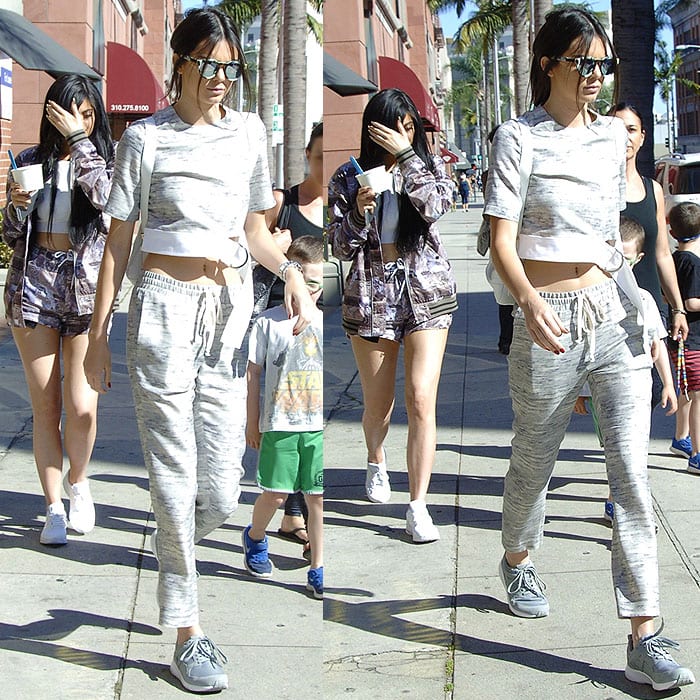 Kylie holding a cup of Greek yogurt and none for runway model Kendall
The influential pair put their signature chic spin on sportswear and created these two equally cool daytime looks for their busy day out in Beverly Hills on Tuesday.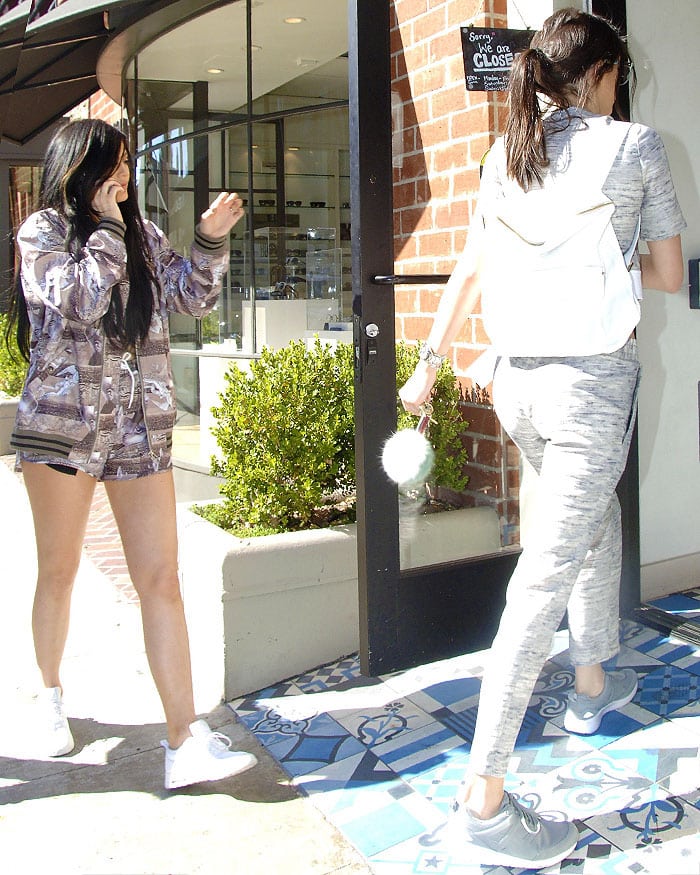 Kylie Jenner following older sis Kendall into Go Greek yogurt bar on Bedford Drive in Beverly Hills, California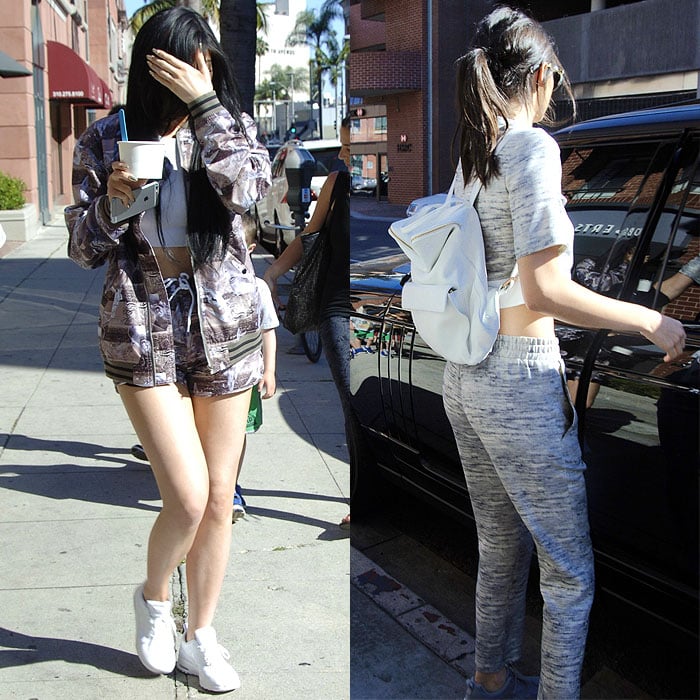 Kylie Jenner and Kendall Jenner both in chic sportswear for their day out in Beverly Hills
Older sis Kendall drew from her modeling experience to pull off a monochromatic heather gray sweatsuit consisting of a crop top with a white belt at the hem and drawstring trousers. She completed her dressed-up dressed-down outfit with a messy ponytail, marbled black-and-white sunglasses, a white leather backpack, and gray sneakers.
Meanwhile, younger sis Kylie showed her love for hip-hop culture in a street-style printed stadium jacket and track shorts set. Always one to push the fashion boundaries of sexuality, the 17-year-old Tumblr phenomenon didn't go without baring some skin in her sportswear outfit nor her pointy femme fatale nails. Like her sister, Kylie also accessorized with an expensive-looking backpack and sneakers.
The two wore their athleisure looks on the day they met up with a design team for what looks like an upcoming new collection. Both Kendall and Kylie even posted sneak-peek previews on their Instagram accounts.
Based on the pictures below, it looks like they're coming up with something more mature and sophisticated to match their grown-up styles.
Kylie Jenner's collage Instagram post she captioned with "designing. I've never been more excited for what's to come! Stay tuned this summer." – posted on April 28, 2015
Kendall Jenner's Instagram post from their designing day captioned "sneaky" – posted on April 28, 2015
As for their sneakers, here are the close-ups: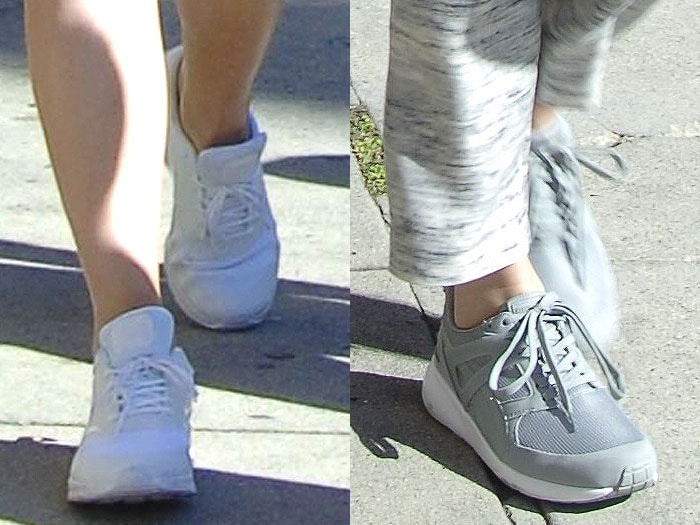 Kylie Jenner's white sneakers and Kendall Jenner's gray shoes
We've ID'ed Kylie Jenner's sneakers as these white Nike Air Max "Thea" sneakers:
Nike Air Max "Thea" Sneakers in White, $90
Kendall Jenner's sneakers are these Puma "Aril" sneakers in gray:
Puma "Aril" Sneakers in Limestone Gray/Dark Shadow, $75
Credit: MONEY$HOT / WENN / Kendall Jenner and Kylie Jenner's Instagram