In December 2014, Taylor Swift showcased her cleavage and sparked boob job rumors at the 2014 Victoria's Secret Fashion Show in an embroidered mini dress from the J. Mendel Spring 2015 collection.
The show was held at Earls Court Exhibition Centre on Tuesday in London, England. "Would like the number to Taylor Swift's boob job doctor pls," Jarqueen Cortez tweeted.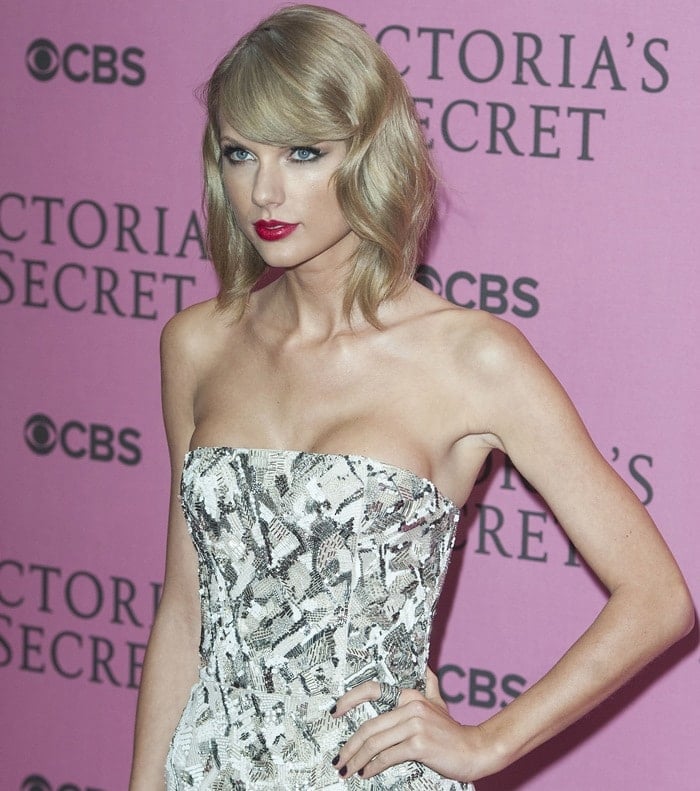 Taylor Swift sparked boob job rumors in a sexy little dress at the 2014 Victoria's Secret Fashion Show held at Earls Court Exhibition Centre in London, England, on December 2, 2014 (Credit: Daniel Deme / WENN)
The then 24-year-old singer performed at the fashion event for the second straight year wearing a number of sexy ensembles.
On the pink carpet, she donned a hand-embroidered J. Mendel dress featuring a strapless neckline, a fitted silhouette, and an architecture-inspired motif.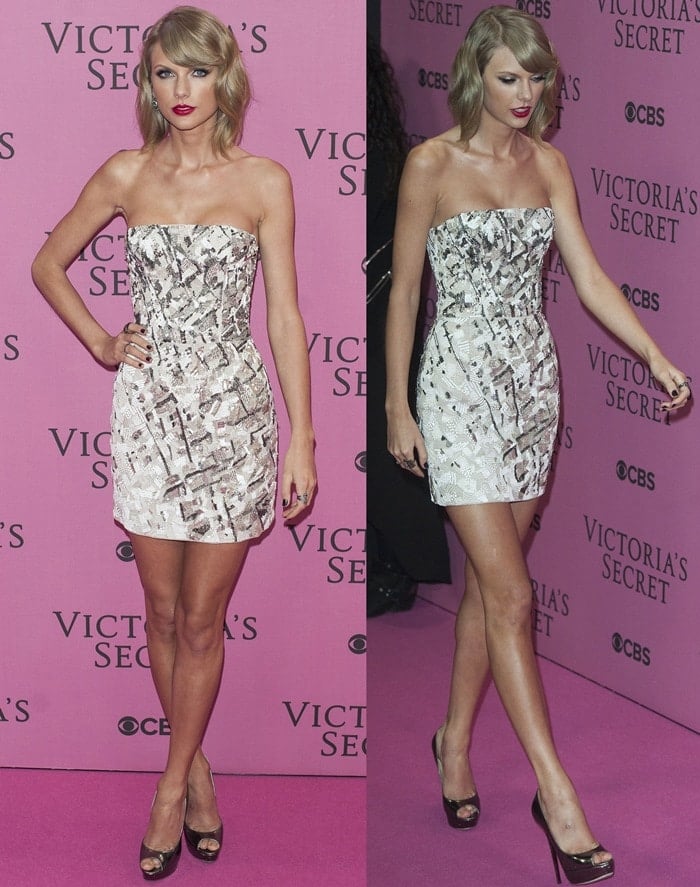 Taylor Swift flashed cleavage in a hand-embroidered J. Mendel dress (Credit: Daniel Deme / WENN)
Rumored to have had a boob job, fans are worrying the artist is feeling pressure to get bigger boobs to look sexy.
"This is all I can add to the discourse because I am not seeing Endgame until Tuesday and I think Taylor Swift should be more open about her boob job," Women's Running editor Jessica Campbell-Salley tweeted in April 2019.
Before and after rumored boob job: Taylor Swift displays cleavage the 2019 InStyle And Warner Bros. Golden Globes After Party (L) and at Clive Davis' annual pre-Grammy party in 2008 (R) (Credit: Adriana M. Barraza / WENN)
'Is it possible to go to a 2009 Taylor Swift concert? Before she became a total bi-otch with a boob job and had curly hair and sang Our Song?" @cattiewack tweeted in November 2016.
"Taylor didn't have a boob job she always had perky titties, especially with the right bra," another fan insisted, arguing that Taylor's boobs are in fact real.
Adrian Richards, a plastic surgeon who specializes in breast surgery and facial reconstruction surgery at Aurora Clinics in London, told The Sun in 2016: "In recent photos, it seems her breasts are more defined and slightly larger."
Taylor Swift at the 42nd Academy of Country Music Awards held at MGM Grand Garden Arena, Las Vegas, Nevada, on May 15, 2007 (Credit: Nikki Nelson/ WENN)
"I'd suggest she has had implants that are fairly moderately sized and teardrop in shape – what I'd call low profile implants. This form of enhancement is proving increasingly popular," he added.
"Who cares if Taylor Swift did or did not get a boob job. It's her body. She can do what she wants with it people! #bye," Becca tweeted in 2016.
At the 2014 Victoria's Secret Fashion Show, Swift accessorized with jewelry by Sethi Couture, Jack Vartanian, and Antonini. Her stunning outfit was completed with a pair of peep-toe "Vibe" pumps by Jimmy Choo.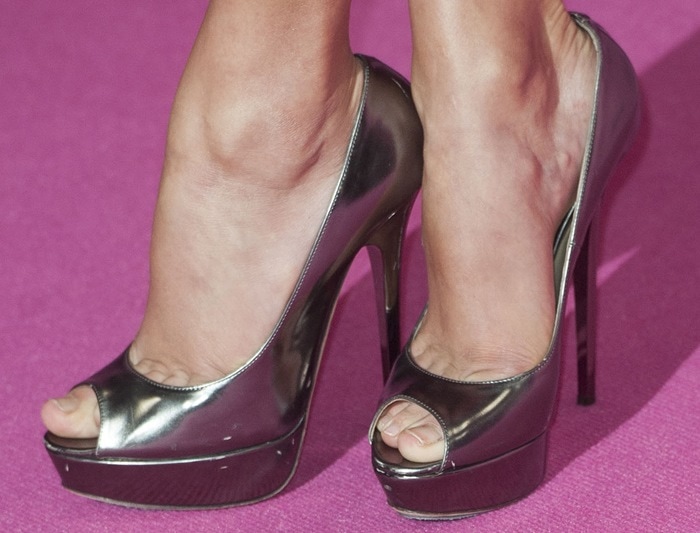 Taylor Swift shows off her sexy toes in Jimmy Choo shoes (Credit: Daniel Deme / WENN)
It's not often that we get to see Taylor flash her cleavage, but the Victoria's Secret Fashion Show was the right occasion for a sexy ensemble such as this one.
The Vibe pumps have unfortunately sold out online, but you can browse the latest from Jimmy Choo at Nordstrom and Farfetch.
Here are some stunning peep-toe alternatives starting from just $10 at Zappos and ShoeDazzle.
Purple Giuseppe Zanotti Pumps, $895
Kiku Metallic Platform Pumps, $10
MICHAEL Michael Kors York Platform Pumps, $130