Katy Perry and Taylor Swift started their feud in 2013 when Swift poached three of Perry's 2011–12 California Dreams Tour backup dancers for her Red World Tour. Perry later convinced the dancers to leave Swift's tour and to join her Prism tour instead.
One of the three dancers, Lockhart Brownlie, explained his decision to abandon Swift's tour half-way through to The Examiner, an Australian daily newspaper of the city of Launceston and north-eastern Tasmania. The two other dancers were Scott Myrick and Leah Adler:
"Obviously we were with Katy for two-and-a-half years, she's like family to us. So we were, like, 'Absolutely'. We weren't really dancing in Taylor's tour anyway, so I had got a little bored and I really wanted to do a promo tour."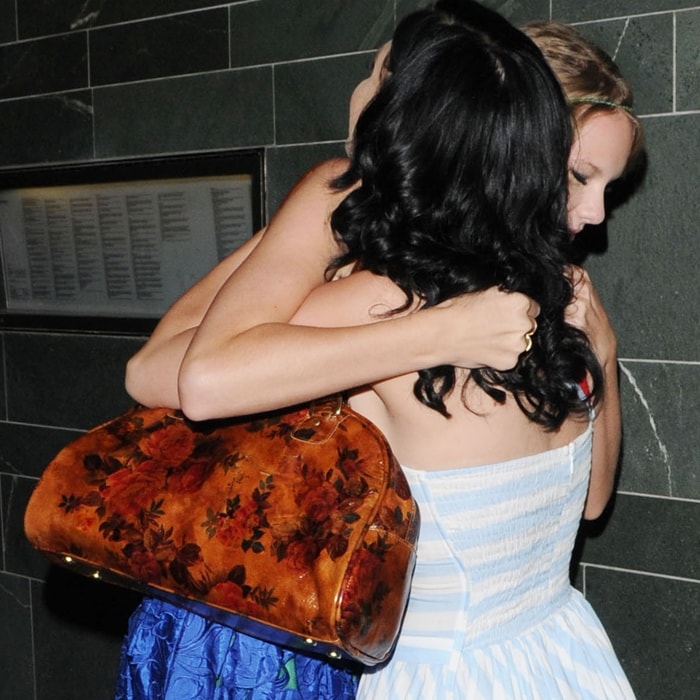 Taylor Swift hugs Katy Perry while they were still friends in 2009
Swift accused Perry of sabotage and wrote "Bad Blood," a song released in 2015 with lyrics describing betrayal by a close friend. She discussed the song in an interview with Rolling Stone.
For years, I was never sure if we were friends or not. She would come up to me at awards shows and say something and walk away, and I would think, "Are we friends, or did she just give me the harshest insult of my life?"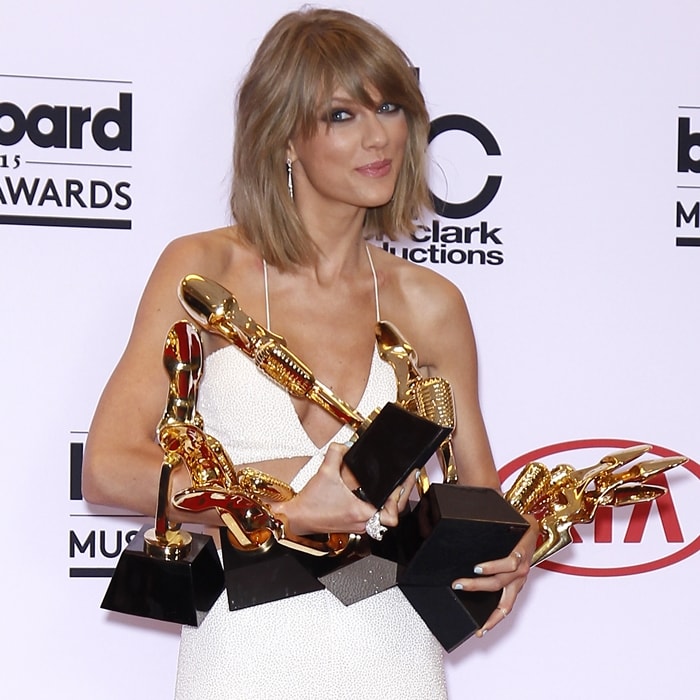 Taylor Swift released the highly-anticipated video for Bad Blood (Remix) and took home eight prizes at the 2015 Billboard Music Awards
She did something so horrible. I was like, 'Oh, we're just straight-up enemies'. And it wasn't even about a guy! It had to do with business.

She basically tried to sabotage an entire arena tour. She tried to hire a bunch of people out from under me. And I'm surprisingly non-confrontational – you would not believe how much I hate conflict. So now I have to avoid her. It's awkward, and I don't like it.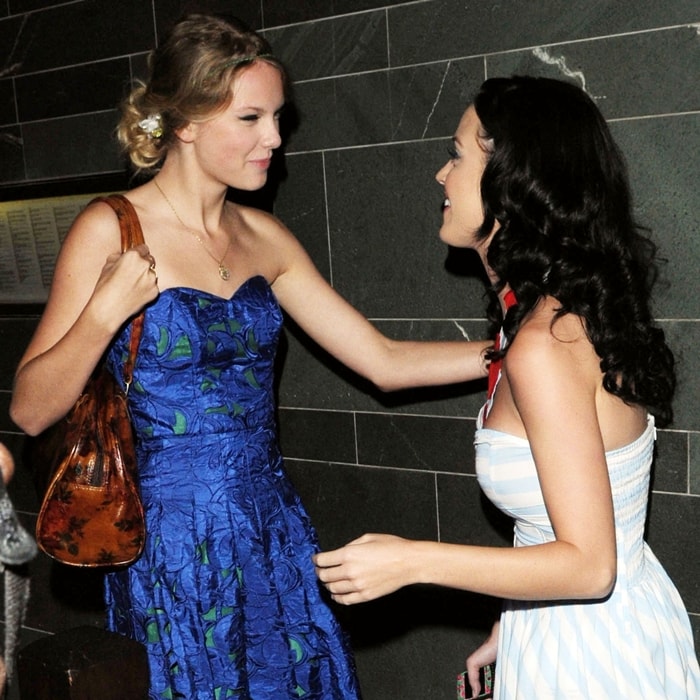 Katy Perry and Taylor Swift were on friendly terms until 2013, here seen leaving Hakkasan restaurant after having dinner together in London, England, on August 23, 2009
Perry responded with her single"Swish Swish" featuring American rapper Nicki Minaj, a song about fighting against bullies. Swift continued the song feud with "Look What You Made Me Do," a song from her sixth studio album. According to The Guardian, the song also disses Kim Kardashian, Kanye West, and ex-boyfriend Calvin Harris.
In June 2019, the two pop stars finally announced the end of their years-long feud. Perry shared a picture on Instagram of a plate of cookies that had "Peace At Last" written on it with icing. She tagged Swift in the photo and captioned it "feels good @taylorswift," even adding the location of the photo as "Let's Be Friends."
View this post on Instagram
One year earlier, Perry sent Swift an olive branch, literally, with an accompanying note apologizing. The message reportedly said "Hello old friend— I've been doing some reflecting on past miscommunications and hard feelings between us. I really want to clear the air. —— I'm deeply sorry for…"
In an interview with the BBC Radio 1 Breakfast Show on June 17, Swift talked about her public feud with Perry, noting that it's actually been over for quite some time.
"We have been on really good terms for a while. But the first time we saw each other was at this party, and it was just very clear to both of us that everything was different. That we had grown up. That we had grown past allowing ourselves to be pitted against each other," Swift said.
The Taylor Swift-Katy Perry feud started when backup dancer Lockhart Brownlie (R), posing with Bryan Gaw (L), and fellow dancers Scott Myrick and Leah Adler were poached by Taylor Swift
She added that the cause of the feud just didn't seem that important anymore. Swift decided to reach out to Perry while working on the "You Need To Calm Down" music video.
"When I thought of this concept for the video and I wrote the treatment, I thought, 'I'm just gonna ask her if she'd be interested in this, but I would be totally fine if she'd rather keep it private,'" she said about how Katy Perry's cameo came to be. "But I sent her a long synopsis of the entire video and she was like, 'I would love for us to be a symbol of redemption and forgiveness!'"
"It just was really, really clear that we remembered how much we had in common. Both of us have been in a really good place for a while, but I don't know if either of us knew if we were gonna talk about it publicly."
In the music video, they wear coordinating burger and fries costumes, which were inspired by Perry's iconic 2019 Met Gala after-party look.
"I didn't think of the burger and fries costume until she wore the burger to the Met Gala after-party and I was like, 'That is amazing,'" Swift said. "I kept thinking… we are gonna have this moment in the video… and if it's us wearing normal clothes and hugging, it won't really fit."
And that's when lightning struck. "I was like, 'Can we do a burger and fries as a metaphor for two people who belong together? And people who are a perfect pair?'" Swift recounted. "And she thought it was really funny! So we did it."
In March 2012, it looked like Katy Perry was in a blue mood for Paris Fashion Week… but when we say "blue," we don't mean sad.
The American singer, songwriter, businesswoman, philanthropist, and actress wore a head-to-toe blue ensemble which started at the top with bright blue hair and capped off with a stunning pair of electric blue Casadei pumps.
Katy Perry attends the Viktor & Rolf Fall/Winter 2012 presentation held at Espace Ephemere Tuileries in Paris on March 3, 2012
The pop star paired the pumps with black tights, a black and blue printed dress, and a blue jacket with cutout details that mimicked her dress.
Katy Perry shows off an all-blue outfit — hair included! — during Paris Fashion Week
She carried a blue pill-shaped "Pilule" clutch bag from Christian Louboutin, which perfectly matched her blue look from the Viktor & Rolf Spring 2012 collection. It retailed for $6,995 at Net-A-Porter.
Katy Perry carries a blue pill-shaped "Pilule" clutch bag from Christian Louboutin
Unfortunately, Katy's Casadei Fall 2011 collection pumps seem to have sold out at most stores. You can browse newer styles at Casadei and Farfetch.
Credit: Will Alexander / WENN / Judy Weddy / Brian To