If you happen to be into sporty sneaks like Keds and happen to love Taylor Swift as well, then do know that the country cutie's limited edition RED Keds are now available for purchase at Amazon. Yep! As you know, Keds has recently named Taylor Swift as its latest endorser. This one isn't just an ordinary case of selecting a new brand ambassador and then spreading a fresh campaign. It's a team-up of sorts, with Taylor launching her very own limited edition style.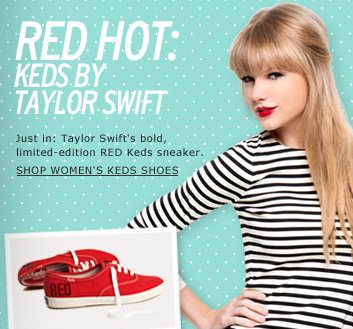 So, what's the difference between Taylor's RED Keds and an ordinary pair of red canvas Keds? Well, not much really, except for three things — the price (it's more expensive by $10), the slight change in color, and the fact that the word RED is written on the shoes. Taylor's RED Keds come in a really vibrant, rich, and bright red color, while the classic red canvas Keds sneakers come in a slightly duller tone.
Keds Taylor Swift RED Limited Edition Champion Sneakers, $50
Keds Champion Sneakers in Red Canvas, $40
For those interested (or if you have a sister or a daughter who's really into Taylor Swift), these limited edition sneakers would work great as a Christmas gift.