Chrissy Teigen has recently come under fire for admitting that she and her wealthy husband John Legend pre-selected their baby girl's gender during in-vitro fertilization (IVF).
Chrissy Teigen wears her hair down in curls at her book signing for "Cravings: Recipes For All The Food You Want To Eat" held on February 23, 2015, at Barnes & Noble at The Grove in Los Angeles (Credit: FayesVision / WENN)
According to CNBC, selecting the sex of a designer baby can cost up to $20,000 and usually involves discarding unused embryos, which is considered murder by most Islamic and Christian scholars.
"I've made this decision," Chrissy revealed in an interview with People. "Not only am I having a girl, but I picked the girl from her little embryo. I picked her and was like, 'Let's put in the girl.'"
"I think I was most excited and allured by the fact that John would be the best father to a little girl. That excited me," the cookware entrepreneur added.
"It excited me to see … just the thought of seeing him with a little girl. I think he deserves a little girl. I think he deserves that bond. A boy will come along. We'll get there too, so it's not like we really have to pick. But he definitely is very lucky to have a little girl. And this girl is going to be so completely lucky to have John as her papa — it's crazy!"
Chrissy Teigen and husband John Legend pose for photos at Chrissy's cookbook signing (Credit: FayesVision / WENN)
Critics quickly came down on the 30-year-old swimsuit model, accusing her of playing God. Chrissy took to Twitter to lash back at them.
"What year is this!?" she posted. "And for the record, I am always happy and open to speak on infertility. The more casual, the better! I don't mind."
In the People's Republic of China, India, Pakistan, and a number of other countries, sex-selective abortion has caused unbalanced gender ratios.
According to Nikkei Asia, in 2011 the city of Jhajjar in the Indian state of Haryana had 67,380 boys and 52,671 girls ages zero to six. This equates to 128 boys per 100 girls. The natural sex ratio at birth is around 105 boys per 100 girls.
Chrissy Teigen poses with her growing baby bump in a Bossa dress (Credit: FayesVision / WENN)
Because Chrissy Teigen is, well, Chrissy Teigen, she managed to retain her sense of humor during the whole debacle.
She joked that she chose the girl embryo with "a taste for bacon," "a knack for magic," and "size 7 feet so she can always find shoes."
Chrissy seemed to ignore the criticism for a day as she attended a book signing for her new cookbook Cravings: Recipes For All The Food You Want To Eat held at The Grove in Los Angeles.
Chrissy Teigen shows off her Le Vian rings as she signs copies of her cookbook (Credit: FayesVision / WENN)
For the signing, Chrissy wore a tan Bossa "Prague" halter turtleneck dress underneath a copper-colored House of CB "Madelie" duster coat.
She accessorized with jewelry from Le Vian and finished her ensemble with a pair of Kurt Geiger "Britton" pumps.
Chrissy Teigen holds a copy of her new cookbook and her growing baby bump (Credit: FayesVision / WENN)
Controversy aside, we really can't blame Chrissy for wanting to select the perfect shoe size for her baby girl. After all, you know we would do the same if we could!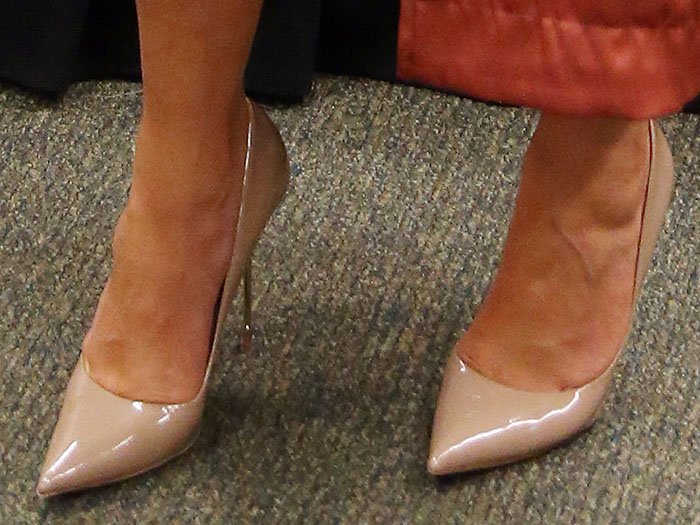 Chrissy Teigen's feet in nude leather Kurt Geiger pumps (Credit: FayesVision / WENN)
We've previously spotted Gigi Hadid, Karlie Kloss, and Hailee Steinfeld all wearing this same pair of classic Kurt Geiger pumps.
Nude Leather Kurt Geiger 'Britton' Pumps, £199.00