The streetwalker stigma associated with wearing thigh-high boots is no more. Maybe we have this decade's It girl Rihanna to thank for that?
When she started pairing thigh-high boots with oversized t-shirts, she broke down the shoe style's stripper barrier and crossed it over to the exclusive VIP territory of street-style swag.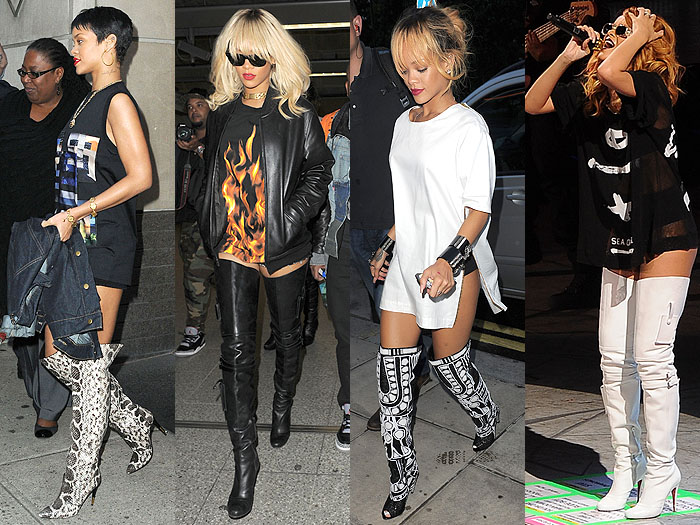 Rihanna leaving a building in New York City on October 1, 2012; catching a tube in London, England, on March 27, 2012; arriving at the Cuckoo Club in Mayfair, London, England, on June 15, 2013; performing at Ziggo Dome in Amsterdam, Netherlands, on June 23, 2013
Pretty soon, other cool chicks of Hollywood were doing it. Kylie Jenner said it herself that it was Rihanna who inspired her, who then inspired big sis Kim Kardashian to try the big-shirt-with-thigh-boots look in a photo shoot.
Kylie Jenner wearing oversized tops with thigh-high boots in Instagram snaps posted on July 20, August 8, and September 6, 2014
Cara Delevingne, Karrueche Tran, Lindsay Lohan — the list of fans keeps growing and growing. Spotted most recently sporting the style was Fergie, who loved the look so much she wore it both to the airport and to the event she was to attend.
Kim Kardashian's Instagram pic from her Hype Energy USA shoot posted on August 18, 2014; Karrueche Tran's Instagram pic from her guesting on the Just Keke show posted on July 9, 2014; Cara Delevingne heading to a house party at a private residence in Notting Hill, London, England, on February 16, 2013
Delilah at The Forum for Rihanna's performance of her 777 tour in London, England, on November 19, 2012; Fergie at day 2 of the 2014 iHeartRadio Music Festival in Las Vegas, Nevada, on September 20, 2014; Keisha Buchanan at Steam and Rye in London, England, on May 10, 2014
If you ever find yourself questioning whether you could pull off thigh-high boots or not, take it from these ladies: just grab your dad's/brother's/boyfriend's big T-shirts and go. Is there a cooler and easier way to rock thigh-high boots than this?
Below are our over-the-knee boot recommendations for this fall/winter that you can find at Amazon:
L to R: GUESS "Dandra" Thigh-High Boots, $149 / Luichiny "May La" Platform Thigh-High Boots, $109.95–$139.99 / Pleaser "Raven-8826/B/LE" Flat Thigh-High Boots, $135.95–$140.80 / ZiGiNY Lace-Up Thigh-High Boots, $199.95
Credit: Kylie Jenner, Kim Kardashian, and Karrueche Tran's Instagram
Neil Warner / Stuart Castle / Will Alexander / Bridow / WENN