With temperatures plummeting and snow piling, you'd be hard-pressed to find someone who wouldn't rather wrap up in blankets and thick clothing, staying cozy and warm.
While you can wear anything inside the comfort of your own home, picking an outfit is quite a challenge if you need to go out in the cold to run errands, go to work or meet some friends. The best staple to keep in your closet this season? Warm boots!
Snow boots and sheepskin boots are everywhere these days. If you're looking for something more stylish, you can opt for trendier over-the-knee (OTK) boots. Not only are OTK boots trendy, but all that extra material means they're warm as well. However, most girls are hesitant to wear them because they're usually associated with streetwalkers ala Julia Roberts in Pretty Woman.
If you're anxious about including OTK boots in your ensembles, let the following celebrities show you how to wear thigh-high boots!
1. Nicky Hilton in a Plaid Sweater Mini Dress
Like Nicky Hilton, you can look preppy in a plaid sweater mini-dress and over-the-knee suede boots. Since OTK boots are already very sexy, there's no need to flash a lot of skin.
But if your dress has a high neckline and long sleeves, revealing a bit of skin between the top of the boots and the hem of the dress is fine. Style your hair up in a bun to add a bit more class to the look.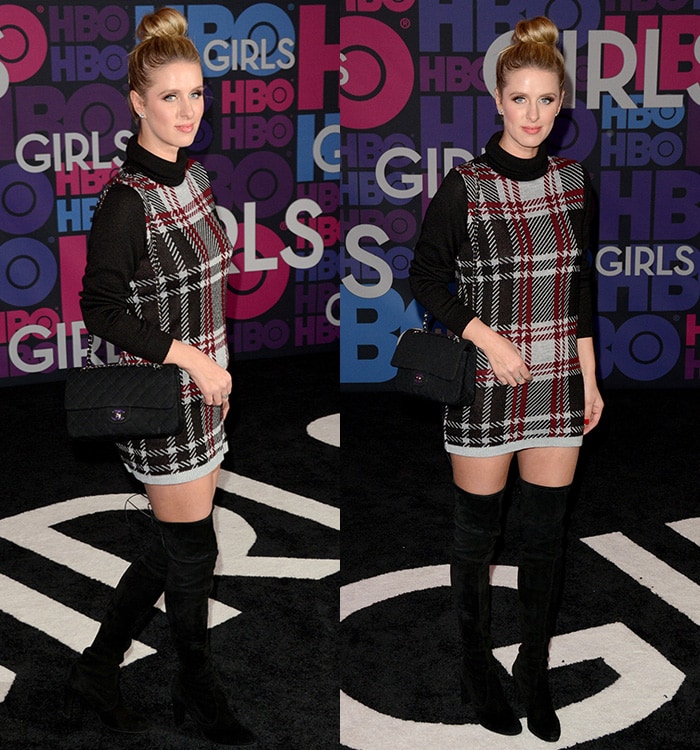 Nicky Hilton wearing boots with a plaid sweater mini-dress at the Girls Season 4 premiere in Manhattan, New York City, on January 6, 2015
2. Fergie Rocking a Jersey Dress
Opt for a cool-chic style, and wear a jersey dress with over-the-knee boots. You can throw in a chain necklace to perfectly rock the hip-hop vibe.
Fergie wearing a jersey dress with over-the-knee boots at iHeart Radio Music Festival at MGM Grand in Las Vegas on September 21, 2014
Fergie wearing a jersey dress with black over-the-knee boots at LAX on September 20, 2014
3. Kim Kardashian Carrying an Orange Hermes Bag
Over-the-knee boots can complete a stylish airport look. Jet-set in style with comfy monochrome separates, and add some bright accessories like Kim's orange Hermes handbag to create a chic impact.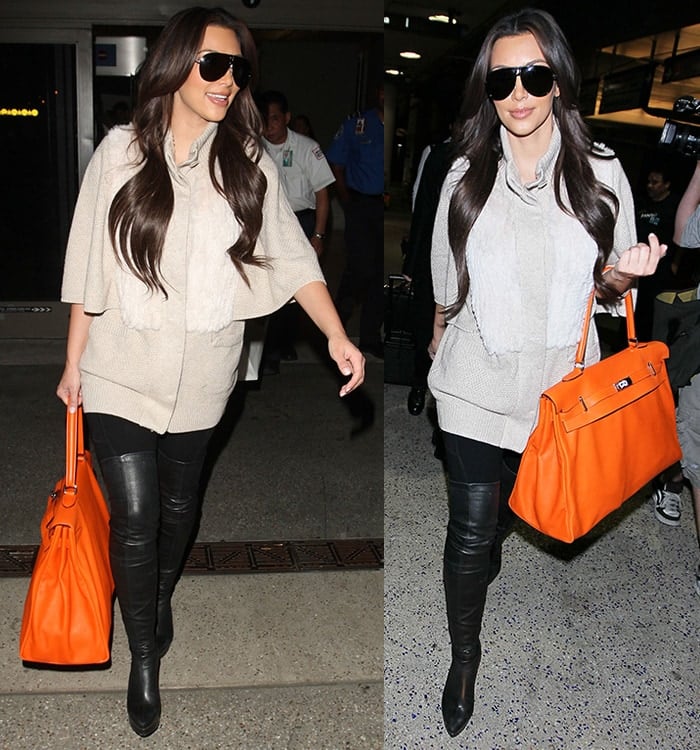 Kim Kardashian totes an orange Hermes handbag at LAX on September 23, 2010
4. Lauren Pope's White Dress and a Trench Coat
Who says you can no longer wear your summery white dress this winter? Simply pair it with thigh-high boots and a trench coat to make it appropriate for the cold season.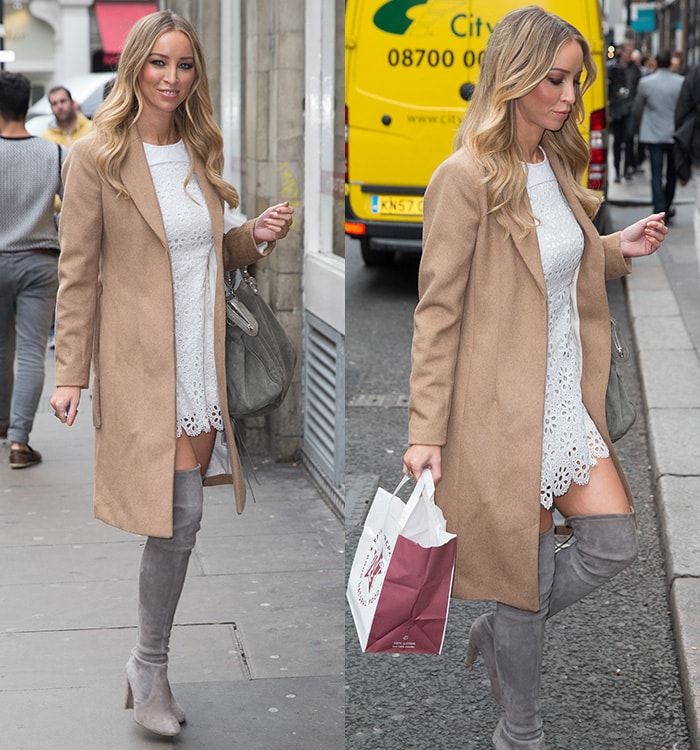 Lauren Pope wearing thigh-high boots with a white dress at the Freedom Bar in London, England, on October 15, 2014
5. Bethenny Frankel in Leggings and a Black Coat
Business casual? Maybe this look isn't totally appropriate for work meetings, but it's definitely professional-chic. Wear over-the-knee boots with a button-down shirt, leggings, and a structured coat or a blazer.
You can also opt for pencil skirts or any kind of short skirts that fall just right above or a little below the knees.
Bethenny Frankel goes to a business meeting wearing black boots in Manhattan, New York City, on January 29, 2014
6. Shakira Looking Hot in a Denim Dress
Take inspiration from Shakira, and look hot without trying too hard by pairing your OTK boots with a denim mini dress.
Aside from its classic material, the collar and long sleeves make it modest enough. If you want a more conservative look, you may also wear black tights.
Shakira rocks boots with a denim mini dress on Extra at Universal City, Los Angeles, on May 6, 2014
7. Ciara Borrowing From the Boys
How about trying out a masculine-inspired look with your OTK boots? Wear them with an oversized jacket for a chic boyish vibe. You can also achieve the look with tattered jeans and a simple large tee.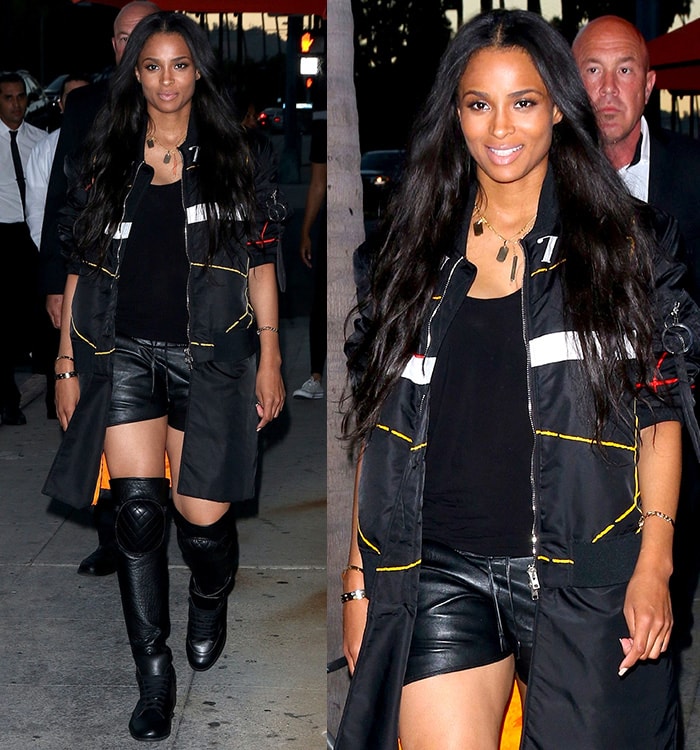 Ciara leaving the Crustacean restaurant in Beverly Hills on August 28, 2014
8. Kourtney Kardashian Looking Vintage-Chic in Black and White
You don't have to be pregnant to channel the chic vintage vibe from this Kourtney Kardashian look. Wear a flowy white dress with long sleeves and a Peter Pan collar.
Add a pair of black OTK boots — of course — and just keep your hair down for a stronger vintage vibe.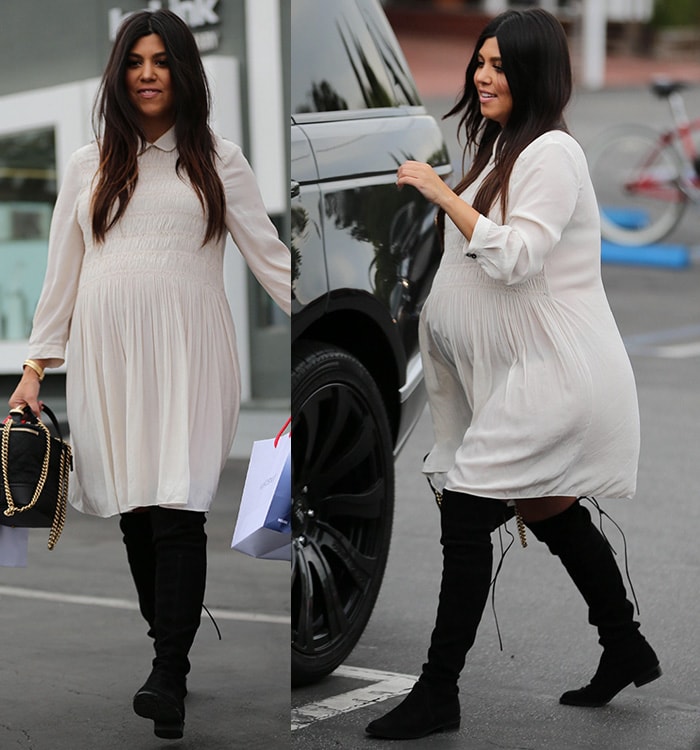 Kourtney Kardashian kept her hair down while shopping at Fred Segal in Los Angeles on November 20, 2014
9. Hilary Duff in a Mini Dress and a Cardigan
It's obviously easy to create a sexy look with thigh-high boots. Go for fitted dresses or skirts, but make sure to add a jacket or a coat in the mix to maintain your modesty.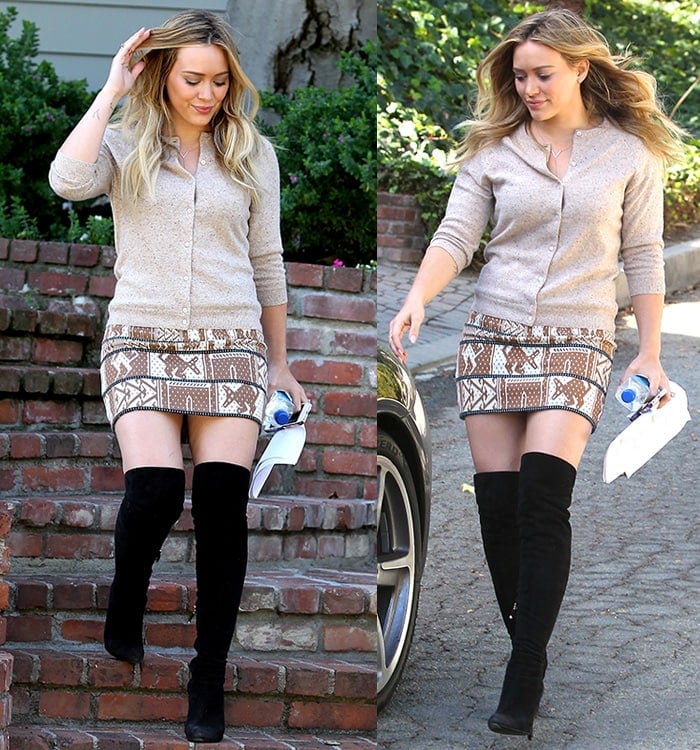 Hilary Duff wearing thigh-high boots while leaving an interpretation class in Los Angeles on October 10, 2013
10. Lisa Snowdon in a Chic Layered Outfit
Why compromise warmth for style when you can have both? Look chic and keep warm during the cold days by layering.
Copy Lisa Snowdon by wearing your thigh-high boots with jeans, a warm top, a coat, and a scarf.
Lisa Snowdon wears thigh-high boots with jeans while leaving Capital Radio in London, England, on November 21, 2014
11. Jasmin Walia in a Plaid Playsuit
OTK boots go great with jeans or mini dresses, but you can also wear them with playsuits!
Take a cue from English TV personality Jasmin Walia, and wear a romper with your boots. Look fashionable in a plain, plaid or floral playsuit.
Jasmin Walia wearing boots with a romper at Clothes Show Live 2014 in Birmingham, United Kingdom, on December 8, 2014
12. Millie Mackintosh in a Bright Furry Coat
Create a fun contrast to the black boots and LBD with a colorful coat! It doesn't matter if it's furry or not — as long as it brings color to your all-black number. This is a great party outfit!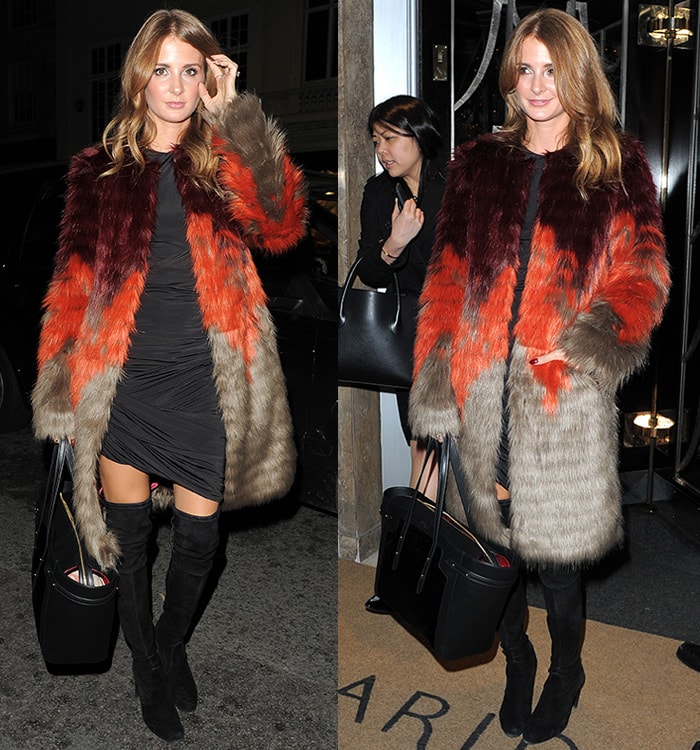 Millie Mackintosh at Claridge's Christmas Tree unveiling party in London, England, on November 19, 2014
13. Fiona Wade Looking Effortlessly Chic
Thigh-high boots look perfect with skinny jeans. Tuck your favorite denim jeans into your boots, and wear a simple tank or tee for an effortlessly cool getup. Throw in a blazer for added class and warmth!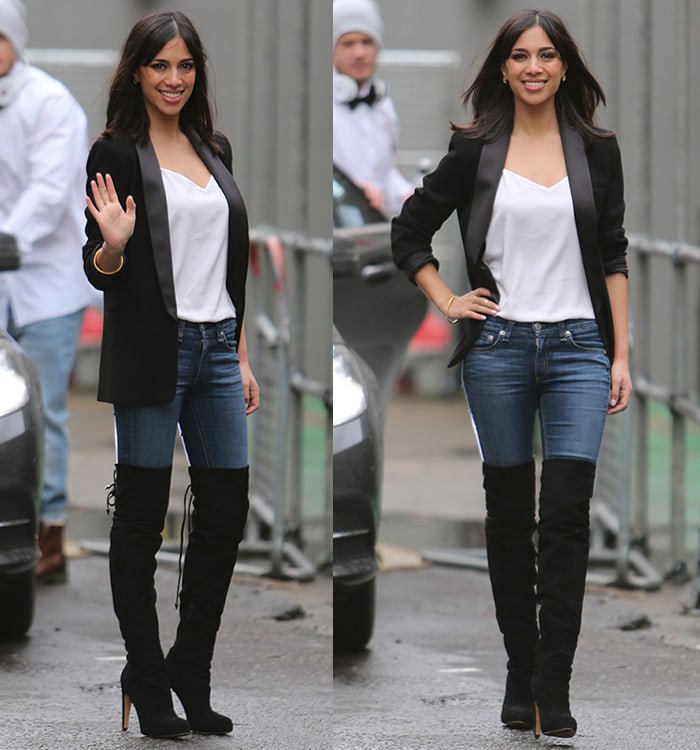 Fiona Wade wearing thigh-high boots with skinny jeans at the ITV Studios in London, England, on December 12, 2014
14. Kate Moss Wearing a Knit Sweater Dress
Get cozy for an errand run in a sweater dress and a pair of OTK boots. It's a simple yet very appealing combination!
Kate Moss wearing a sweater dress with over-the-knee boots while filming in Central London, England, on June 24, 2013
15. Tulisa Contostavlos in a Boxy Plaid Dress
Over-the-knee boots are the perfect way of completing the edgy and modern appearance of a short boxy dress.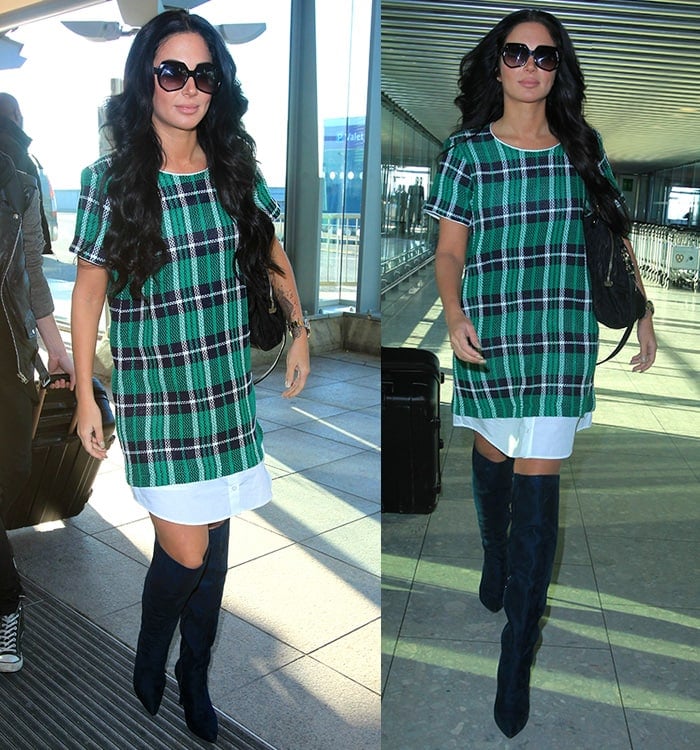 Tulisa Contostavlos wearing a short boxy dress with boots at a London airport on December 6, 2014
Credit: Ivan Nikolov / Anthony Stanley / Rocky / Judy Eddy/
Credit: Mario Mitsis / Winston Burris / TNYF / David Sims / WENN