Thomas Sadoski, an American actor with a net worth of $4 million, began dating actress Amanda Seyfried in early 2016 after falling in love on the set of the film The Last Word, a 2017 American comedy-drama film that was poorly received.
Thomas Sadoski and wife Amanda Seyfried pose at The Second Stage Theater 40th Birthday Gala at The Hammerstein Ballroom on May 6, 2019, in New York City
They met for the first when starring in The Way We Get By, an off-Broadway play, though they were both in relationships at the time. Sadoski was still married to casting director Kimberly Hope, whom he married in 2007 and divorced in October 2015.
"[He] never flirted, never disrespected his wife. That was another reason why I thought, later on, that I could marry him," Amanda Seyfried revealed in a July 2018 interview with Porter Magazine.
"We got married in Topanga, March last year. Just the two of us. And afterward, I was like, 'Can we just go to Cheebo?'" Seyfried recalls, referring to a family-owned cafe in Los Angeles, California, where the couple frequently dined at in the past. "It was awesome."
"I get married all the time [on screen]. I was in a wedding dress last week," Seyfried said about her secret wedding on March 12, 2017, in Topanga, California, a small community in the Santa Monica Mountains. "I also go to premieres where people take my picture. I just don't care about all that stuff."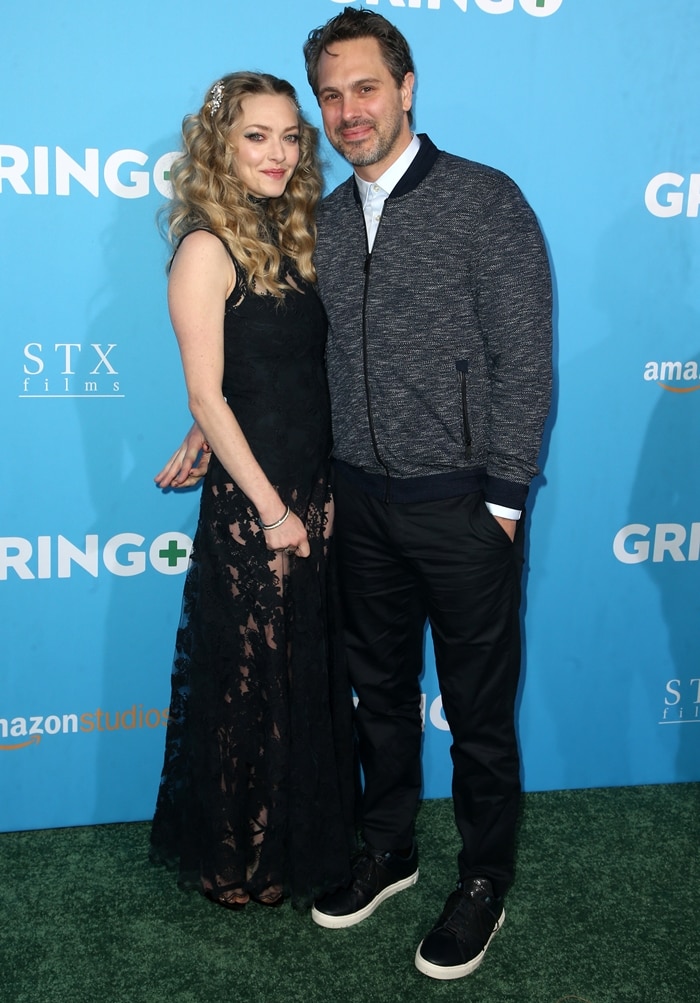 Actress Amanda Seyfried and writer Thomas Sadoski attend the World Premiere of Gringo at Regal LA Live Stadium 14 on March 6, 2018, in Los Angeles, California
Wearing an inexpensive Free People dress, Seyfried married Sadoski while she was nine-months pregnant with her first child, Nina Sadoski Seyfried, who was born in 2017. They confirmed their engagement on September 12, 2016.
"I really wanted to have rings on in the hospital, you know?" Seyfried said about not wanting a bastard child. "And what if something goes wrong, and he's not legally my husband?"
"I feel more empowered," she added of working postpartum. "Like, I'll say no, I can't do that press trip, because I'm spending time with my daughter. 'Oh, you want my top off for that part? How about we scrap that sex scene altogether? And no, I'm not wearing those thongs!'"
Pregnant Amanda Seyfried shows off her baby bump while out with her fiancé Thomas Sadoski in Los Angeles on March 3, 2017
Famous for her vocal talents, Amanda Seyfried went full-on prismatic at the 2012 Tony Awards.
The actress somehow managed to combine purple, lace, studs, black, gold — plus a dose of orange — all into one single outfit. Somehow, she managed to pull it off in a weird way.
Amanda Seyfried hits the red carpet at the 2012 Tony Awards held at the Beacon Theatre in New York City on June 10, 2012
Amanda's busy gold-embellished dress is from Givenchy's Fall 2012 collection. She paired her flashy frock with an orange belt, classic black sandals, and Fred Leighton jewelry.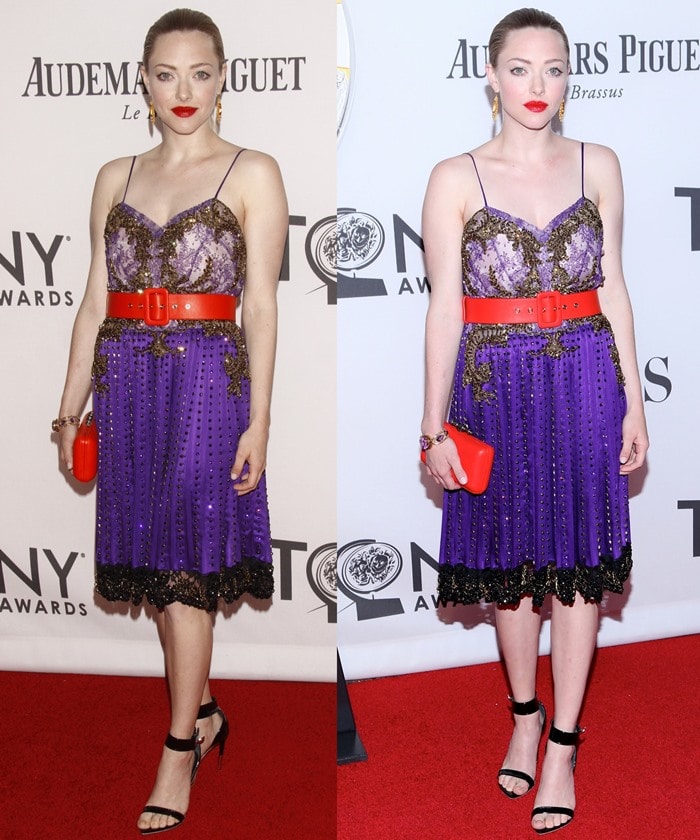 Amanda Seyfried slicks her hair back and shows off her busy multi-colored Givenchy dress on the red carpet
She finished up her whole look with an orange Givenchy clutch and slicked-back hair. We've previously spotted Amanda's Givenchy "Shark Tooth" embellished sandals on both Rihanna and Charlize Theron.
Amanda wore the black patent version, but here's a closer look at these sandals in a black hagfish version that you can buy at Farfetch. These five-inch heels feature a very distinct metal shark tooth detail that decorates the straps.
Givenchy Hagfish Shark Tooth Embellished Leather Sandals in Black, $1,490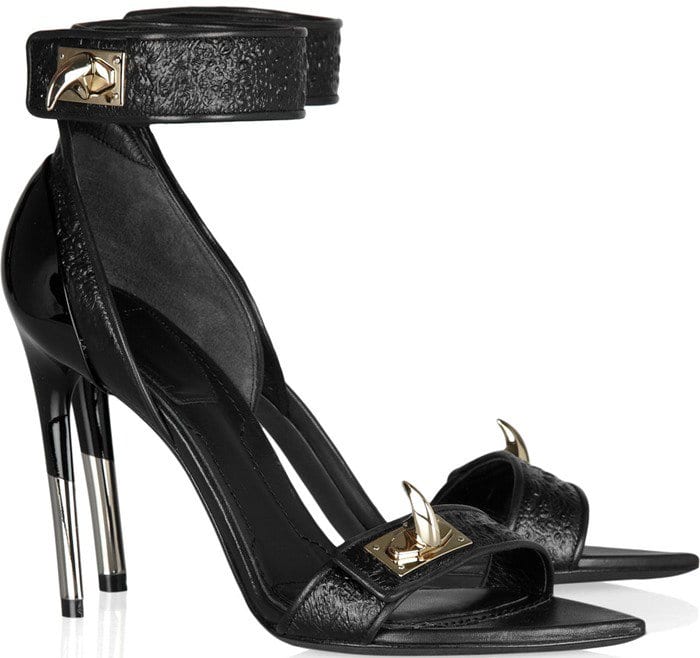 Credit: Mr. Blue / WENN / Andres Otero / Joseph Marzullo/ FayesVision / Michael Wright