She skyrocketed to international stardom with her role as the hilarious and feisty Gloria Delgado-Pritchett on the hit ABC comedy Modern Family.
Aside from being one of the most popular Colombian actresses in Hollywood, Sofia Vergara is also known for her ageless beauty, hourglass figure, and outspoken character.
What many don't know (or probably have forgotten) is that the 49-year-old star is a cancer survivor.
Sofia Vergara Recalls Thyroid Cancer Diagnosis
The AGT judge was diagnosed with thyroid cancer when she was only 28 in 2000, but she kept it a secret until 2011. "I didn't want publicity because of that. Having cancer is not fun. You don't want to deal with anything else while you're going through it."
She told Health magazine that a doctor found a lump in her neck while she was accompanying her son to an endocrinologist.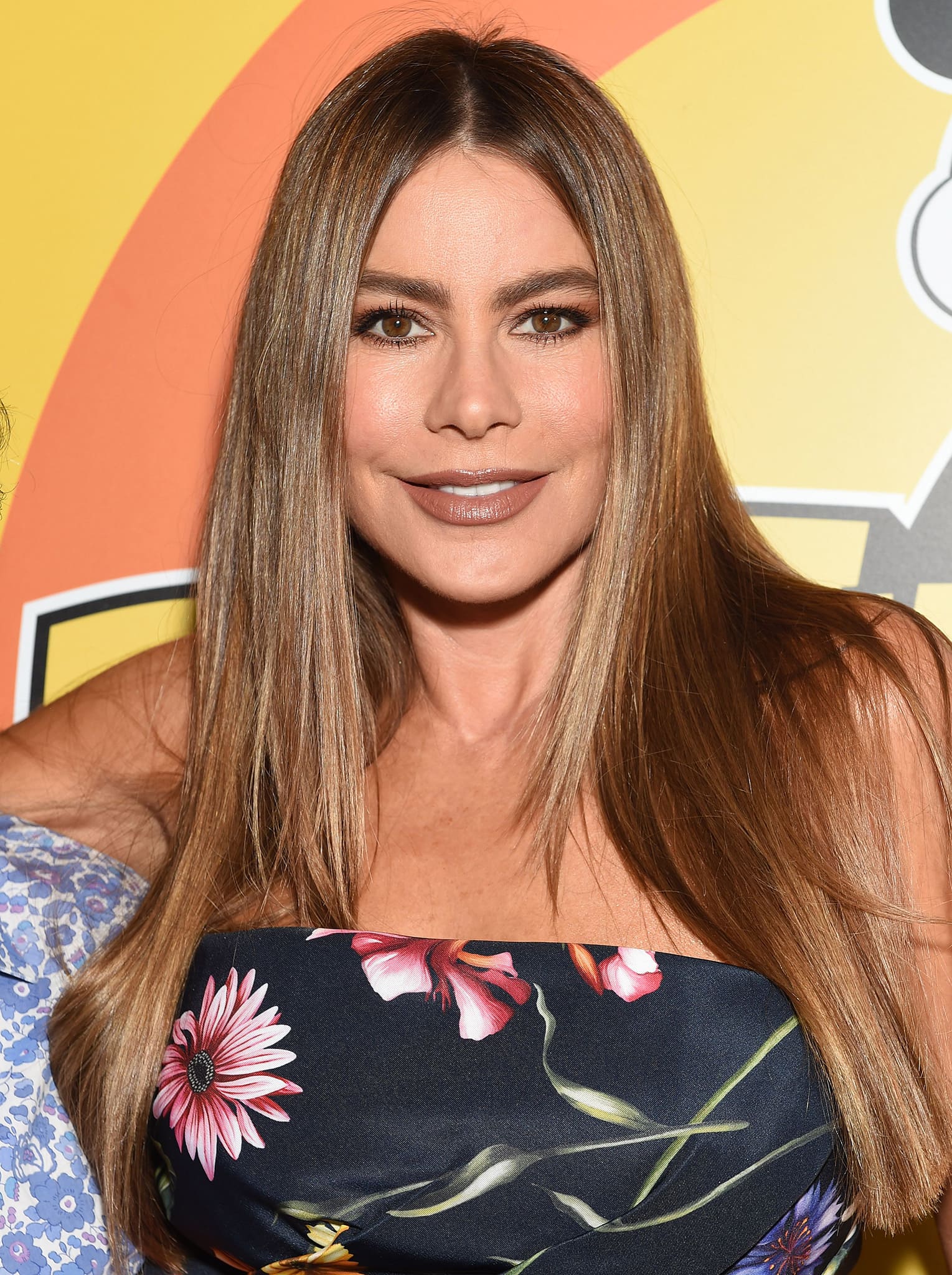 Sofia Vergara was diagnosed with thyroid cancer at 28 in 2000 (Credit: Mega / WENN)
"Because I have a family history of type 1 diabetes—my five siblings have it—I know what it's like to have injections every day and to have craziness happen to your body. So, I took my son to an endocrinologist to be checked out early. While we were there, the doctor wanted to check me, too, and he found a lump in my neck."
"I felt no symptoms, so I was skeptical about having my thyroid gland removed. Plus, the surgery is dangerous. If the doctor makes a mistake, you can lose your speech or the mobility in your face. But I did it."
Sofia Vergara Opens Up About Surviving Thyroid Cancer
Raising awareness about cancer, Sofia talked about her battle with thyroid cancer at this year's Stand Up to Cancer charity telethon.
"When you're young and you hear the word 'cancer', your mind goes to so many places, but I tried not to panic, and I decided to get educated."
View this post on Instagram
"I read every book and found out everything I could about it." She added, "I was fortunate to have caught it early and to have the support of my doctors and most importantly, my family. I learned a lot during that time, not just about thyroid cancer but I also learned that in a time of crisis, we're better together."
Sofia had her thyroid removed, which resulted in a hypothyroid condition. She's been taking medication to treat it and regulate her metabolism.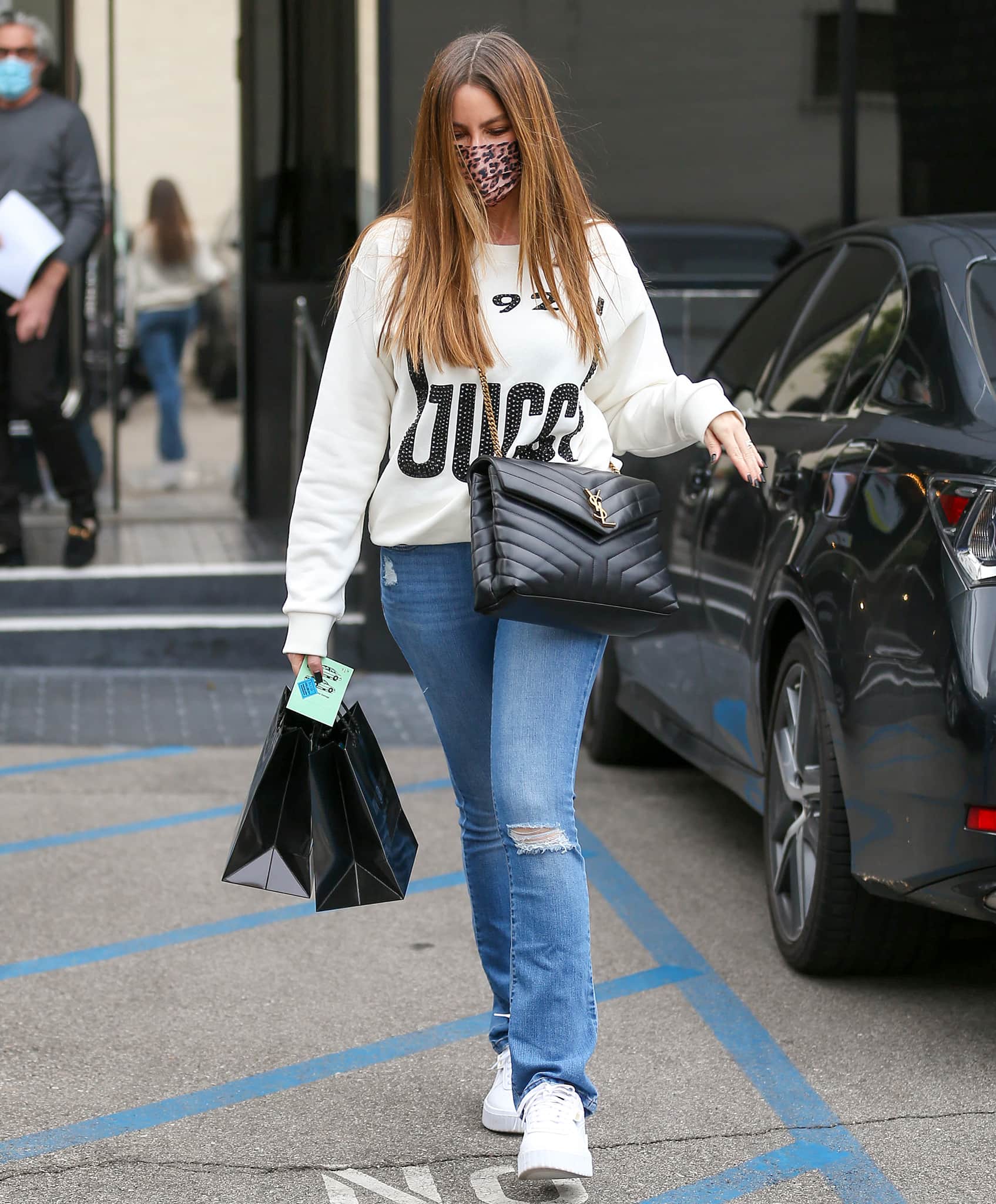 Sofia Vergara goes shopping in Beverly Hills on December 17, 2021 (Credit: Mega / WENN)
Twenty years after her devastating diagnosis, Sofia Vergara is looking happier and healthier. Just recently, she was spotted turning heads while doing some solo shopping in Beverly Hills.
Opting for a casual-cool getup, the Machete Kills star wore a $1,450 off-white crystal-embellished '1921 Gucci' crewneck sweatshirt with a pair of ripped blue jeans that highlighted her famous curves.
Sofia Vergara wears a crystal-embellished Gucci sweatshirt with ripped jeans (Credit: Mega / WENN)
She skipped wearing jewelry and simply accessorized her look with a leopard-print face mask and a Saint Laurent "Lou Lou" black leather shoulder bag, available for $2,490 at Nordstrom.
Worn across her body, the medium-sized purse features matelassé quilting, a pull-through chain strap, and an envelope-style magnetic-snap flap closure accented with a YSL logo on the front.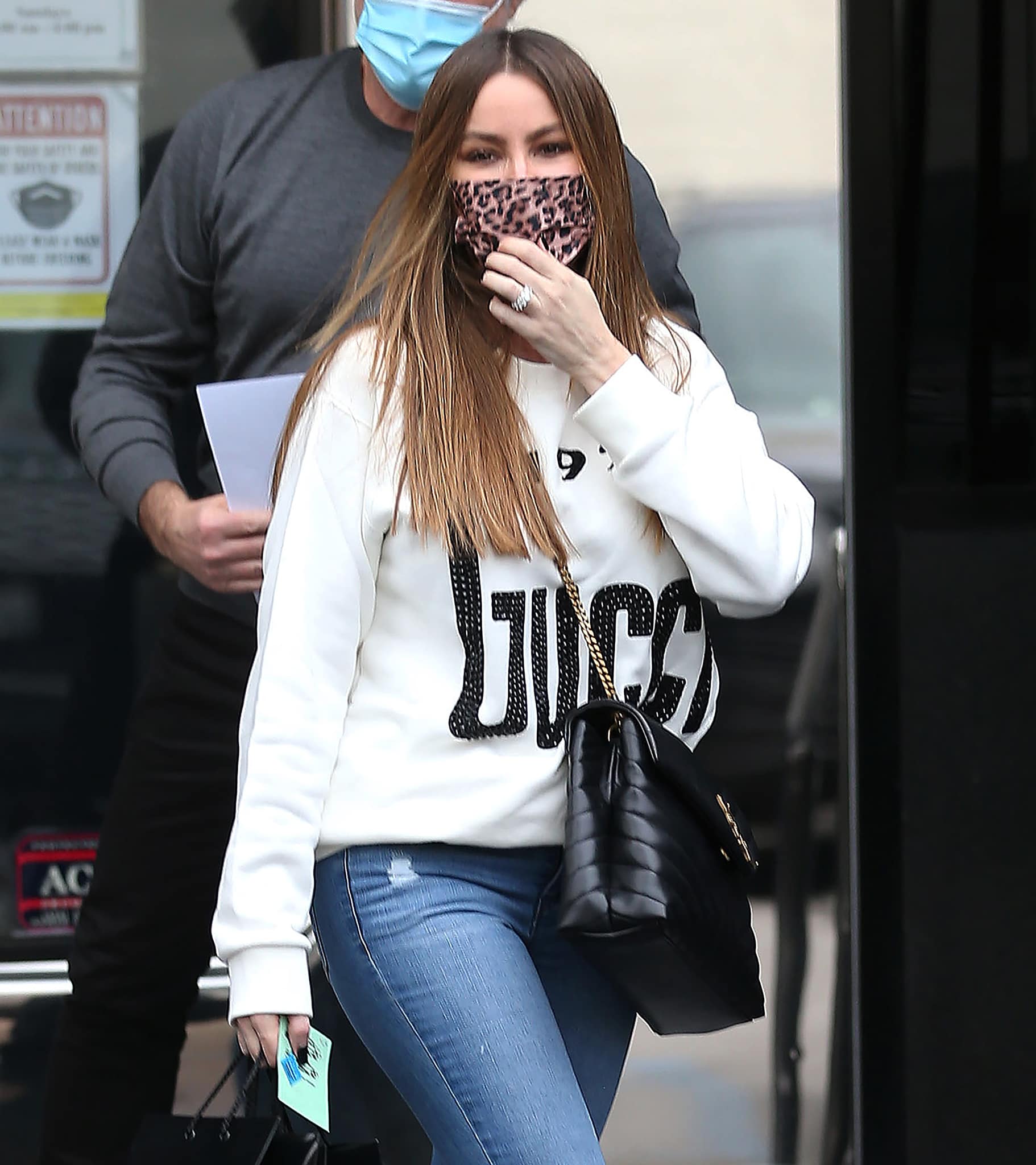 Sofia Vergara styles her tresses straight and wears a leopard-print face mask as she carries a YSL Lou Lou bag across her body (Credit: Mega / WENN)
Wearing her tresses sleek straight, Sofia rounded out her casual outfit with a pair of Puma "Cali" wedge sneakers.
These white leather sneakers feature rounded toes, 1-inch platforms, and 2.15-inch thick heels with black-and-white PUMA lettering at the rear.
Sofia Vergara completes her casual-cool ensemble with Puma Cali Wedge chunky sneakers (Credit: Mega / WENN)
Puma 'Cali Wedge' Sneakers, $79 (from $118) at Yoox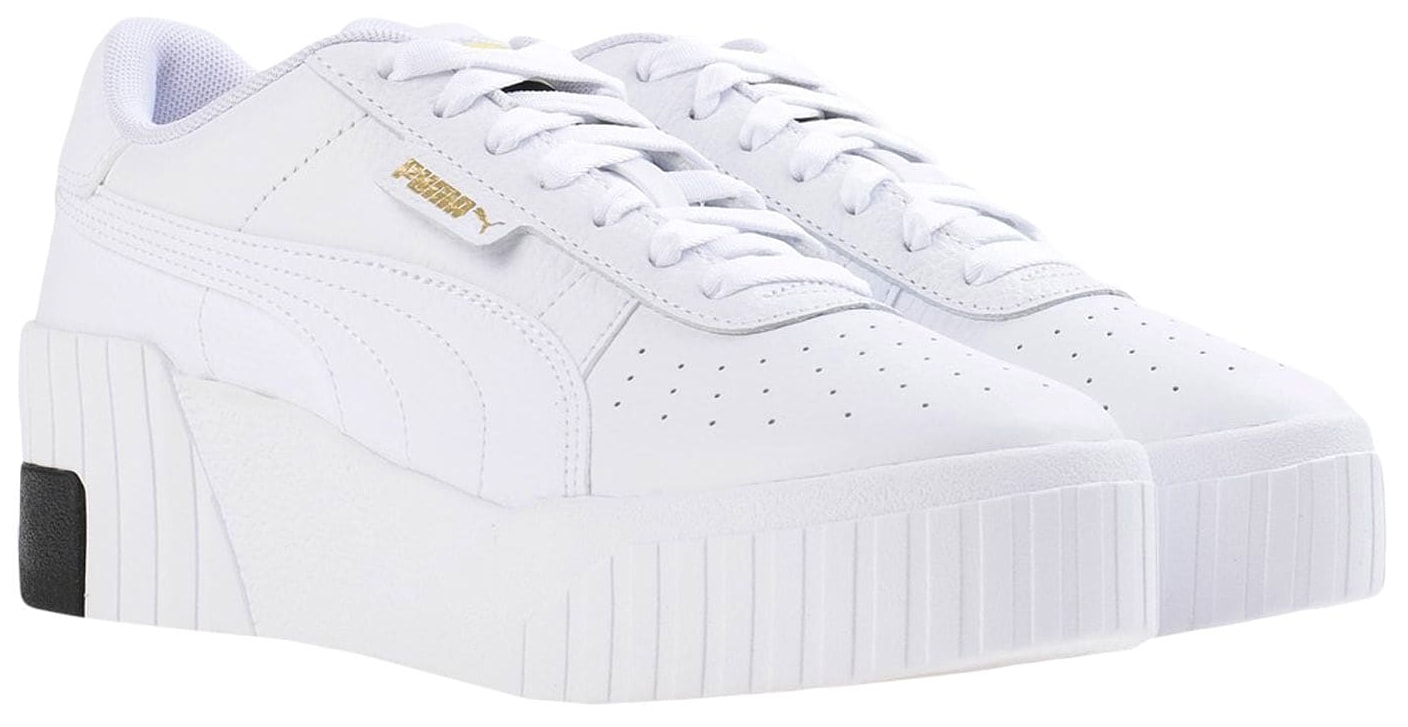 The Puma Cali Wedge sneakers are a classic pair of white sneakers defined by the chunky platforms and heels
Early this month, Sofia wore a black version of the Puma "Cali Wedge" sneakers while out and about in Beverly Hills.
She paired the black leather kicks with a sheer white tee tucked into a pair of light-washed distressed denim jeans.
Keeping herself warm, Sofia layered her ensemble underneath a long cream-colored knit cardigan. She then carried a Chanel Jumbo flap bag and stayed safe with a leopard-print face mask.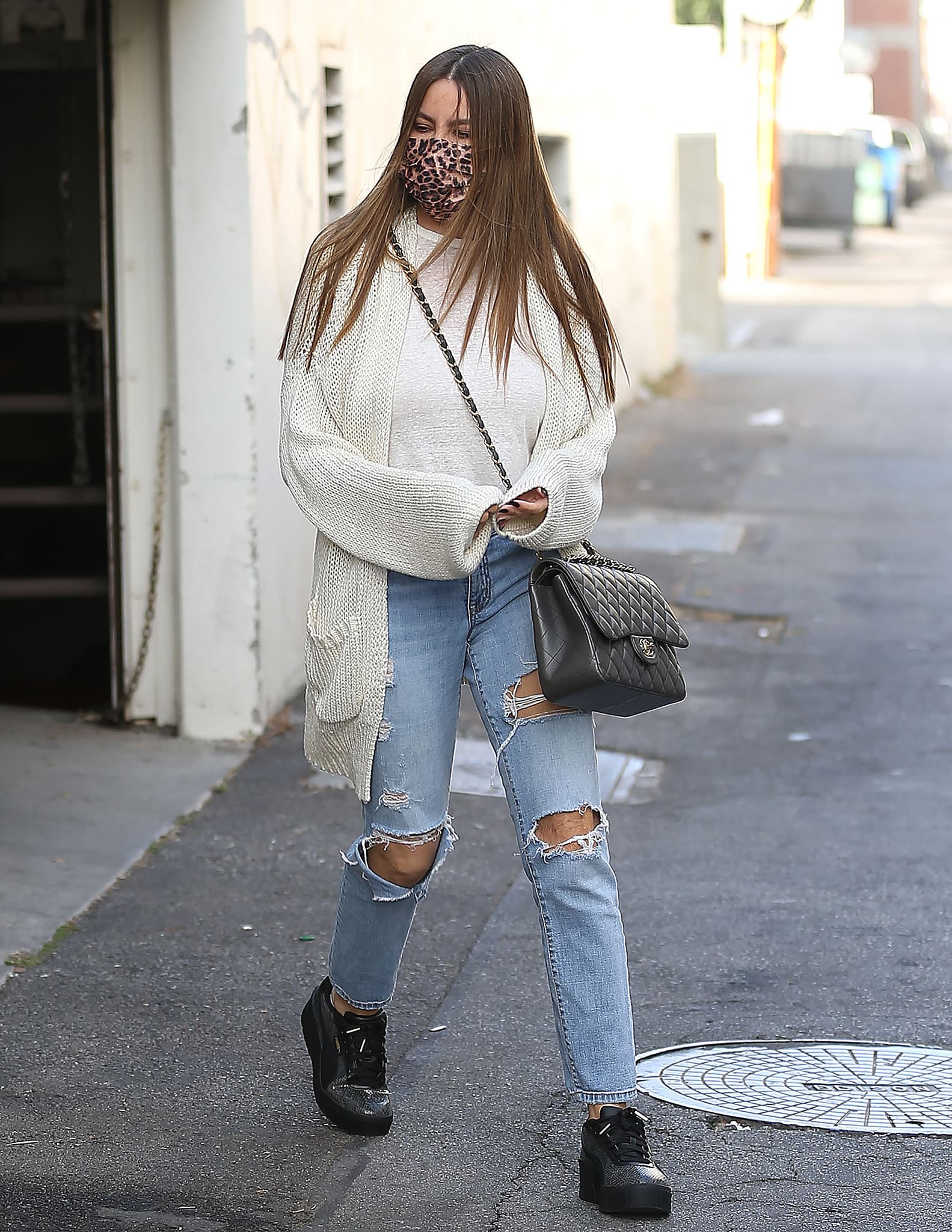 Sofia Vergara pairs her black Puma Cali Wedge with ripped jeans and a white tee while out and about in Beverly Hills on December 6, 2021 (Credit: Mega / WENN)