Let's face it: it's almost impossible not to love reality TV. The Hills, arguably one of the greatest reality television shows to come out of the early aughts, produced so many riveting dramatic moments and has churned out plenty of notable names.
While Lauren Conrad and the now nearly unrecognizable Heidi Montag may be at the top of the list of most famous The Hills stars, Whitney Port was an undeniable fan favorite. Port's time on The Hills was short, and she later moved to New York City and became a star in MTV's The City.
Whitney Port met her future husband Tim Rosenman while filming The City (Credit: Revolutionpix / WENN)
Though reality television can be damaging for many of its subjects, Whitney Port used her time on The Hills and The City as a foundation for the rest of her career, ultimately living her dream of becoming a fashion designer.
Not unlike Heidi Montag and Spencer Pratt, who met while filming The Hills, Whitney Port found love during her stint on The City. Since then, Port has been with her long-time beaux, Tim Rosenman, and the pair were married in 2015.
Port and Rosenman's love story is adorable, and it is almost as ridiculous as the plot of a teen romantic drama. Read on to learn more about how The Hills and The City led to the wedding.
How Whitney Port and Tim Rosenman Met
Though Whitney Port won over fans as Lauren Conrad's friend from work while they were interning at Vogue, Port was not always the best fit for The Hills.
It was not that Port wasn't good enough for the show, it was simply that she was wiser, nicer, and produced a lot less drama than her The Hills costars.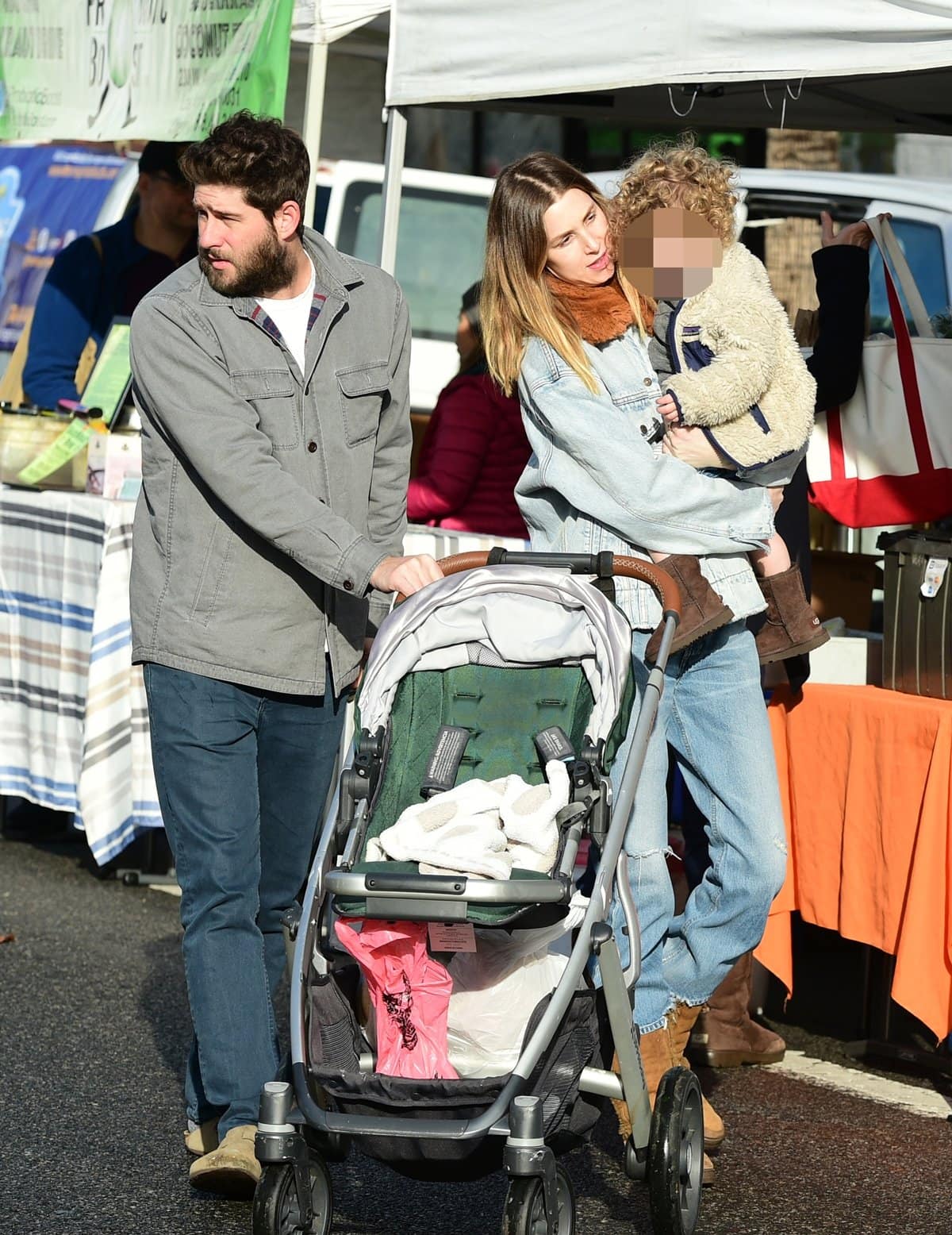 Whitney Port and husband Tim Rosenman take their son Sonny Sanford Rosenman to the Farmers' Market in Los Angeles on January 6, 2019 (Credit: WENN)
Producers took note of Port's attitude and how much fans adored her and decided to give Port her own show in New York City, simply titled The City, which followed the starlet as she forged a career in fashion design. Her fashion line, called Whitney Eve, managed to become a hit.
The City was a huge milestone in Whitney Port's career, but it was also a huge milestone in her love life.
While on set for The City, Port met her future husband, Tim Rosenman. At the time, Rosenman was an associate producer for the show.
Funnily enough, it was his job to spice up the plot of the show by finding new potential romance partners for the fashion designer. Perhaps Rosenman did his job a little too well, as he ended up being the perfect man for Port.
Whitney Port, Audrina Patridge, and Lauren Conrad attend the 2007 MTV Movie Awards on June 3, 2007, at Gibson Amphitheatre in Universal City, California (Credit: Nikki Nelson/ WENN)
The pair decided to keep things professional until The City was over, despite their undeniable attraction. Port says that Rosenman was not willing to "cross that line" — a producer dating an actress while filming can seem unethical — so she had to be bold enough to ask him out first.
"I definitely made the first move. I got his phone number and made up some excuse why I needed to reach him for something," Port said in an interview in 2015.
"I kind of felt he was never gonna try it with me. He's not shy but I know in his past with girls he had difficulty making the first move. And I know, because of our jobs – because I was the talent and he was the producer – he wasn't going to cross that line. It had to be me, you know."
It was a good thing that she did because Port and Rosenman were eventually married on November 7, 2015, at a tropical ceremony in front of their friends and family.
Tim Rosenman gave Whitney Port multiple proposals and wedding rings
Watching The Hills and The City, it is clear that Whitney Port knows her worth and will not accept anything less than what she thinks she deserves, and that includes proposals and wedding rings.
According to Whitney Port herself, she has received two different proposals from her husband, Tim Rosenman. Port says it was not about her being high maintenance, rather that the first proposal simply did not go the way either of them had planned.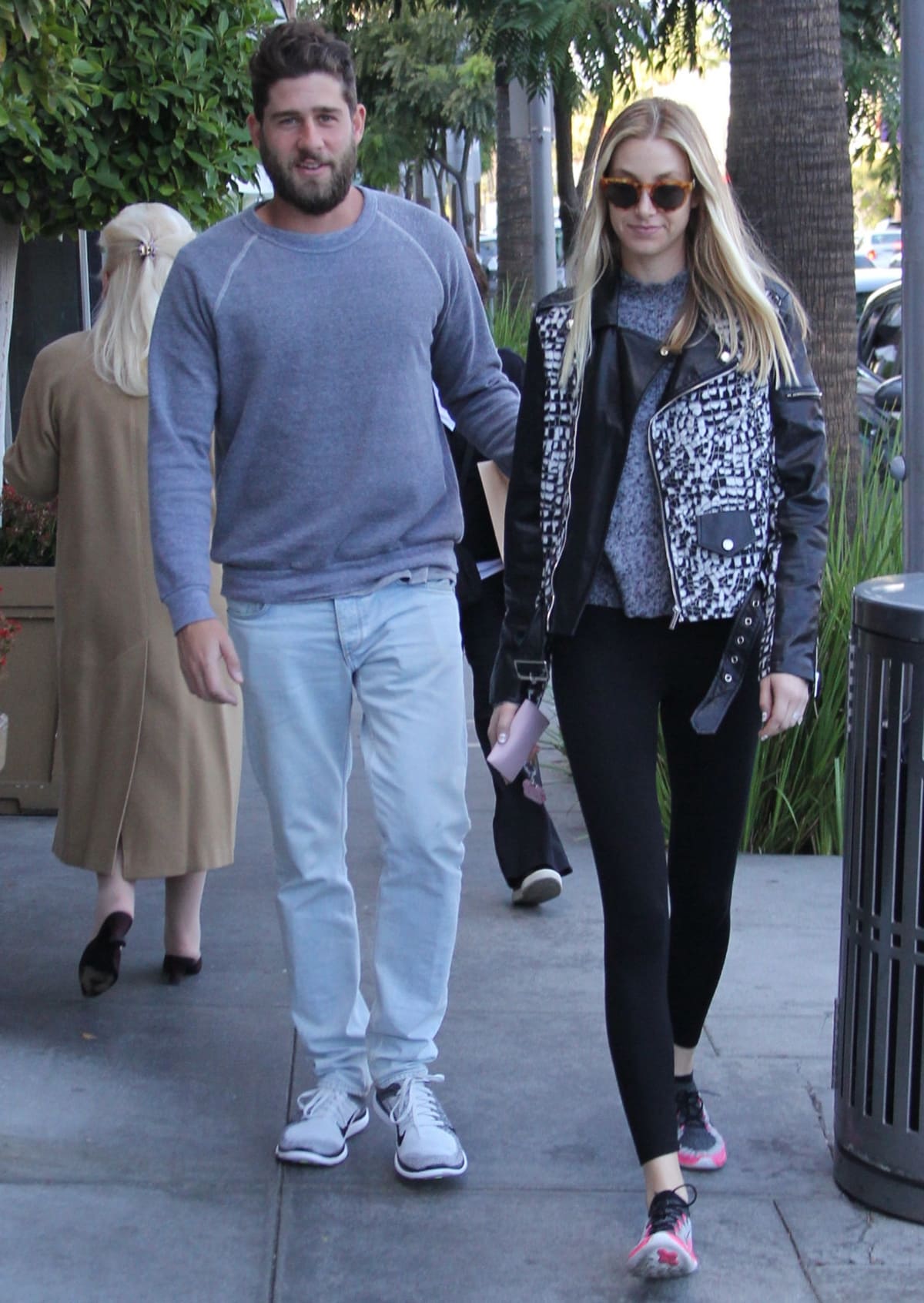 Whitney Port married Tim Rosenman married on November 7, 2015, in Palm Springs, California (Credit: WENN)
"Timmy originally planned to propose to me in Australia but the plan didn't go quite his way," Port wrote on her blog.
"I heard his boss say something like, 'Good luck with Whit [and] with whatever you decide to do in Australia.' I immediately asked him and he tried to brush it off but I just couldn't let it go. He could see the mental torment I was putting myself through so he finally gave in. He got down on one knee and proposed!"
As a fashion designer, Whitney Port was determined to find the most beautiful, perfect engagement ring that she had always dreamed of.
After her engagement ring was designed and purchased by Rosenman, he decided to conduct a proposal do-over, making it far more romantic than the first.
"Once Timmy had the ring, he wanted to make it official – he came back to our hotel room, got down on one knee, presented me with the most beautiful ring I had ever seen, and popped the question," Port wrote on her personal blog. "How many girls get to say they had two proposals?! I feel so lucky and I wouldn't change a thing about our story!"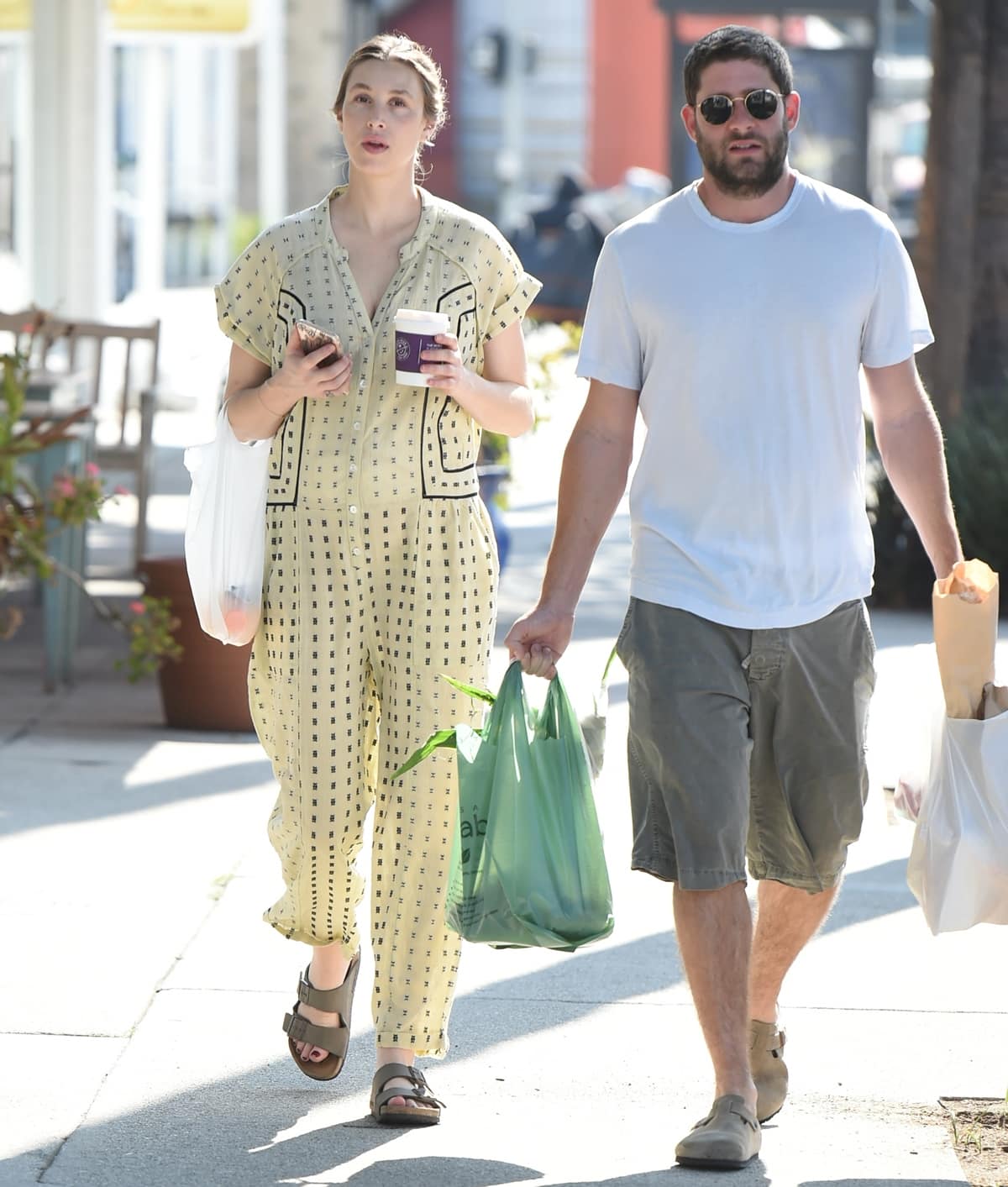 Tim Rosenman proposed to Whitney Port two times before they got married (Credit: WENN)
Just one perfect ring was not enough for Whitney Port, though. She needed a ring for every occasion.
"I was lucky enough that I was able to design three of them," Port said in an interview with People. "One that was bigger that I could wear on its own, and the other two that I could wear on either side of the engagement ring."
Together, all three of Port's rings have 6.5 carats worth of diamonds, estimated at around $55,000. Her engagement ring is valued for even more, with a 5-carat oval cut diamond estimated to be worth a whopping $150,000.
What Whitney Port and Tim Rosenman are up to now
Since the multiple proposals, Whitney Port and Tim Rosenman have been living together in marital bliss. The couple welcomed their first child, Sonny Sanford Rosenman, on July 17, 2017. Now, Port says that they are ready to have another member of the family.
"I do want a second child. I really do," the 35-year-old fashion designer told Us Weekly in December 2020, saying that she has forgotten how tough her first child was. "I think as [kids] get a little older you start to forget all the difficult things. You have, like, pregnancy amnesia."
Tim Rosenman and Whitney Port have one child and are ready for another one (Credit: WENN)
However, she says it would be worth it for her son, Sonny, to have a little sibling to play with, saying, "I just want someone for Sonny to interact with. There's something I can't really explain. It just feels like there's someone missing, and I finally have kind of connected to that. And so, it's definitely something that we're thinking about and I'm more open to now."
This decision is especially difficult for Port and Rosenman, as they have experienced loss before.
In July 2019, Port was vulnerable on Instagram and shared that she had a miscarriage, saying that she was a "little bit scared" to try to get pregnant again, but that she and her husband would keep trying.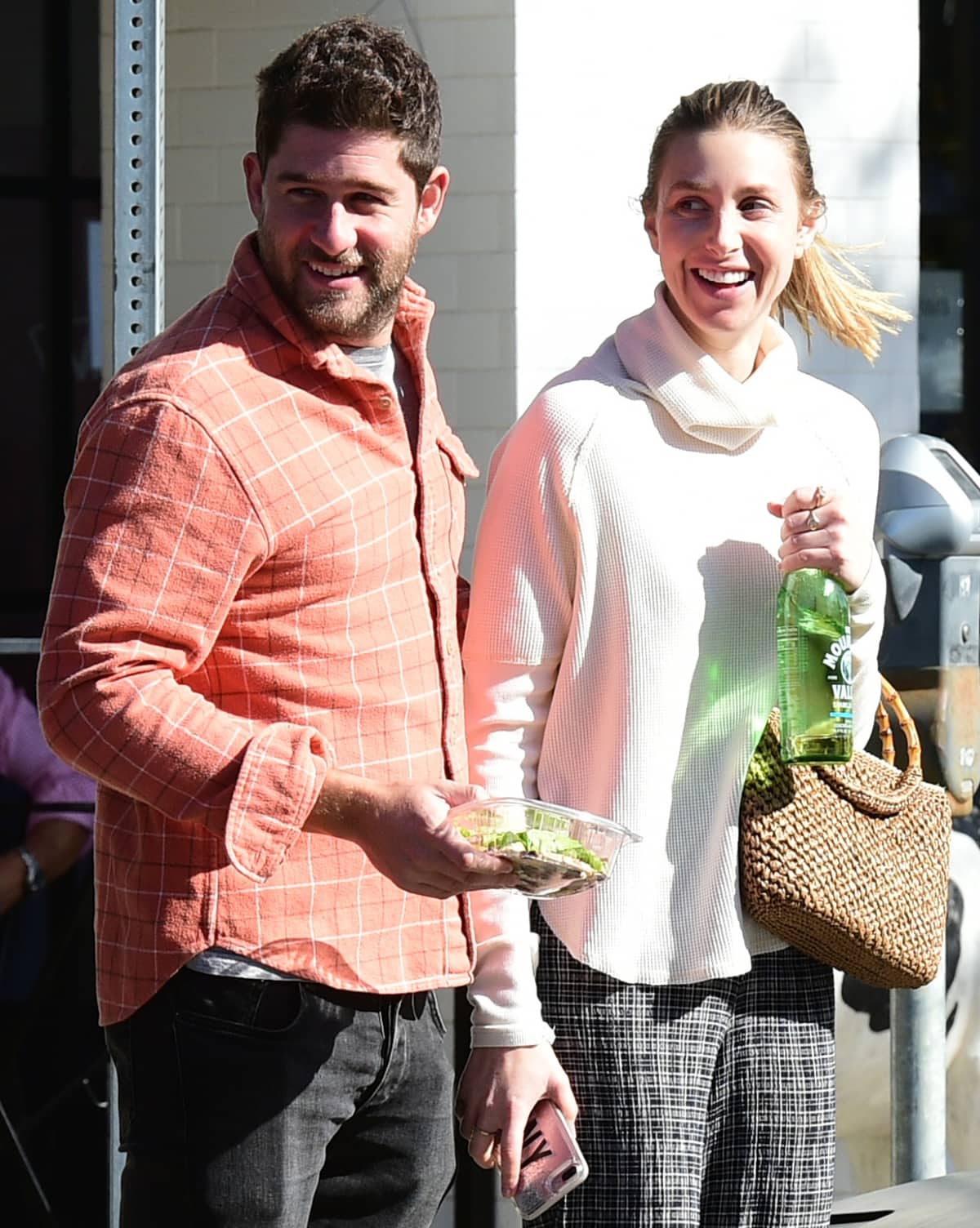 Tim Rosenman and Whitney Port have suffered two miscarriages (Credit: WENN)
"You give up a level of control, obviously, over your body and there are so many things that could happen," Port told Us Weekly. "I guess when you really think about it, getting pregnant in the time of COVID is a very scary thing. But I just feel I have a different perspective on it this time. I'm coming more from a place of knowing what it's all about as opposed to the fear of the unknown."
In January 2021, The Hills: New Beginnings star revealed she'd suffered another pregnancy loss. "This is not an easy one," she shared on Instagram. "We decided to start vlogging for our YouTube channel a couple of months ago to share two stories: Renovating a new house and a new pregnancy journey. Sadly, I lost the pregnancy."
"Timmy and I weren't sure if we still wanted to put this out there. I wasn't sure I wanted to relive the pain. However, this time around, I felt differently about the situation," Port wrote about her second miscarriage.
"Last time, I don't think I was ready to have another child, and I had different feelings about the miscarriage. This time, I really connected. I was actually excited and enjoying the pregnancy. I envisioned it all."
View this post on Instagram
"I'm sad but I'm ok and we will try again," Port added. "I also have so much sadness in my heart for anyone that has to go through this or has gone through this. I know though that our community will share, band together and support- cause you always do."
Despite Whitney Port and Tim Rosenman's goofy love story (let's be honest here, it's adorable, too) they have become great partners to one another and great parents to Sonny, and perhaps another little one soon!
Whitney Port arrives at Universal Studios where she was interviewed by Charissa Thompson for the television show "Extra" in Los Angeles on April 18, 2017 (Credit: Michael Wright / WENN)
In 2017, over 10 years had passed since Whitney Port made her first appearance in MTV's reality TV show "The Hills," resulting in a slew of viewers wondering whether the drama-filled castmates would ever grow up.
Well, it looks like they did. Whitney — as well as Lauren Conrad and Heidi Montag — transformed into fully functional adults, not to mention mothers.
Whitney Port keeps her pregnancy look casual in a loose top and jeans (Credit: Michael Wright / WENN)
The usually stylish Whitney arrived on the set in a pretty casual look, hiding her bump underneath a loose printed top paired with jeans.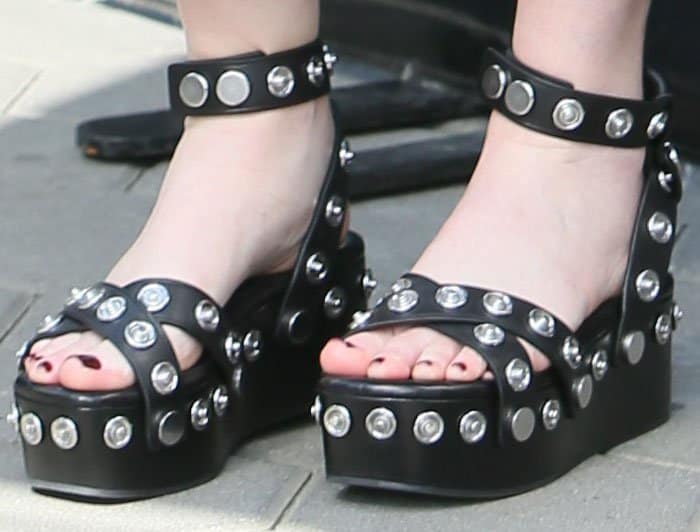 Whitney Port shows off her feet in black studded flatform sandals (Credit: Michael Wright / WENN)
She also carried a fringe-embellished woven bag and covered up with a black jacket.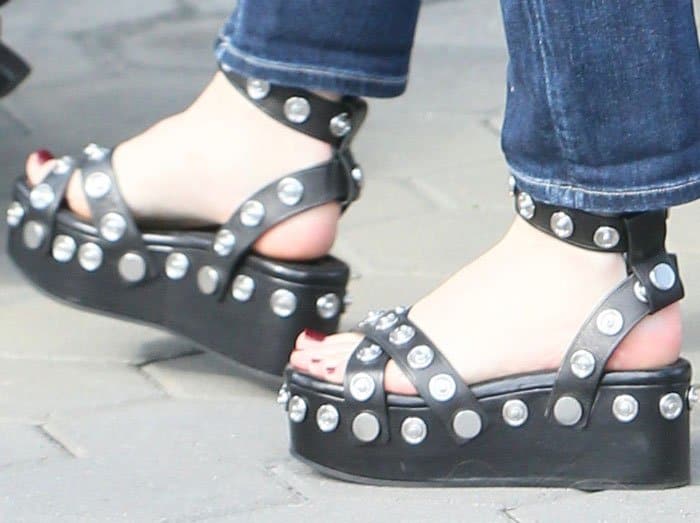 Whitney Port recommends Alexander Wang's "Sandrah" flatforms for pregnant women (Credit: Michael Wright / WENN)
In April 2017, Whitney sat down for an interview with Charissa Thompson on "Extra" to talk about growing up after the MTV show.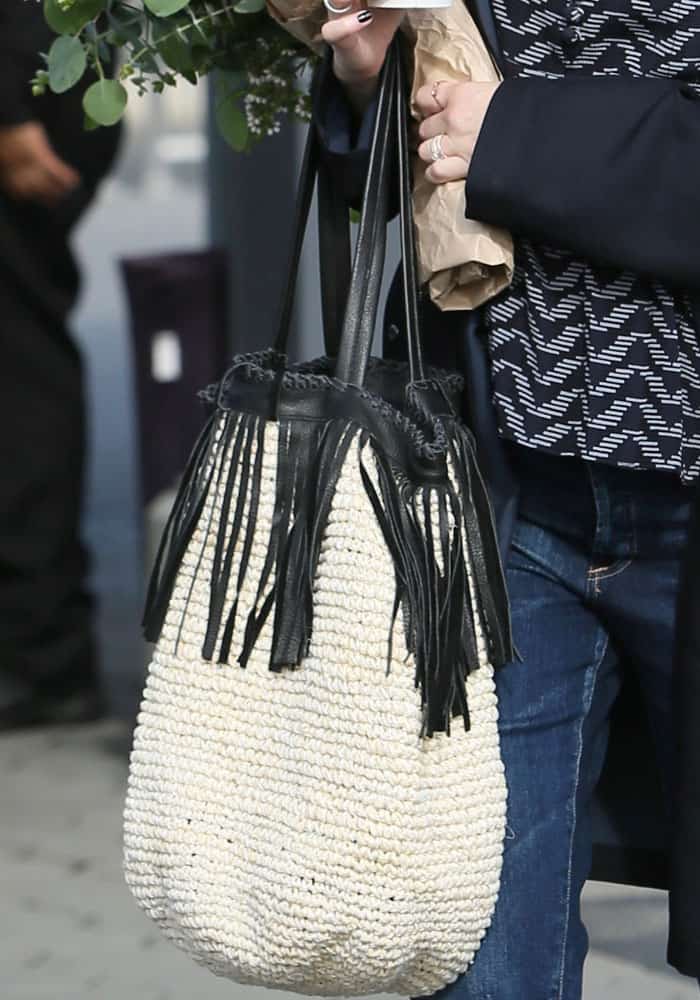 Whitney Port adds a statement fringed bag to her casual look (Credit: Michael Wright / WENN)
In addition to talking about life and growing up, Whitney also dished out a little bit of style advice for pregnant ladies, gushing over the concept of flatform shoes.
Mom-to-be Whitney Port fends off the cold in a long black hooded jacket (Credit: Michael Wright / WENN)
The piece of semi-condemned footwear trend may actually be the answer to pregnancy woes, Whitney decided. For her appearance, the reality star chose the Alexander Wang "Sandrah" flatforms.
Alexander Wang has a way of finding the middle ground between bland and lively, and the "Sandrah" flatforms seem to prove it.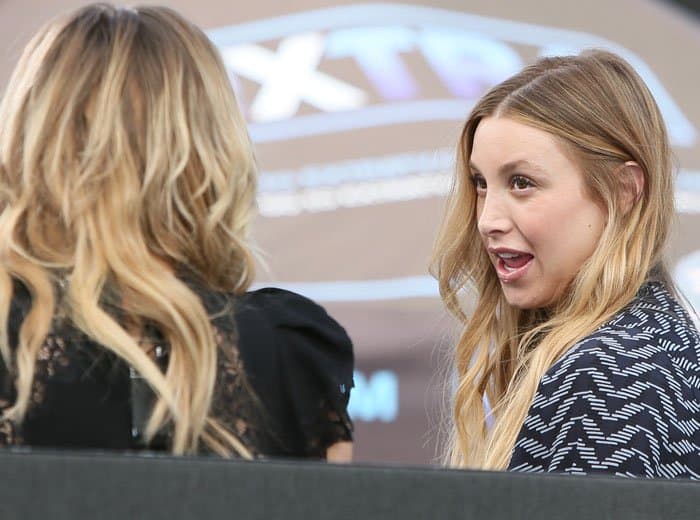 Whitney Port sits down with Charissa Thompson for "Extra" (Credit: Michael Wright / WENN)
"I'm glad we've become responsible adults by now," Whitney said when asked about the "'Hills' baby boom."
This was the then 32-year-old Whitney's first child with her husband Tim Rosenmann, whom she married in 2015. Tim was a producer on "The Hills" follow up, "The City".
Unlike other Instagram moms-to-be, Whitney openly talked about her difficulties with pregnancy, stating that she didn't many ideas about what to expect from her mother, who didn't want to scare her.
You can buy Whitney's recommended footwear craze for pregnant women, the Alexander Wang "Sandrah" flatforms at Net-A-Porter.
Alexander Wang "Sandrah" Studded Flatforms, $595