Tyra Banks is undoubtedly one of the best supermodels in the world. She is effortlessly beautiful, walks like a dream on the runway and always seems to look flawless. So, you'd think that she could pull off any outfit, but her look at Freeform 2017 Upfront was sadly disappointing.
The 43-year-old jack-of-all-trades stepped out on the red carpet in a floral ensemble from Roberto Cavalli's resort 2017 collection (available at Neiman Marcus). Tyra wore the fitted cady jacket, which came in a bell heather print and featured a notched collar, a button front, three-button cuffs and three front patch pockets. She styled her jacket with a ruffled-front purple silk blouse, and matching flared cady trousers, which also came in bell heather print.
The striking print already makes these two pieces hard to style, so we think Tyra should have picked one piece or the other. Perhaps she should have removed the jacket and opted for just the silk blouse? It would have toned down the florals and added some dynamic to her look, even though her pants weren't flattering at all. We're also not impressed with Tyra's shoes. She picked a boring pair that got lost beneath her hemlines, and didn't add anything extra to her outfit.
Sorry, Tyra. We love you, but this outfit just didn't suit you — no pun intended.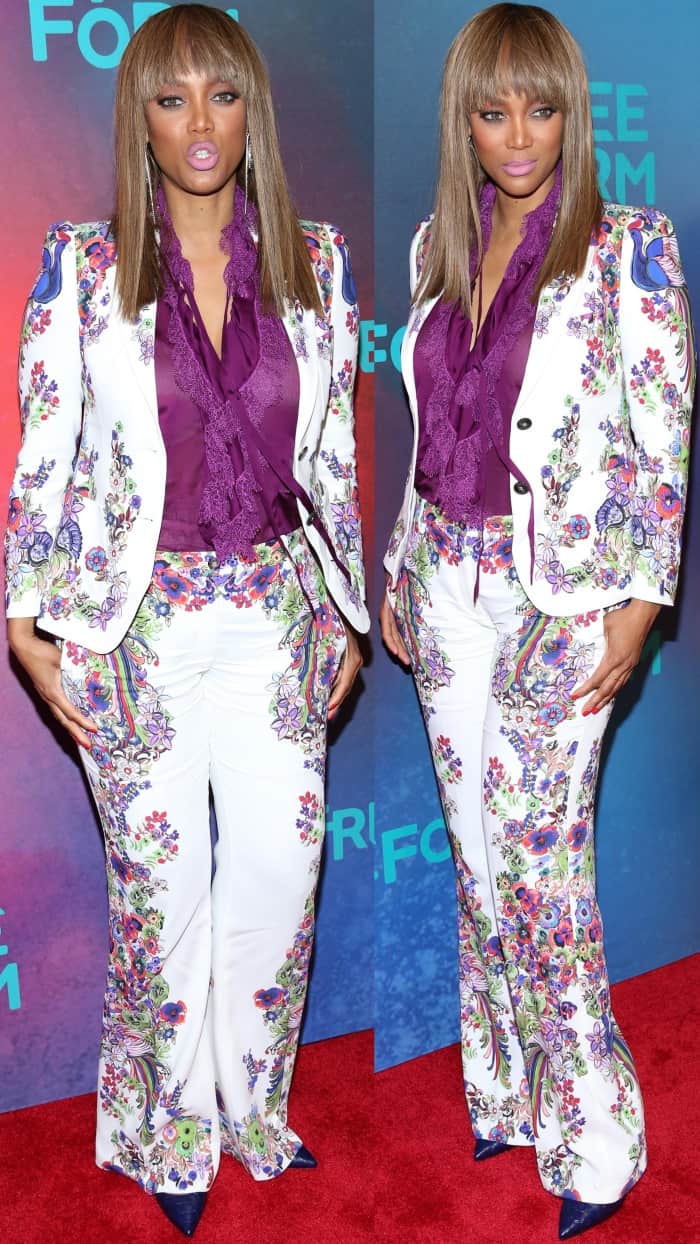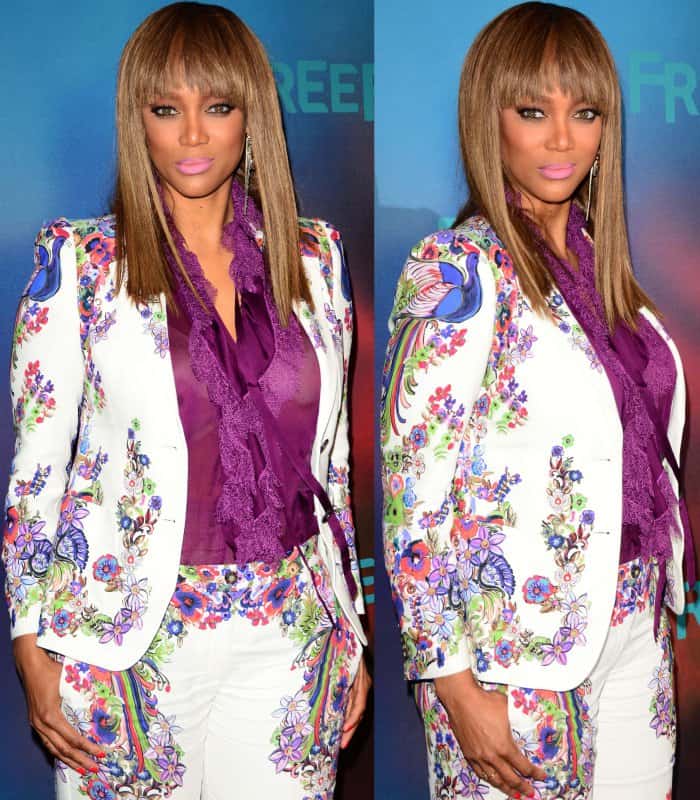 Tyra Banks at the Freeform 2017 Upfront held at the Hudson Mercantile in New York City, on April 19, 2017.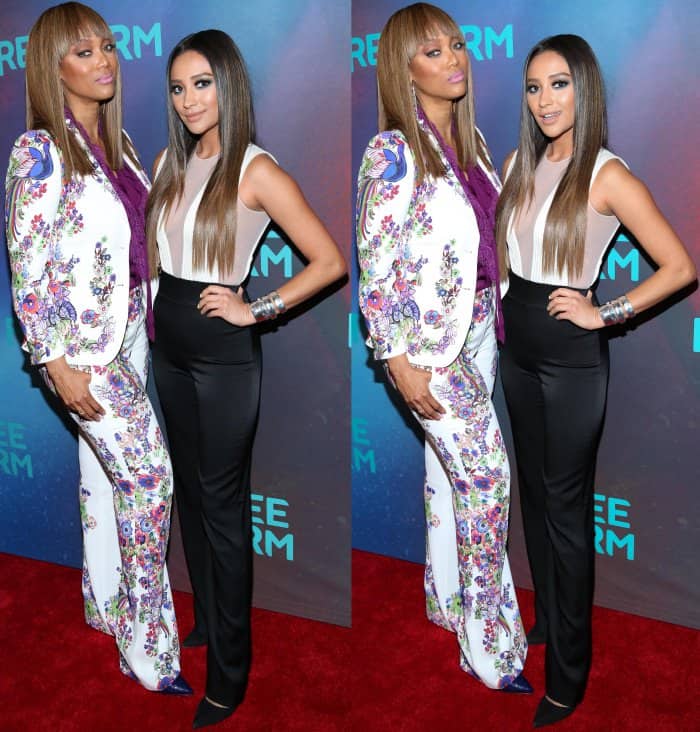 Tyra Banks with Shay Mitchell, who wore a Galvan pre-fall 2017 jumpsuit with pointy-toe pumps at the Freeform 2017 Upfront held at the Hudson Mercantile in New York City, on April 19, 2017.
Speaking of underwhelming looks from Tyra, she attended the launch of "America's Got Talent" Season 12 in an all-black ensemble that left little to the imagination. She recently took over the hosting duties from Nick Cannon, who congratulated her on her new gig. Tyra gamely posed for photos with fans while on the red carpet, and she also shared a few details about her beauty look on Instagram.
The former "America's Next Top Model" host sauntered down the red carpet in a sheer black lace number with long sleeves and a plunging neckline. In addition, she wore a statement gold necklace, purple lipstick and black booties with pointed toes and cutout details. Tyra looked stunning, but she could have done so much better — especially since this was a big day for her.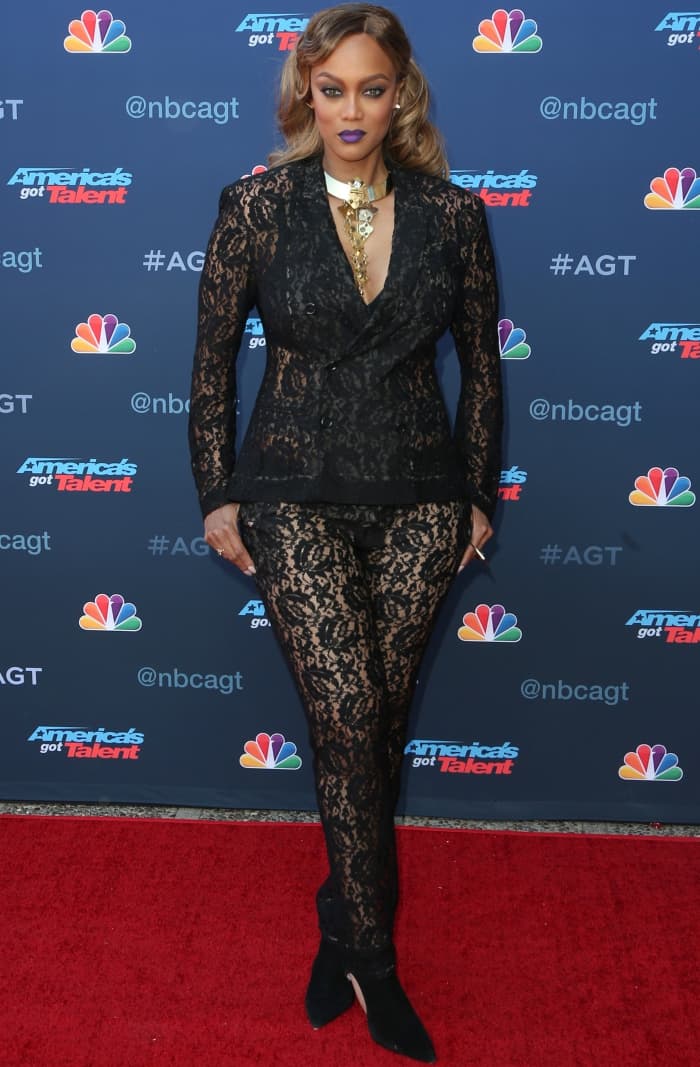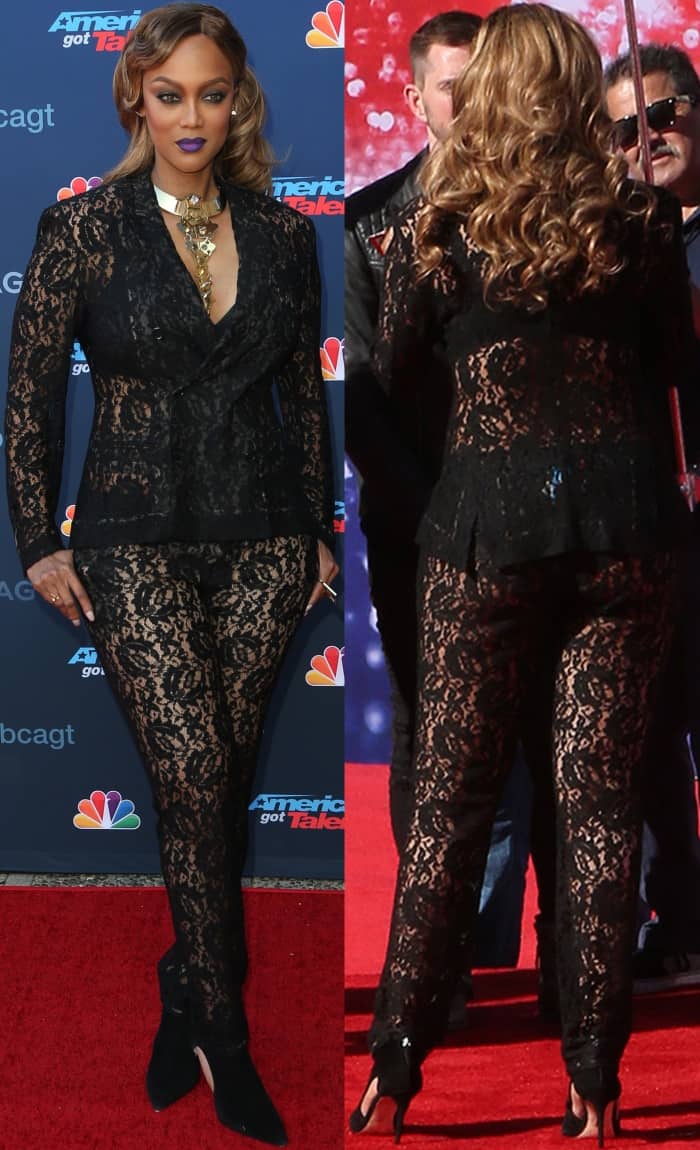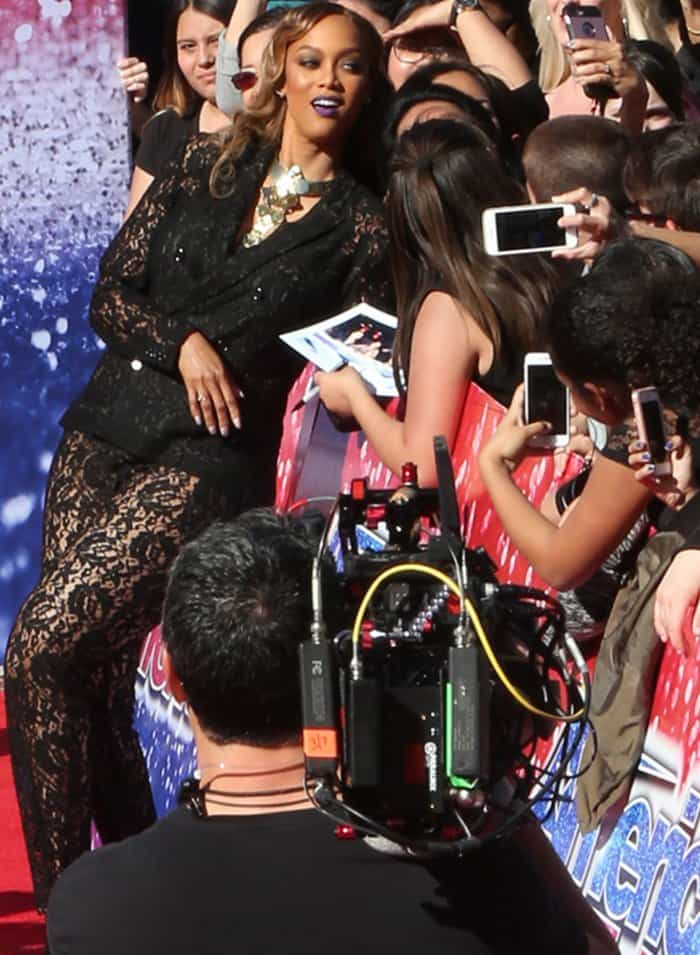 Tyra Banks at the "America's Got Talent" Season 12 Kickoff held at the Pasadena Civic Center in Pasadena, California, on March 27, 2017.
What do you think of the recent red carpet looks from Tyra Banks?
Credit: Andres Otero/Patricia Schlein/FayesVision/WENN