I like to be positive and to see the good side of everything as much as possible, but I really can't kid myself with this new UGG and Jimmy Choo collection. As much as I try to make myself believe that talented designers from multi-million-dollar businesses are behind these limited edition boots, they really look like nothing more than bedazzled DIY home projects that are "something fun for you and your kids to do".
I mean, studs, fringes, stars and animal print all over the basic UGG boot shape? It's like they didn't even give these a day of thought. And apart from looking like they were made with no effort at all, what's even more irritating is that they decided to slap on outrageous $495 to $795 price tags on these bedazzled boots. Is anyone still falling for the "sub-par product + designer label = insanely high price" marketing ploy?
Here are the 5 limited edition CHUGGS. UGG + Jimmy Choo could've at least been a funny Fashematics equation, but those prices say that these boots are meant to be taken seriously:
UGG and Jimmy Choo 'Siobhan' Boots, $495.00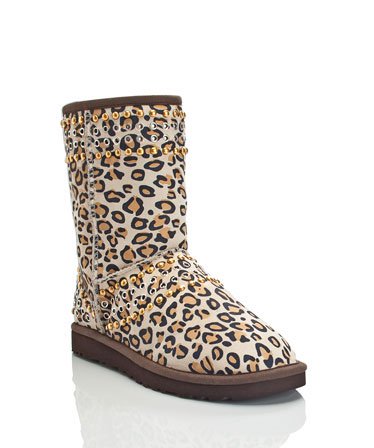 UGG and Jimmy Choo 'Kaia' Boots in Leopard, $595.00
Jimmy Choo UGG 'Kaia' Boots in Zebra, $595.00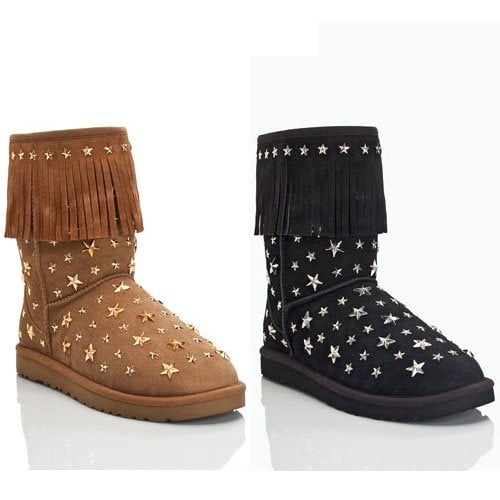 UGG and Jimmy Choo 'Starlit' Boots, $595.00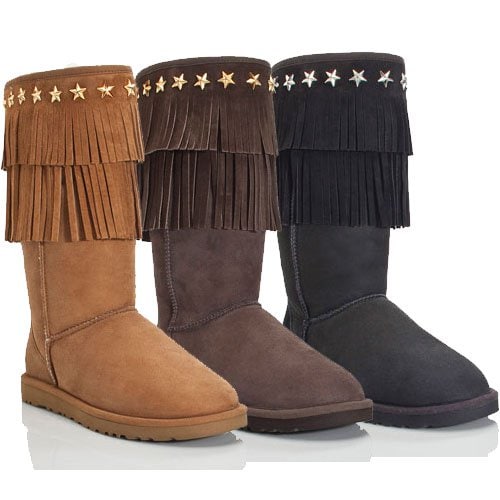 UGG and Jimmy Choo 'Sora' Boots, $695.00
Jimmy Choo UGG 'Mandah' Boots, $795.00
After Jimmy Choo's successful joint venture with Hunter boots, this one with UGG Australia was one of the most much-awaited collaborations of the year. It ended up being the biggest disappointment of the year.
If other designers and labels can make sheepskin boot-inspired shearling boots and booties that look like these:
Thakoon Giuseppe Zanotti for Thakoon Shearling Boots, $1,025.00
Lauren by Ralph Lauren Damienne, $179.00
Diane von Furstenberg Famke Shearling Platform Booties, $440.00
L.A.M.B. Pier Suede Booties with Shearling Cuff, $395.00
Maison Martin Margiela Open Toe Shearling Booties, $865.00
Then why not UGG, the premiere maker of sheepskin boots, or Jimmy Choo, the proclaimed stiletto king?
Maybe some things are better left uncombined.